Win 7 Antispyware 2011 - How To Remove?
Win 7 Antispyware is a rogue antispyware program that actively spreads on computer systems in order to mislead their users into purchasing a fake program. The creators of Win 7 Antispyware  application are computer hackers who are ready to do anything in order to gain more money. The main mean used for its distribution is Trojan viruses which is the best way to infiltrate rogue program into computer. Trojans tend to imitate flash updates and video codecs and that's how they together install rogue programs or imitate Windows update. There should be mentioned that computer user is never told about the installation of such programs. Besides, the program can be called Vista Antispyware 2011 or XP Antispyware 2011 if your system runs Windows Vista or Windows 7.
Win 7 Antispyware 2011 uses its fake scanner and imitates looking for infections in your system even if you didn't ask to perform a system scan. Then it generates a list of infections and recommends removing them. All you are asked to do is making a payment for a license of Win 7 Antispyware 2011. The program claims that a full version of a program will be able to remove every single infection detected.
As long as Win 7 Antispyware will be running on your computer, you will receive tons of security notifications warning that some harmful viruses have been detected on your system. For example:
System danger!
Your system security is in danger. Privacy threats detected. Spyware, keyloggers or Trojans may be working the background right now. Perform an in-depth scan and removal now, click here.
System Hijack!
System security threat was detected. Viruses and/or spyware may be damaging your system now. Prevent infection and data loss or stealing by running a free security scan.
Privacy threat!
Spyware intrusion detected. Your system is infected. System integrity is at risk. Private data can be stolen by third parties, including credit card details and passwords. Click here to perform a security repair.
Stealth intrusion!
Infection detected in the background. Your computer is now attacked by spyware and rogue software. Eliminate the infection safely, perform a security scan and deletion now.
You must ignore any information related to Win 7 Antispyware 2011  either the scan results or some pop up warnings. Remove Win 7 Antispyware 2011 using some removal instructions suggested by security experts or with a help of legitimate anti-spyware program.
Win 7 Antispyware 2011 removal guide
To remove Win 7 Antispyware 2011 you will need to download and burn into cd several programs on clean PC or Alternate OS scaner. Here instructions:
a) Burn these programs to CD or write them to USB disk (you can use an MP3 player):
Spyware Doctor ( https://www.2-viruses.com/spdoc.exe )
Registry fix : https://www.2-viruses.com/wp-content/uploads/exeregfix.reg to restore normal execution of registry
You might want to download Hitman Pro or Malwarebytes as alternate scanners. Though you are likely to be able to download them later on.
b). Boot normally. Wait for Win 7 Antispyware 2011 to launch, and run exeregfix.reg . This should allow launching legitimate programs
c) Delete or remove the files that are mentioned in our files box. You can use Spyware Doctor to identify the infected files and additional infections. Do not forget update it before scanning. Remove what it finds.
d) Scan with Spyware Doctor and secondary tools and reboot your PC. This should fully get rid of Win 7 Antispyware 2011.
An alternative would be to use registration keys, that apparently (according to S!ri) still work: 1145-17884799-7733 and order number 21197673 (if required). It "registers" win 7 Antispyware and thus it stops interfering with its removal process. You should scan with anti-malware tools to remove trojan downloaders, the underlying reason for the infection.
In some cases virus mutates and you cannot perform some part of these instructions. In such cases we recommend trying scans from within safe mode, or doing Alternate OS scans by tools from one of antivirus program makers, for example this : http://pctools.com/aoss
Automatic Win 7 Antispyware 2011 removal tools
We might be affiliated with some of these programs. Full information is available in disclosure
Manual removal
Important Note: Although it is possible to manually remove Win 7 Antispyware 2011, such activity can permanently damage your system if any mistakes are made in the process, as advanced spyware parasites are able to automatically repair themselves if not completely removed. Thus, manual spyware removal is recommended for experienced users only, such as IT specialists or highly qualified system administrators. For other users, we recommend using Reimage or other tools found on 2-viruses.com.
Processes:
Files:
Registers:
Win 7 Antispyware 2011 screenshots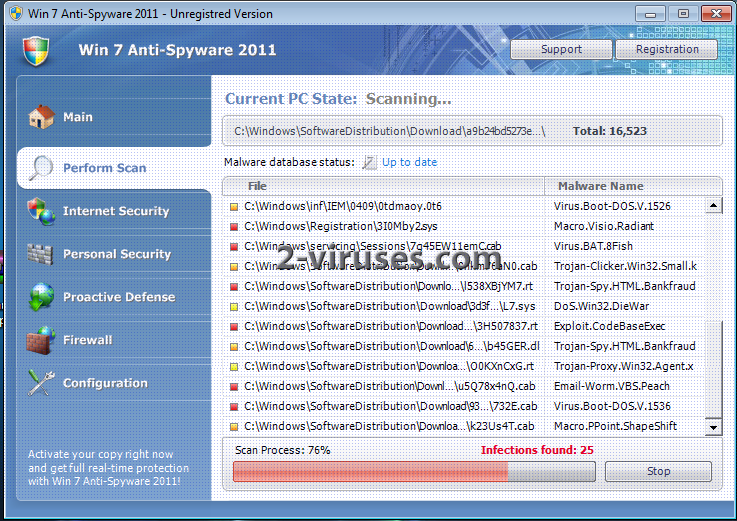 About the author