TotalAV, or Total AV, is supposedly an anti-malware solution for all major operating systems, both desktop and mobile. The company behind it is Protected.net, an author of some known potentially unwanted programs. Protected.net is accused of using fake reviews and misleading ads to advertise TotalAV. A lot of reviewers of TotalAV complain about confusing purchasing options, unauthorized charges, and difficulty using the software they paid for. TotalAV should probably be avoided or removed if you already have it.
Totalav quicklinks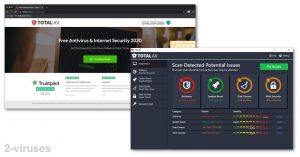 Type of threat
Potentially unwanted program.
Issues with TotalAV
Unfriendly practices (unauthorized billing, mistaken high fees, etc.),

confusing modules that can be purchased separately,

deceptive detections of harmless files,

misleading advertisements,

extensions change search settings,

VirusTotal – 6 detections.

Avoid unsafe antivirus programs
Check user reviews,

check the reputation of the developer,

check virus detections.

TotalAV removal
Uninstall manually,

remove malware (Combo Cleaner for Mac OS, SpyHunter for Windows).
How does TotalAV work?
TotalAV has Windows and Mac versions. It also offers browser extensions for Chrome and Firefox. Mobile devices get a TotalAV app. The author of all the Total AV products, Protected.net (also known as SS Protect Limited), has also made ScanGuard and PCProtect, which are extremely similar (and all have the same problems).
TotalAV's main draw is that it's cheap. That's misleading, as there are all kinds of in-app purchases and fees that become relevant with time, but at first glance, TotalAV is cheap and that makes it attractive to users. Most antivirus programs cost at least some $40 a year, while TotalAV starts at $20 (at least, for the first year).
TotalAV offers some very attractive and very valuable features even for its cheapest package. A few of those features are:
protection against ransomware, malware, viruses, and potentially unwanted programs,
real-time web protection (blocking malicious websites),
virus and malware removal,
anti-phishing protection (phishing is basically tricking people into giving away their passwords),
system optimization and space freeing tools.
TotalAV does work – it can find malware. It doesn't severely slow down the computer and its user interface is good. The optimization functionality consists of managing your startup programs, which is a redundant but useful function. Overall, as an antivirus program, TotalAV is indeed functional.
Although, TotalAV does mark some detections as more serious than they are. For example, it finds tracking cookies and declares them to be severe threats (hypocritically,  TotalAV itself uses behavioral advertising on its website). In fact, TotalAV constantly marks your threat level as red, the highest severity, which is mostly unwarranted. I mean, a couple hundred of Megabytes of redundant files that TotalAV finds is not high severity in any way, but TotalAV still acts like it is.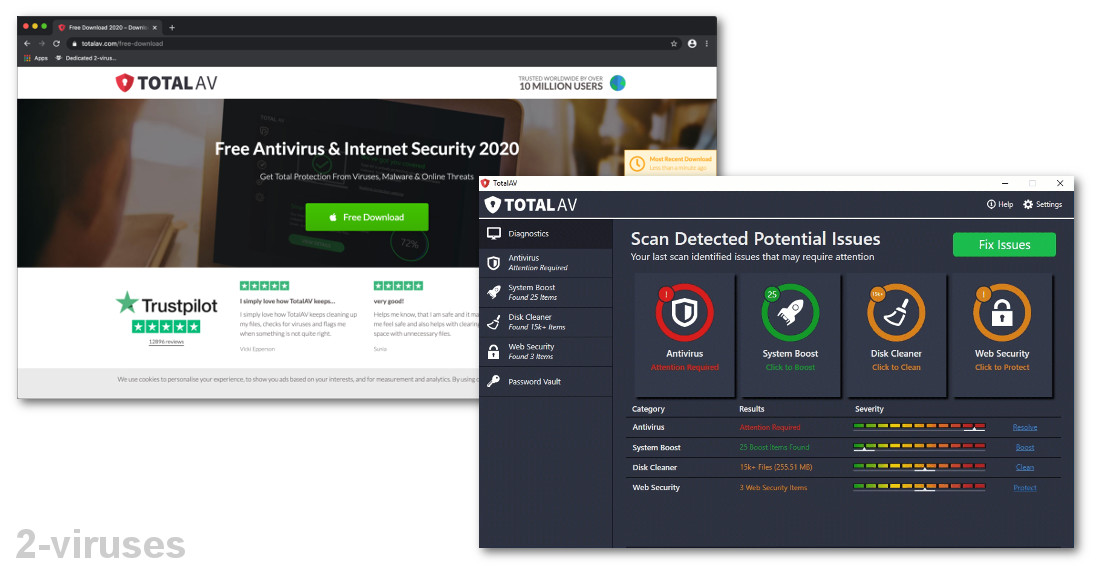 Problems with TotalAV
User complaints
Online, there are lots of unhappy users of TotalAV. They complain about billing and about the quality of TotalAV:
multiple reviewers complain about being billed after they have canceled the subscription,
some users claim that they were charged too much,
reviewers claim that modules of TotalAV are marketed confusingly and this leads people to pay multiple times for products they did not want,
some people just don't like the quality – apparently, adware isn't being removed, pop-ups aren't being blocked, and malware isn't always detected.
It seems like TotalAV has some confusing billing and installation schemes for its many separate modules. This makes using, paying for, and canceling the service very annoying. Removing TotalAV can won't cancel your subscription, after all.
One example of that is the browser extension that is supposed to protect TotalAV users online. This is a paid feature, but for some reason, Total AV Web Shield might be installed and then disabled by the free version of TotalAV. Not to mention, the extension "Total AV Web Shield" changes your search settings and reads your browsing history like some kind of a browser hijacker. We generally advise epople to remove those kinds of extensions.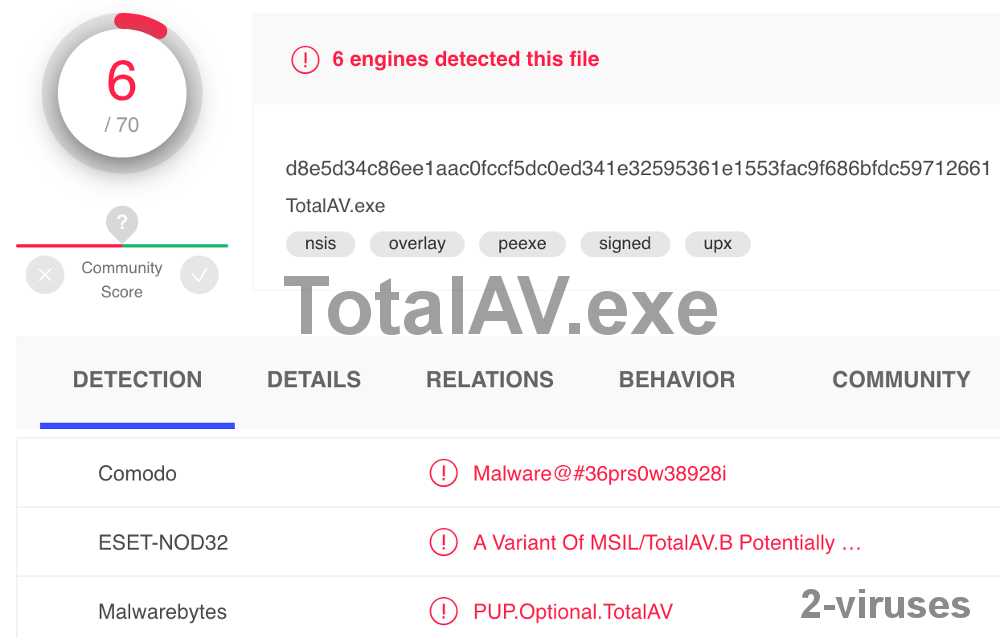 TotalAV advertisements
Ads for TotalAV appear on social media, in streaming sites, other popular websites, and in emails. Unfortunately, malicious sites like free-coupons.network also market TotalAV, which is a pretty bad sign. Legitimate products don't often use such sites for marketing.
I first found TotalAV via one of those online ads that say "Antivirus protection for your computer is recommended!". At first, it looked like a warning about a virus on my particular computer, like one of those fake virus warnings – gave me a scare. Reading it more closely, though, I realized it was about Total AV releasing an update. Still very deceptive, though. The ad opened the TotalAV download page and also wanted to send me notifications.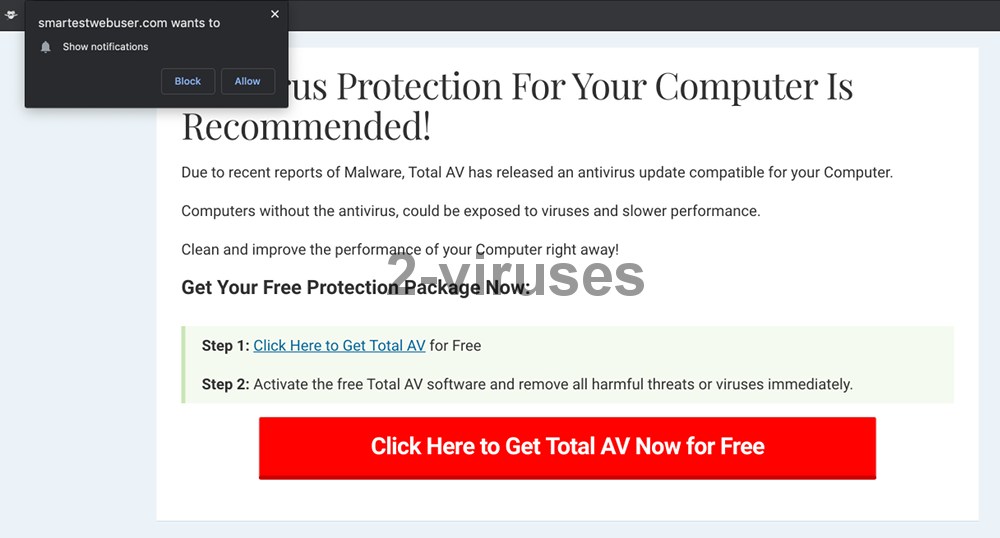 The site that was showing these pop-ups, Smartestwebuser.com, also contained some old fake news articles (as in, articles on a page that was made to look like a news site) advertising ScanGuard, a product by the same company that made TotalAV. A few "one simple trick…" articles that all sell the ScanGuard antivirus.
This page, Smartestwebuser.com, is spread by browser hijackers (like Free Forms Now and TV Now) and more notification spammers (like check-now.online), but especially common are email and social media ads. Indeed, some people online say they found TotalAV on Facebook.
How to remove TotalAV
TotalAV can be removed manually from your devices and it does offer a 30 day money-back guarantee. Although, if you were happy with TotalAV and don't want to uninstall it, that's fine. Your computer won't be in danger. Just be vigilant with your orders and purchases and keep an eye on your credit card account.
While looking for a good antivirus program to use, know that though there are lots of good antivirus programs (Combo Cleaner for Mac, SpyHunter for PC, and many others), there are also many fake ones, such as the various PCVARK products. While TotalAV is not a total scam, it should be treated with suspicion.
If you use a Mac and want to remove TotalAV, you should be able to just drag it to the Trash folder from your Applications. Windows users can use the Control Panel – instructions below. The browser extensions can be uninstalled manually, instructions are also below. Or you can use a strict anti-malware application, like Malwarebytes, that recognizes TotalAV as a potentially unwanted program. Then you can remove TotalAV automatically, which might be easier and more thorough than manual removal.
Automatic Malware removal tools
How to remove TotalAV using Windows Control Panel
Many hijackers and adware like
TotalAV
install some of their components as regular Windows programs as well as additional software. This part of malware can be uninstalled from the Control Panel. To access it, do the following.
Start→Control Panel (older Windows) or press Windows Key→Search and enter Control Panel and then press Enter (Windows 8, Windows 10).
Choose Uninstall Program (if you don't see it, click in the upper right next to "View by" and select Category).
Go through the list of programs and select entries related to TotalAV . You can click on "Name" or "Installed On" to reorder your programs and make TotalAV easier to find.
Click the Uninstall button. If you're asked if you really want to remove the program, click Yes.
In many cases anti-malware programs are better at detecting related parasites, thus I recommend installing Spyhunter to identify other programs that might be a part of this infection.
TotalAV extension manual removal
TopRemoving TotalAV from Chrome
Click on the menu button on the top right corner of a Google Chrome window. Select "Settings".

Click "Extensions" on the left menu bar.
Go through the extensions list and remove programs you do not need, especially similar to TotalAV. Click on the trash bin icon next to TotalAV or other add-ons you want to remove.

Press on the "Remove" button on the Confirmation window.

If unsure, you can disable them temporarily.

Restart Chrome.
(Optional) Reset your browser's settings
If you are still experiencing any issues related to TotalAV, reset the settings of your browser to its default settings.
Click on Chrome's menu button (three horizontal lines) and select Settings.

Scroll to the end of the page and click on the Reset settings button.

Click on the Reset button on the confirmation box.

If you cannot reset your browser settings and the problem persists, scan your system with an anti-malware program.
TopRemoving TotalAV from Firefox
Click on the menu button on the top right corner of a Mozilla window and select the "Add-ons" icon (or press Ctrl+Shift+A on your keyboard).

Go through Extensions and Addons list, remove everything TotalAV related and items you do not recognise. If you do not know the extension and it is not made by Mozilla, Google, Microsoft, Oracle or Adobe then you probably do not need it.

(Optional)
Reset your browser's settings
If you are still experiencing any issues related to TotalAV, reset the settings of your browser to its default settings.
Click on the menu button on the top right corner of a Mozilla Firefox window. Click on the Help button.

Choose Troubleshooting Information on the Help menu.

Click on the Reset Firefox button.

Click on the Reset Firefox button on the confirmation box. Mozilla Firefox will close and change the settings to default.

If you cannot reset your browser settings and the problem persists, scan your system with an anti-malware program.