Gamerroof.com is a fake video game download site. It lures people in by promising to let them download free games. It instead bombards them with dangerous ads.
At best, Gamerroof.com's ads just waste people's time. At worst, some of the ads that the site shows promote subscription scams and other scams that can lead to people losing money. So, while just visiting Gamerroof.com will not infect you with malware, you should not linger on the site.
Gamerroof Com Fake Site quicklinks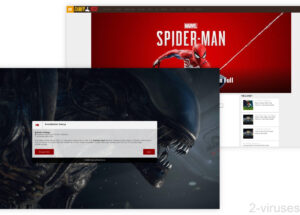 About Gamerroof.com:
Classification
Adware.
What makes Gamerroof.com dangerous
It promotes deceptive and potentially dangerous content,

it lies to people about offering game installers.

How fake pirating sites spread
They promise to let people download free games, even games that haven't been released yet.
How to avoid Gamerroof.com ads
Recognize fake pirating sites,

don't reveal your personal information to unreliable websites,

delete malware with antivirus programs (Spyhunter, others).
How dangerous is Gamerroof.com?
Piracy websites are unsafe
Gamerroof.com is a pretty popular website – it gets more than a hundred thousand visits each month. Most of the traffic to the site comes from search engines like Google, with people using queries to download various games for free. Web analytics sites show how people usually discover the site – by searching for a way to download a video game without having to pay.
We get games on giveaways and free weekends, we can download games from subscription services, but all that is done through official stores and launchers. Downloading high-profile games on random sites like Gamerroof.com is not legitimate in any way.
So, is Gamerroof.com a pirating site? That would be bad. Besides being illegitimate, piracy is also dangerous. Pirated games sometimes are infected with malware, such as SilentFade or QuilMiner.
Gamerroof.com promotes subscription scams
Luckily, Gamerroof.com does not actually download any files. Instead, it pretends to download files and then insists that you need to complete various tasks in order to finish the installation:
sign up for a paid service (often, the fact that it's paid is not clear),
download and install an app,
sign up for a website with your personal information.
In my case, Gamerroof.com went to Dwnlds.co, a site filled with fake pages and scams. But it can open other sites, such as Promotionsonlineusa.com and similar reward sites.
If people take the ads that Gamerroof.com promotes seriously, they can lose real money. This won't be immediately obvious, as some of the subscriptions take a while to start charging, which makes it harder to notice that something went wrong.
Even if they don't lose money, if people sign up on shady sites with their real information, they could start receiving aggressive marketing and scam calls, which can be damaging in the long term.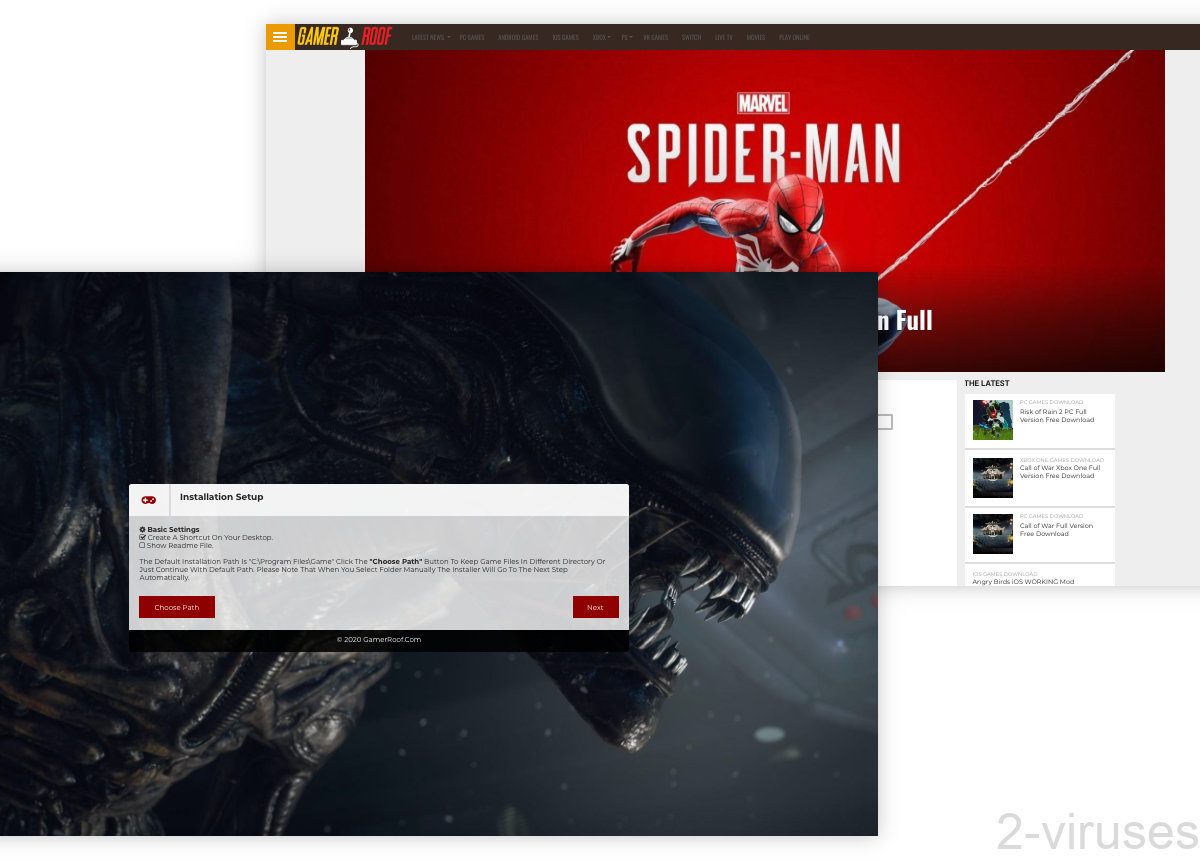 How to avoid Gamerroof.com ads
Recognize fake pirating sites
The safest thing to do is to not pirate games. But if you do pirate, do not use search engines to find your downloads. Fake sites like Gamerroof.com show up very high in search results (often in the top 5 results), but this does not mean that they are legitimate (Imposters are Reportedly Using Fake Takedown Requests for Negative SEO Purposes).
Another red flag is sites offering non-PC exclusives for Windows PC and offering games that are not out yet. For example, Gamerroof.com offers a few versions of Starfield to download. Describes the game as a "casual, arcade style game". One entry used the promotional image for Elder Scrolls 6, a completely different game.
Clearly, this is a huge red flag. It shows that Gamerroof.com is not a serious website. You can't trust the listings that you find on it.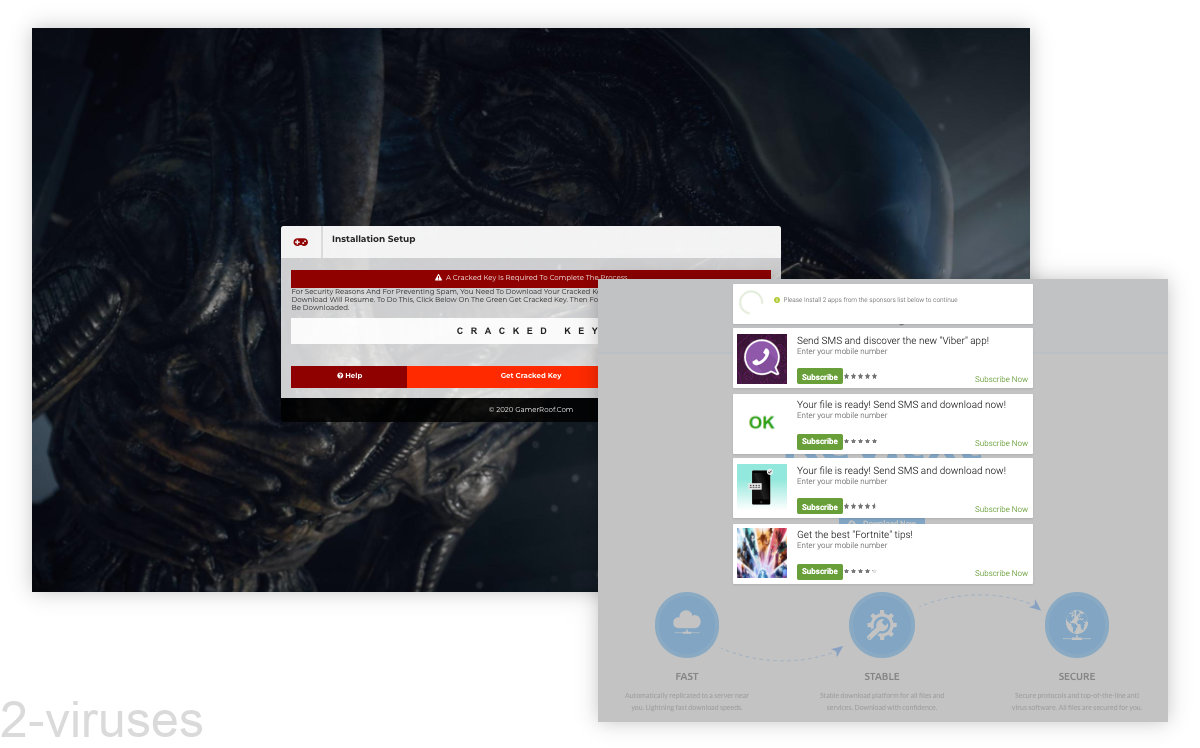 Protect your accounts
One of the biggest dangers that Gamerroof.com poses is that it promotes phishing sites. These sites might not contain malware, but they're still harmful – they trick visitors into filling out forms with their personal details. They then use these details in fraud or sell them to marketers.
When you are on unknown websites, do not reveal your phone number, credit card data, or any other data that is personal or that can be used to charge you money.
Remove all malware
Gamerroof.com does not download any files. It does show a fake installation process when you click the "Download" and "Setup" buttons, but there's nothing downloaded on your computer. This is good – it means that Gamerroof.com doesn't infect computers with any sort of malware.
The ads it shows could do that, though. If you downloaded anything from a site that was related to Gamerroof.com, it's important to check your device for malware. Use your antivirus program or something like Spyhunter to see if there's malware or any suspicious files on your PC.
Automatic Malware removal tools