SpyHunter is one of the top-commercial malware removers available today. Its main distinguishing features include removal of malware from already infected systems and an integrated help-desk, allowing people to find solutions to the worst infections. Despite its advanced capabilities, SpyHunter is easy to use and quite fast. Additionally, it can be used together with other existing antivirus software as an on-demand scanner or a tool for additional protection from malware/spyware parasites.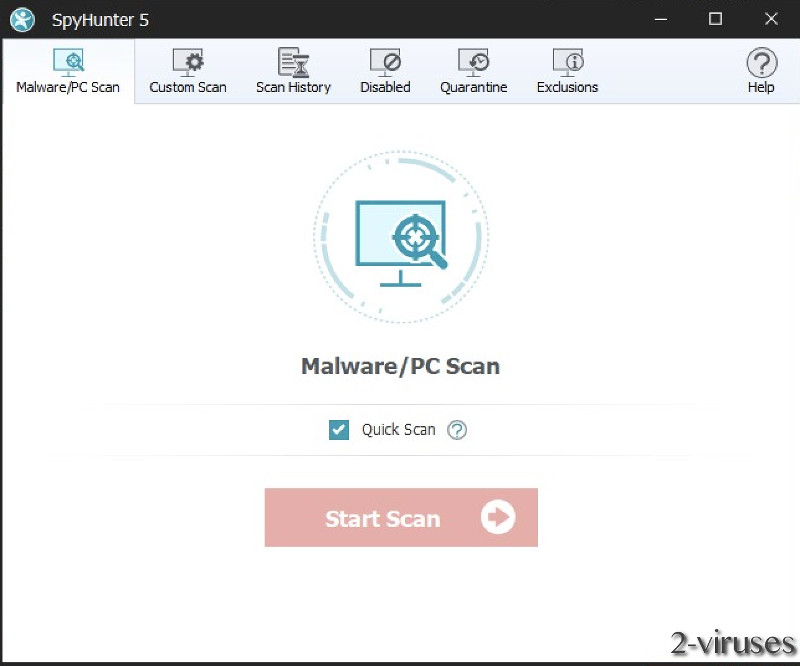 One of the most important features of SpyHunter is its installer. Some malware variants try to prevent legitimate anti-malware programs from launching by killing their processes. The WinWebSec family is a group of rogue software apps that block security programs from actively-running. However, SH installer will kill undesired processes during its installation process. After that, it will prepare the executable of SpyHunter and run it.
When compared to some other anti-malware tools that are available for Windows, SpyHunter 5 holds up quite well:
OS
Key features
Malware detection
Spyhunter
Windows

Kills malicious processes;
Real-time protection;
Extremely thorough protection;
Suitable for heavily infected systems

9/10
Malwarebytes
Mac
Windows
Chrome OS
Android

Real-time protection;
Lightweight;
Free malware removal;
Compatible with other anti-malware tools

9/10
Plumbytes
Windows

Real-Time protection;
Easy to use;
Anti-Hijack protection;

8/10
Reimage
Mac
Mobile
Windows

Repairs Windows OS files;
Great support;
Great detection rate

8/10
Free Access
SpyHunter features both free and paid versions and one of the biggest advantages is that you can perform a full scan and get detailed reports without purchasing a premium version. Users with sufficient computer science knowledge can use this feature to their advantage and completely remove malware by analyzing those free in-depth reports.
Users, considering to purchase a premium license of SpyHunter, are advised to run a scan with the free version first and examine its results. Although SH has one of the highest malware detection rates in the market, it might be that a computer is simply polluted with possibly malicious registry items and not actual files of malware: most of the time SpyHunter identifies them as adware helpers. Even if this is the case, SH is still a reasonable choice since it operates not only as a malware remover but as a shield as well. It can easily block malware access to your system and kill installation processes of malicious software.
Even though SpyHunter is promoted as a clean-up tool and this is its primary function, the program provides a decent real-time protection as well. Every time you are launching a program and SpyHunter notices something unusual, you will be informed about it. It will also ask you for a permission to begin every single installation. In case such a request comes out of nowhere, you can be pretty sure that unwanted codes are running on your system and trying to install malware.
Here is video guide on Spyhunter killing Security Shield process during install
Spyhunter 4 & 5 reputation
The company that makes Spyhunter is 15 years old. In the past, there was a point when Spyhunter 2  had a relatively poor reputation and was not recommended due to a bad advertisement. Even if the problems were fixed, Spyhunter 4 was listed as PUP due to bad partners and prior reputation by Malwarebytes Anti-Malware.  Currently, Spyhunter version 5 is no longer listed as PUP by any antivirus makers as far as we can check.
Main Features of SpyHunter 5
SpyHunter 5 is the latest version of the software and features various built-in tools that make it into a great all-around anti-malware program. These are the most important of them:
Malware/PC scan;
System Guard;
Helpdesk.
All these functions can give you a great advantage against malware. SpyHunter 5 is capable of fighting against browser hijackers, ransomware, adware, and other types of malicious programs, so it will keep your system safe from those.
Let's break it down and take a closer look at all of those features one at a time.
Malware/PC Scan
Let's get it straight – SpyHunter 5 is not anti-virus tool, it's primary function is to fight against malware. With that being said, you can expect great results while scanning for malware and not so great if your computer is infected with some kind of virus.
There are no flaws in the scanning engine, it detects potentially unwanted programs very well. However, the problems can occur if the virus is on your computer is not yet included in the database of infections by SpyHunter. This is why it is important to understand that SpyHunter 5 is anti-malware tool – they mostly focus on including the newest malware into their database. And that can be a lot of work, as the malware market is growing faster and faster. Also, that is the reason why virus database can be pushed into the second section of priorities.
Speaking of usability – you couldn't be happier about the way SpyHunter 5 is handling scans. The user interface is great, scans are relatively fast and you can see all of the information in real time.  Also, it doesn't take a lot of the resources of your computer, so you will be able to handle your own business while the scan is running in the background.
SpyHunter operates with a powerful scan engine, containing a variety of advantageous functions. After each scan, SpyHunter 5 will provide you with comprehensive information about the current state of your system. It will also ask whether clients themselves have not seen any suspicious files that should have been detected during analysis. Certain files usually remain undetected because they are not classified as malware, but as potentially unwanted items. They can't be listed as malware; yet can pose a threat in specific circumstances. Therefore, users are asked to decide on an action plan for such situations.
This Anti-Malware tool is beloved for its automated process: it's really easy to use. When needed, SpyHunter will reboot your computer to run a boot-time clean-up process automatically. The program is also capable of running the system in Safe mode when necessary.
System Guard
System guard is basically a real-time security. This feature is essential since various malware infections can be stopped on the go, before it can cause any damage.
We definitely recommend to always leave this function on all the time. You can also enable prompt on unknown objects and automatic cleaning. That's why a lot of users love this security tool – it provides you with the ability to optimize and set-up it the way you want. You can even set regular scans and forget about the security of your system, as it will definitely be in good hands.
However, real-time security is not flawless as well. As we have mentioned before, SpyHunter 5 lacks the ability to effectively fight against viruses, so you should have another tool to back it up and ensure total security of your computer.
SphyHunter 5 Helpdesk
Purchasing a premium version of SpyHunter 5 is not only about a piece of AM software: tech support plays a significant role in it. Ransomware is one of the most detrimental types of malware that can completely overtake control of your system and block any attempts to download anti-malware software. Crypto-viruses also prevent victims from rebooting their systems in a Safe mode or even accessing OS in general. It's not a huge problem if you have a premium version of SH which provides you with the ability to contact their tech support. In this scenario, tech support of SpyHunter can remotely control your computer and solve the problem while chatting with you.
Their tech support system, called 'Spyware HelpDesk' is available 24/7 and is divided into 2 branches: SpyHunter Support Ticket System and Custom Fix System. First one should be contacted when there are problems with SpyHunter software and Custom Fix System is helping the environment that comes to the rescue when SpyHunter fails to eliminate an infection.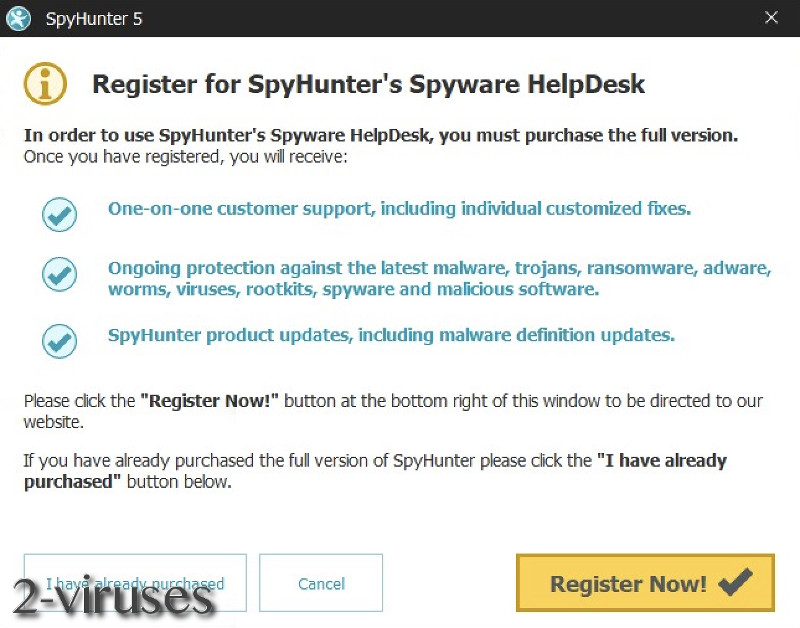 Positive Sides of Spyhunter
Negative Sides of Spyhunter
Only PC version available
Read "Spyhunter review" in other languages