BitDefender 2011 is one of the trickiest rogue anti-spywares that 'borrow' their names from legitimate antivirus programs in order to get ability and easily rip their victims off. Of course, BitDefender 2011 has been designed after BitDefender antivirus which is a powerful tool created for computer's protection. Without a doubt, BitDefender 2011 was created for commercial reasons only because it starts offering its 'registered' version as soon as it gets inside the PC. Trying to create a need, it firstly scares users into thinking that computer is dangerously infected with malware. It goes without saying that you should never trust BitDefender 2011 and pay for it. If you have already did this, contact your credit card company to dispute the charges and use a reputable anti-spyware (spyhunter is recommended) to remove BitDefender 2011 as soon as possible.
Bit Defender 2011 rogue is spread through insecure websites pretending to be free online anti-malware scanners. In truth, these 'scanners' in reality are advertisements that return the same results after the scan is finished. Users are usually told that their computers are infected and that they need to install BitDefender 2011 in order to protect their PC against these viruses. However, these fake online scanners return identical to all PC users.
After getting inside, BitDefender 2011 starts working as soon as you reboot your computer. It will result t in running fake system scanners and alerts that all will say that your PC is infected with various malware. Please, never fall into such information given by BitDefender 2011 because these files reported may be legitimate your system files important for a normal computer's functionality and their removal can damage your computer. If you attempt to use BitDefender 2011 for removal, you will be asked paying for its license and won't let you remove any of these 'viruses'. In most cases, BitDefender 2011 displays such warnings:
Warning!
Virtumonde is an adware program that tends to monitor your Internet browsing habits and may display targeted advertisements onto your computer screen. Virtumonde may also create a malicious DLL file in order to log your keystrokes and send the recorded information to a third party website. Virtumonde is an unwanted application and recommended to be removed.
About Internet Explorer Emergency Mode
Your PC is infected with malicious software and browse couldn't be launched

You may use Internet Explorer in Emergency mode – internal service browser of Microsoft Windows system with limited usability.

Notice: Some sites refuse connection with Internet Explorer in Emergency Mode. In such case system warning page will be showed to you.
Warning! Identity theft attempt detected!
Attacker IP: <random IP address>
Attack Target: Microsoft Corp. Keys
Description: Remote host tries to get access to your personal information.
Warning! New virus detected!
Threat Detected: Keylogger.iSnake.Pro
Infected File: C:\WINDOWS\system32\asr_ldm.exe
Please, ignore such notifications because they only try to rip you off. When trying to remove BitDefender 2011, you may face some problems with doing that because this scam tends to disable all legitimate spyware removers, such as Malwarebytes Anti-Malware or spyhunter. In addition, this scam may also disconnect you from Internet Explorer, so read the following BitDefender 2011 removal guide:
1. Reboot PC into Safe Mode with networking
2. Disable Proxy server in your browser.
3. Start task manager and stop processes of BitDefender 2011: random letter and bitdefender 2011.
4. Download and scan your PC with spyhunter, Malwarebytes Anti-Malware to identify the infected files. Do full system scan or search for stopped processes on the disk.
5. Delete these files.
6. Restore the windows shell to explorer.exe if you haven't used automatical removal procedure.
Automatic BitDefender 2011 (fake) removal tools
We might be affiliated with some of these programs. Full information is available in disclosure
Manual removal
Important Note: Although it is possible to manually remove BitDefender 2011 (fake), such activity can permanently damage your system if any mistakes are made in the process, as advanced spyware parasites are able to automatically repair themselves if not completely removed. Thus, manual spyware removal is recommended for experienced users only, such as IT specialists or highly qualified system administrators. For other users, we recommend using Reimage or other tools found on 2-viruses.com.
Processes:
Files:
Registers:
BitDefender 2011 (fake) screenshots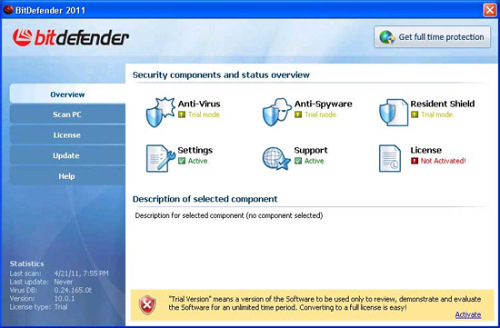 About the author