Antivirus Clean 2011 is a dangerous program which was noticed infecting PC users in the middle of April. Antivirus Clean 2011 should be categorized as rogue anti-spyware because it is closely related to Trojans and seeks commercial goals only. Trying to rip users off, this program may even steal your credit card details or passwords of your e-mail and social network accounts. To protect your machine from such intruders, make sure you have a licensed version of a decent anti-malware, like spyhunter, Malwarebytes Anti-Malware or other. To guarantee real time protection and detect Antivirus Clean 2011 or any other intrusion, it must be constantly updated.
Antivirus Clean 2011 malware is all about using deceitful alerts, bogus scanners and browser redirect pranks. As soon as it gets inside the targeted machine, it will be set to start as soon as your PC is rebooted. Keep in mind that it doesn't need any invitation of yours or manual install. It simply breaks into your system without any notification and starts 'scanning' your PC. Additionally, you will be told that numerous viruses are inside the system and that you must remove them with its licensed version.
Your system is infected!
Your computer is compromised by hackers, adware, malware and worms!
Antivirus Clean 2011 can remove this infection. Please click this icon to remove threats.
Your computer is in Danger!
Antivirus Clean 2011 has detected some serious threats to your computer!
These viruses need to be eliminated immedeately! Please click this icon to remove threats.
This scenario of Antivirus Clean 2011 is quite typical for rogue anti-spywares. This application reports only invented files dropped just after infiltration and also adds new Registry keys to make infected computer completely vulnerable. To stop Antivirus Clean 2011 scans and reports, that will give you the same bored information about worms, trojans, spyware etc, you should run a full system scan with your anti-spyware. You must remove Antivirus Clean 2011 because in gives only exaggerated information and no threats can be found because its virus database is empty.
Please do not get busted on that rogue called Antivirus Clean 2011. You are recommended to install a reputable security program and stop the virus from interrupting you and your browsing. In addition, Antivirus Clean 2011 may even disable your Internet connection, so use another PC for downloading and updating your anti-spyware, then transfer with a flash. To help Antivirus Center 2011 removal, we also recommend entering this code of registration: 8425-3952-7321-4410. After entering, the virus should be disabled, so run a full system scan with spyhunter anti-spyware. More instructions can be found below:
Automatic Antivirus Clean 2011 removal tools
We might be affiliated with some of these programs. Full information is available in disclosure
Manual removal
Important Note: Although it is possible to manually remove Antivirus Clean 2011, such activity can permanently damage your system if any mistakes are made in the process, as advanced spyware parasites are able to automatically repair themselves if not completely removed. Thus, manual spyware removal is recommended for experienced users only, such as IT specialists or highly qualified system administrators. For other users, we recommend using Reimage or other tools found on 2-viruses.com.
Processes:
Files:
Registers:
Antivirus Clean 2011 screenshots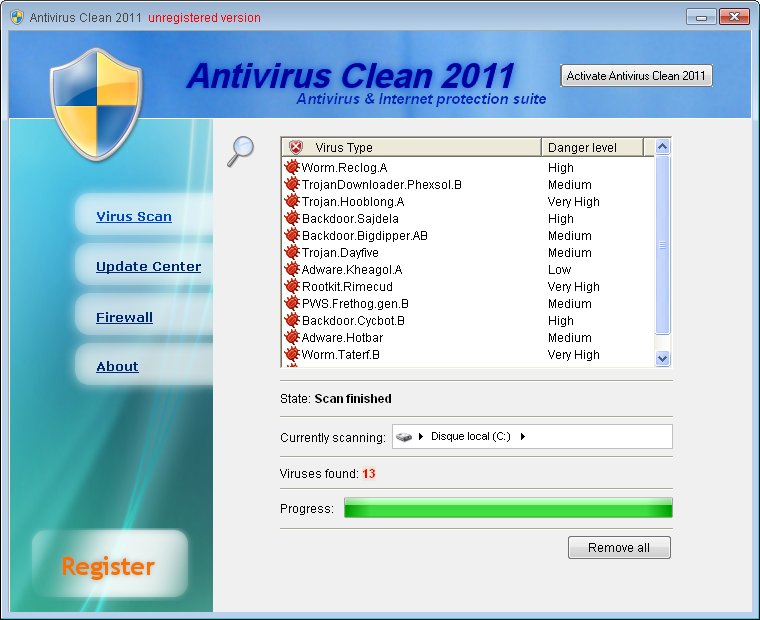 About the author