Advanced Defender - How To Remove?
Advanced Defender is a rogue anti-spyware that imitates scanning of the system actions. With a reason to make you scared, this application returns only invented results that are expected to push you straight away into purchasing Advanced Defender for fixing everything. However, it goes without saying that instead of doing that you should get rid of AdvancedDefender as it is not capable to detect or delete any kind of spyware. Moreover, if ignored, the program may damage the whole PC system and steal your personal information like passwords or credit card details. Advanced Defender was created by the same hackers who should be blamed for releasing another rogue called Personal Protector. That's why just like its initial this rogue uses various malware that will install the program without being noticed.
The same Trojans that should be blamed for letting Advanced Defender inside additionally create fake random files that drop in the system. These files in reality are harmless and invented only with a reason to detect them later as infections. As it was mentioned earlier, Advanced Defender starts imitating to scan the system for malware and lists for the user many infected files including the fake ones:
c:\WINDOWS\certofsystem.exe
c:\WINDOWS\explorers.exe
c:\WINDOWS\microsoftdefend.dll
c:\WINDOWS\regp.exe
c:\WINDOWS\secureit.com
c:\WINDOWS\spoos.exe
c:\WINDOWS\system32\winscent.exe
However, sometimes this malware "detects" legitimate files as dangerous ones, so you should ignore all the results it returns because the proper operation of the PC can be affected if they are deleted. AdvancedDefender also terminates any executable that is launched with a reason to stop legitimate anti-malware programs that can remove it and displays hundreds of annoying alerts like this one:
Attention! System detected a potential hazard on your computer that may infect executable files. Your private information and PC safety is at risk.
To get rid of unwanted spyware and keep your computer safe you need to update your Current security software .
Click Yes to download official intrusion detection system (IDS software)
Finally, Advanced Defender states that it is not allowed to delete these infections until user first purchase the program. Keep in mind, that just like Personal Protector, Advanced Defender was created only for the commercial reasons, so you should not purchase this program regardless of what it may state. Save your money instead and delete the same Advanced Defender. If you have already spent your money for this scam, contact your credit card company to dispute the charges. And, please, remove Advanced Defender and any related malware as soon as possible.
Automatic Advanced Defender removal tools
We might be affiliated with some of these programs. Full information is available in disclosure
Manual removal
Important Note: Although it is possible to manually remove Advanced Defender, such activity can permanently damage your system if any mistakes are made in the process, as advanced spyware parasites are able to automatically repair themselves if not completely removed. Thus, manual spyware removal is recommended for experienced users only, such as IT specialists or highly qualified system administrators. For other users, we recommend using Reimage or other tools found on 2-viruses.com.
Processes:
Files:
Dll:
Registers:
Advanced Defender screenshots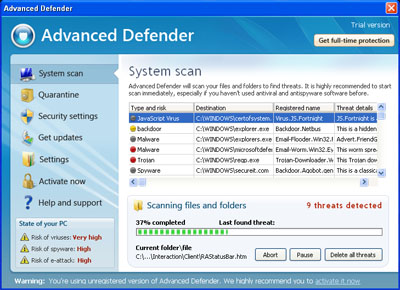 About the author