Ultimate-captcha.com is a malicious website that, if it infects your browser, shows pop-up ads in it. This site attacks all major modern browsers and shows misleading, low-quality ads that allow malicious actors to spread their content. If your browser is showing pop-up ads by Ultimate-captcha.com or another site, you can stop them from being shown by changing some browser settings.
Ultimate Captcha Com Pop Ups quicklinks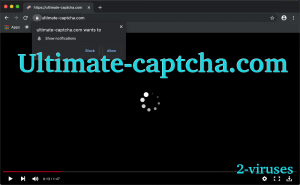 Ultimate-captcha.com is a dangerous website:
Type of threat
Adware,

browser hijacker

Block Ultimate-captcha.com
Remove malware manually or automatically (Combo Cleaner for MacOS, SpyHunter for Windows),

access notification settings and block pop-ups from unwanted addresses

Causes of the pop-up ads
Visiting unreliable websites,

having an adware virus mess with your browser

How Ultimate-captcha.com pop-ups are dangerous
Expose you to malicious ads,

trick you to fall for scams,

distract you and waste your time
How to block pop-up ads from Ultimate-captcha.com
Ultimate-captcha.com abuses notifications to show you its pop-ups, so all you need to do to get rid of the pop-ups is to unsubscribe from its notifications. First, you need to open the browser that is affected by Ultimate-captcha.com and navigate to notifications settings:
Chrome – type "chrome://settings/content/notifications" in the address box.
Safari – in the Safari menu, choose Preferences, Websites, Notifications.
Edge – open Settings, Advanced settings, Notifications, Manage.
Firefox – type "about:preferences#content" in the address bar, find the Notifications section.
There, find Ultimate-captcha.com and any other addresses that you don't want to be subscribed to. Any websites that you don't know and that you aren't interested in getting updates from. These settings are completely reversible, so making any changes is fine.
Additionally, you might want to scan your computer with a reliable anti-malware program, such as Combo Cleaner for Mac or SpyHunter for PC. Ultimate-captcha.com is associated with junkware  – it advertises it, it's advertised by it, and many potentially unwanted programs and adware viruses use the same channels to spread. It's important to make sure that no more infections are present on your computer.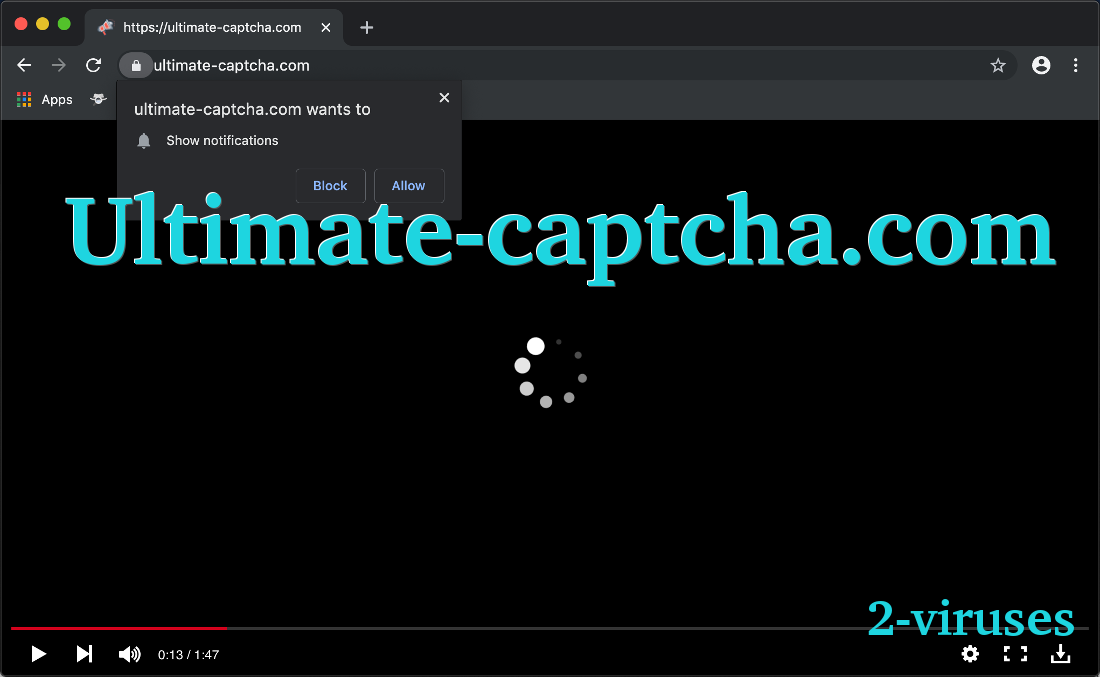 Causes of Ultimate-captcha.com pop-ups
Ultimate-captcha.com is caused by adware viruses and dubious online ads. Also, various programs or scripts can change your browser settings to subscribe to Ultimate-captcha.com behind your back.
Among the websites that currently promote Ultimate-captcha.com are various video converter and online streaming sites, as well as other adware sites, like Finding-love-is-easy.com, Pushsub.club, Pushsroutg.com. File downloading buttons can open Ultimate-captcha.com because a lot of these links are monetized using URL shorteners, such as Ckk.ai. Fake web search engines can advertise Ultimate-captcha.com. One type of adware viruses can modify some web search results to open malicious websites.
So, if you visit shady websites, have adware viruses, or install unreliable browser extensions, you might have ended up infected with Ultimate-captcha.com. This site tricks visitors into subscribing to its notifications by showing an animation of a loading video. Different adware sites use all kinds of excuses to tell people to press the Allow button, like a simple "Click Allow to continue", fake "Enable and download" download buttons, and misleading "Please install the new Video Update" warnings.
Many people, especially mobile users, accidentally allow notifications on these malicious sites and then the pop-ups start pouring in. Although it is very easy to subscribe to the notifications, it might not be that easy to unsubscribe from them. People who never had to deal with these hijackers before have to suffer these pop-ups ads from Ultimate-captcha.com and for days, their online browsing experience is made quire miserable.
Dangers of adware infections
Ultimate-captcha.com doesn't just show normal ads, though that would be annoying enough – the pop-ups waste your time, distract you, and take up important screen space.
Worse than that, Ultimate-captcha.com spreads actually dangerous content in its ads because malicious actors, scammers, and fraudsters are allowed to make ads for the site. So, if you look at the pop-ups that come from Ultimate-captcha.com, you may find:
Reliable and unreliable online store ads.
Ads for browser-hijacking extensions, like Mega Games Search.
Betting and gambling sites.
Scams like Like of the year that steal your money, your private information, and subscribe you to bogus subscription services.
Various tech support scams, such as the fake Windows warning alert that could eventually lead you to allow scammers to access your computer.
These are just a few examples. Malicious ads are really dangerous: they can download malware automatically, steal your usernames and passwords, and sell you fake medicine. Plus, Ultimate-captcha.com's pop-ups may be presented as social media messages and genuine system warnings to trick you to click on them.
Ultimately, Ultimate-captcha.com is a malicious and dangerous website. It's annoying and the ads spread by it aren't reviewed for safety or honesty. This puts people who have to deal with the Ultimate-captcha.com pop-ups in danger.
Automatic Malware removal tools