Pushsub.club is a new malicious site that pushes malicious ads and redirects visitors to dangerous websites. It's like an ad-network for malware. If you encountered this site online, close the tab. If your browser is being bombarded with its ads, block Pushsub.club from spamming you.
Pushsub Club Pop Up Spam quicklinks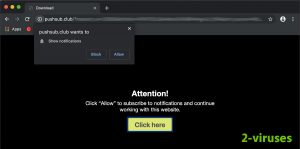 Pushsub.club presents a message saying this:
Attention!
Click "Allow" to subscribe to notifications and continue working with this website

Click Here
If you press the "Click here" button, Pushsub.club presents a notifications pop-up that gives you the chance to subscribe to notifications from this address.
Short description of Pushsub.club features and problems:
Type of threat
Dangers

Malicious sites opened
Money and time lost to scams
Web browsing made very difficult because of the numerous pop-ups

Causes

Adware viruses
Infected websites
Shady ad-networks

Solution

Block pop-up ads from Pushsub.club and other malicious websites
Remove malware and adware with antivirus tools (Combo Cleaner – Mac, SpyHunter – PC)
Block malicious websites
Causes of the Pushsub.club pop-ups
This page that asks you to subscribe to notifications might appear on various video conversion, free streaming, file sharing, download portal sites, and other websites. Either an ad or a redirect can take you to Pushsub.club, often unexpectedly. It can happen while you're not doing anything, when trying to download a file, etc. This is where the message comes in – you're given the impression that you must subscribe to notifications if you want to be allowed access to the site.
This is false and, sometimes, the owner of the site might not even know that their site is redirecting visitors to Pushsub.club. This type of message, whether it's about notifications, installing an extension, filling out a survey, etc. is often used to force people to install adware.
There's also the chance that other adware on your computer/browser is showing Pushsub.club. These notification spammers are used to promote each other, so it's possible that your browser is infected by some older adware. You can suspect that if Pushsub.club shows up not on specific websites, but on any site, or if it appears in a pop-up ad. Adware infections spread as notification spammers, browser extensions, malicious applications on your computer, whether Windows, Mac OS, Android, or iOS.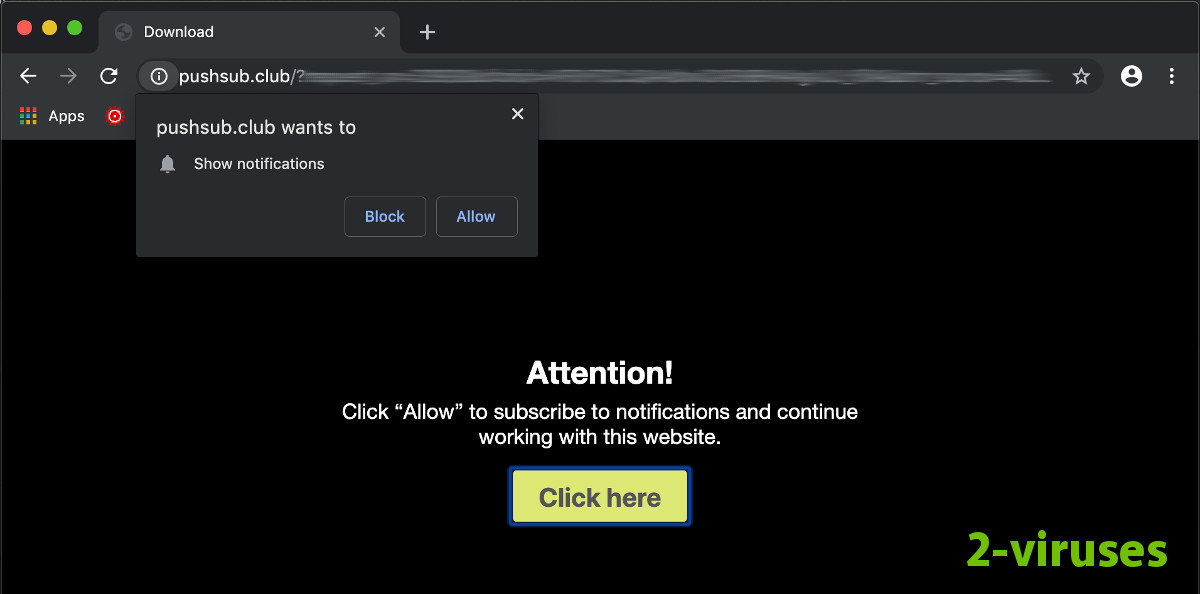 The reason for these notifications is to spread ads without needing to find a publisher willing to host them. As you will notice, Pushsub.club doesn't have any content for normal users, but it does send pop-ups and open malicious sites. It's absolutely a malicious adware site, and those who don't stop the pop-ups will be exposed to all sorts of potentially dangerous content:
Get-rick-quick schemes
Fake giveaway scams (like Annual Visitor Survey)
Fake virus alerts and tech support scams (like Applesupportofficial.com)
Gambling and other adult sites that don't have age verification
Fake expert testimonies that promote financial investment scams and unregulated medical products
Pushsub.club's ads are repetitive, show up frequently, cover the content of the sites you're trying to view, and accumulate (after you block them, it might not be clear at first). The pop-ups might be made to look like they're social media messages from attractive women, so watch out for those. Pushsub.club's pop-up ads are incredibly annoying, frustrating, and will cost you productivity if they're allowed to continue.
How to stop Pushsub.club ads and redirects
Most likely, you can block Pushsub.club from pushing notifications and that'll be enough. You can access these settings like this:
Chrome: type "chrome://settings/content/notifications" in the address box.
Safari: in the Safari menu, choose Preferences, Websites, Notifications.
Edge: open Settings, Advanced settings, Notifications, Manage.
Firefox: type "about:preferences#content" in the address bar, find the Notifications section.
Find Pushsub.club and other suspicious websites and bock their notifications.
However, it's advisable to take more serious measures to protect yourself from this sort of adware. Use an antivirus tool with real-time web protection features or a trustworthy ad-blocker, scan your computer with antivirus tools (Combo Cleaner for Mac, SpyHunter for PC) to check if adware or some trojan is hidden in the system and messing with your browser. Remember to update your operating system and your browser to prevent malicious websites from forcing malware into your system. And train your family to recognize these malicious sites – Replyalert.net, Elandsenajap.pro, etc. – and ignore them.
Automatic Malware removal tools