"Like Of The Year" is a scam site that's promoted by adware viruses, notification spammers, and malicious ads. Fraudsters use this scam to steal money and personal details from people by promising to send them a lot of money.
Like Of The Year Award Scam quicklinks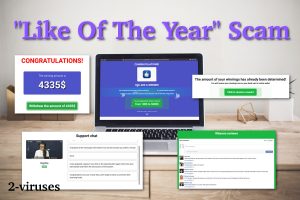 The process of the scam
"Like Of The Year" is a scam and if you ever encounter it, it's best to just ignore the site:
Type of threat
Details of the scam

Winning $4335
Being asked to give your name and other details
Being asked to pay 29.85 to receive the money
Fake Facebook comments gushing about receiving the winnings

How to deal with being scammed by "Like Of The Year"

Report the scam
Protect your bank account
Change your passwords

How to get rid of ads for "Like Of The Year"
When you first end up on the site, this text is what you're greeted with:
CONGRATULATIONS!
YOU ARE A WINNER!
We would like to inform that you liked a comment ID:35915743 in a social network using this browser Safari, January 9, 2019 at 19:48
This like has been randomly selected to win the seasonal «Like Of The Year» 2019 award!
Then you're promised a reward from $100 to $5000. Going through with the "Like Of The Year" scam shows $4335 as the supposed prize. Of course, everyone clicks on all the green buttons "wins" – just like with any other scam site.
To make the "Like Of The Year" page look more convincing, some fake Facebook comments are thrown in. Don't be fooled by their realistic look – it's very easy to fake these. One of the signs that they're fake is the fact that the names of the commenters don't lead anywhere.
After being told that you won your "Like Of The Year" prize, you're shown a fake one-way chat (supposedly, your browser doesn't support the needed software for a normal chat) where you're repeatedly told to "Click on a special button" and new pages are loaded.
Then "Like Of The Year" tells you to fill out forms with your information, including your name, email, and bank account number. This information is useful because it can be sold online and used for identity theft (targeted phishing attacks, fraud).
So, after I input my fake information and made-up details, I'm told that I need to pay a registration fee to activate the internal account. According to "Like Of The Year", the fee (29.85 dollars) will be returned right after it's sent.
So, "Like Of The Year" operates just like any other scam: $1000 Visa Gift Card, Amazon Shopper Satisfaction Survey, "Thank you for support of Facebook", and others:
You win (it's guaranteed);
You're told to fill out a form with your name and other details;
You're required to pay money before you can receive your (nonexistent) prize.
Unfortunately, the "Like Of The Year" page is relatively well-made, so there's a chance that some people will fall for it and suffer. New scams are being made every year, so you'll probably encounter new ones eventually – it's important to know what causes them and how to avoid them.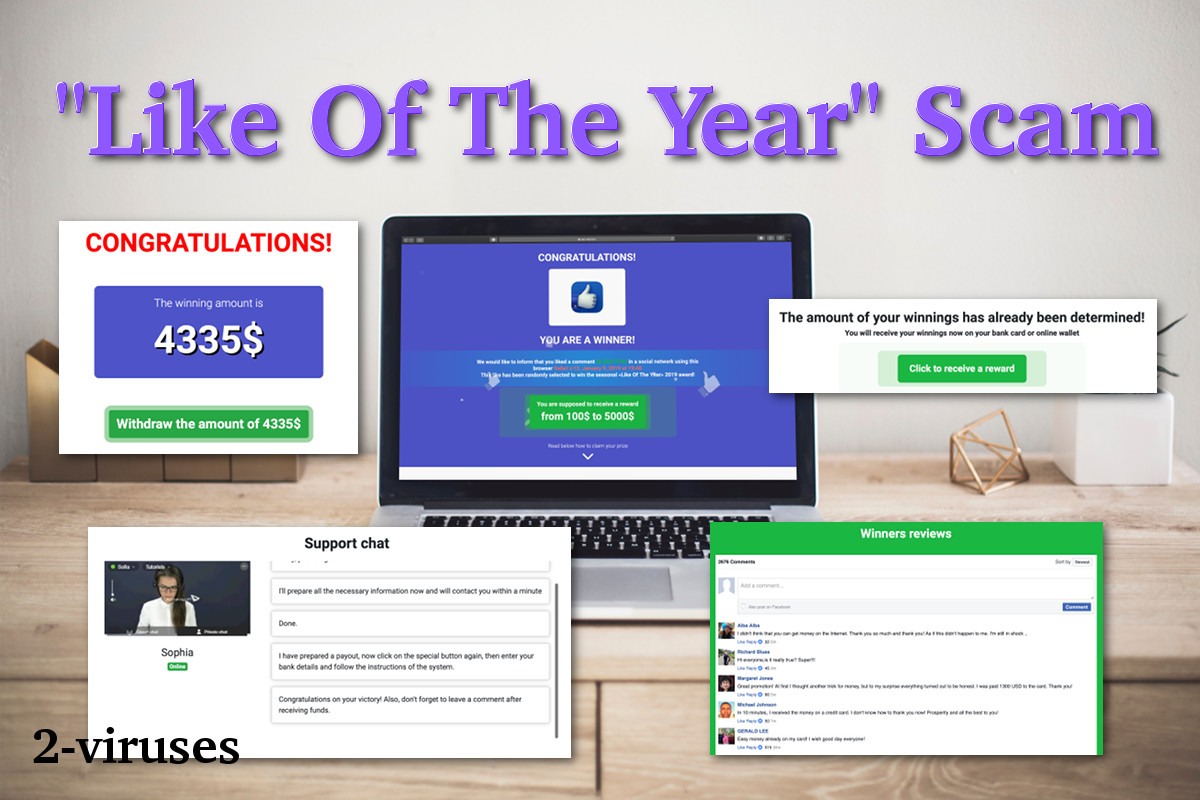 How "Like Of The Year" appears in your browser
The "Like Of The Year" scam lives on a website. This site can be promoted in a few ways:
Adware viruses open the page in your browser.
Notification spammers show pop-ups that lead to "Like Of The Year".
Ads on shady websites lead to the scam.
An adware infection on your computer can cause all sorts of trouble: it can mess with how your browser works, it can inject ads on any website, redirect links, open background windows, use your browser for click fraud, etc. "Like Of The Year" is just one example of an adware virus causing problems, and it's not even the worst one. If you suspect that your computer is infected with something that's manipulation your browser, check your browser extensions and your installed applications.
However, just because you're seeing "Like Of The Year", that doesn't mean that your computer is infected. It could be totally clean! Ads for "Like Of The Year" could be shown not just on sites where you expect to be exposed to malvertising, like Flvto and Onlinevideoconverter, but also on social media sites like Facebook and Youtube. You might even receive private messages and emails from trusted contacts urging you to go and check out "Like Of The Year" as cybercriminals sometimes use stolen social media accounts to distribute malware and scams.
Notification spammers like Hemicthong.pro and Dingroledintrep.pro send malicious pop-ups right to your browser and though they only infect the one browser, they can be considered adware.
How to stop the "Like Of The Year" scam
If you already gave away your name, bank account, and other details, and especially if you paid the registration fee that "Like Of The Year" was demanding, it's important to start dealing with this ASAP. don't hesitate to seek advice from your financial institution. Look around for entities in your country that help victims of identity theft and consider reporting this incident. In case some fraudster uses your personal details, it'll be good to have a record of this phishing incident to defend yourself.
To stop seeing ads for "Like Of The Year", go ahead and block push notifications from all suspicious sites. Use anti-malware scanners, such as SpyHunter for PC or Combo Cleaner for Mac, to see if adware has infected your device. Remove the infections.
You can also use anti-malware programs and ad-blockers to block some websites that are suspected of being dangerous. This isn't guaranteed to protect you – it's not difficult for scammers to move "Like Of The Year" from soc-rets.fun to another domain. But it's better than nothing.
Automatic Malware removal tools