Finding-love-is-easy.com is an adware website. It is responsible for some redirect ads online and pop-up ads. Those who accidentally allowed Finding-love-is-easy.com to send them notifications see constant pop-up ads in their browser. This site mostly affects Spanish and Japanese speakers and it's active on video streaming sites, especially the adult ones. You can block the site and stop its notifications from appearing in your browser
Finding Love Is Easy Com Ads quicklinks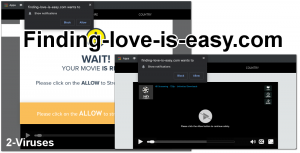 Type of threat
Dangers of the Finding-love-is-easy.com ads

Losing money to scams
Leaking your personal information
being infected with malware

How the pop-up ads start

Ads redirect to adware sites
Allowing notifications to those websites

Stop Finding-love-is-easy.com ads

Remove malware automatically (Combo Cleaner for MacOS, SpyHunter for Windows)
Block browser notifications
Block Finding-love-is-easy.com
How Finding-love-is-easy.com's ads start
Mostly, people get redirected to Finding-love-is-easy.com from adult video sites and other streaming websites. Unfortunately, few advertisers want to work with those websites. The sites do need to survive, though, so they partner with shadier actors who spread scams, fraudulent products, and even malware in their ads. You might click on an ad and Finding-love-is-easy.com will redirect you to a tech support scam or some malware. This does allow those websites to finance their costs, but it also puts their visitors in danger.
The same applies to torrent sites, too. Mainstream advertisers don't want to be associated with piracy, so they stay away. Unethical advertisers step up to fill that space. It's also why adult and pirating content online has such a reputation for being dangerous and spreading viruses – it's true, they expose visitors to bad ads.
Finding-love-is-easy.com is a destination of some of those bad ads, but it's also a source. It redirects visitors to sponsored content and it sends people pop-up ads right into their browser. It's similar to other adware sites, including Lifeimpressions.net and Zfirst-news.com.
Knowing that it's associated with video streaming sites, Finding-love-is-easy.com has a few pages designed to look like a loading video. These are fake loading videos, but if you were expecting to see a video page, you might not realize that Finding-love-is-easy.com is just a random ad. So, you see a video that doesn't play and Finding-love-is-easy.com shows text like:
Please click Allow button to continue safely
and
WAIT!
YOUR MOVIE IS READY
Please click on the ALLOW to Stream / Download it
A pop-up appears that has buttons "Block" and "Allow". But it's not for playing video, it's for allowing notifications from Finding-love-is-easy.com. Unethical sites lie to you about requiring you to allow notifications all the time, but it's never legitimate. They abuse this permission to flood you with low-quality ads. It's great for Finding-love-is-easy.com's makers – they don't need a platform to publish the ads, they don't need to create valuable content. They just show you spam in your browser, linking to sites that paid Finding-love-is-easy.com to be advertised.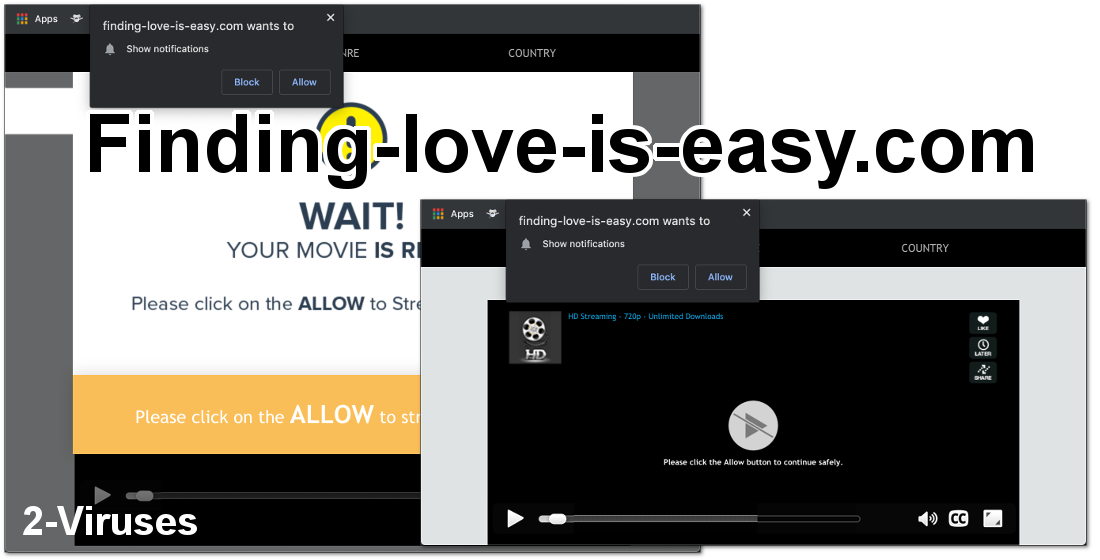 How adware is dangerous
Like I said earlier, Finding-love-is-easy.com works with some dubious actors – people whose content is dangerous. This includes products that are often restricted, like medicines and gambling sites. Gambling sites especially have to do things like warn visitors and make sure to not advertise to children. So, of course, some unethical actors create ads that look very cheery, colorful, like they're meant for children, that advertise a gambling site.
Finding-love-is-easy.com also delivers dishonest ads that are there to get your credit card data. Whenever a shady website promises you money, items, dating, and other rewards, it will ask you to pay some money at the end. One of the most popular examples currently are  fake news articles with fake celebrity endorsements to invest in what turns out to be a scam.
Finding-love-is-easy.com might show fake warnings spreading malware, like this fake virus alert on MacOS. Phishing scams is another one. Finding-love-is-easy.com might show warnings about your accounts needing to be reactivated or your payment information - renewed.
How to stop Finding-love-is-easy.com's ads
The site can be blocked using anti-malware programs and ad-blockers. Unfortunately, there are too many malicious websites out there and new ones are created all the time. But it's still useful to block ones like Finding-love-is-easy.com. You might also want to scan your device for adware and other malware that needs to be removed. Use any competent anti-malware program, like Combo Cleaner for MacOS or SpyHunter fro Windows.
Block the pop-up ads that Finding-love-is-easy.com sends you. Find Finding-love-is-easy.com in the list of the websites that can send you notifications and block them:
Chrome: type "chrome://settings/content/notifications" in the address box.
Safari: in the Safari menu, choose Preferences, Websites, Notifications.
Edge: open Settings, Advanced settings, Notifications, Manage.
Firefox: type "about:preferences#content" in the address bar, find the Notifications section.
Automatic Malware removal tools