Best.prizedeal0919.info is a dangerous website. It is responsible for showing people some malicious ads, redirecting them to malware and scams, and hijacking users' notifications. Best.prizedeal0919.info is promoted with deceptive ads on a variety of websites. If you come across this site, close it and do not interact with it.
Best Prizedeal0919 Info Ads quicklinks
Best.prizedeal0919.info a malicious site that shows dangerous ads:
Type of threat
Adware,

browser hijacker

How to reach Best.prizedeal0919.info
Shortened and monetized links,

ads on unsafe websites

Dangers of the ads
Fraud, scams, malware,

annoying pop-up ads and redirects,

lost money, time, exposed personal information

How to stop ads by Best.prizedeal0919.info
Disable notifications from unwanted sites,

block malicious websites,

delete malware (for example, with SpyHunter for PC or Combo Cleaner for Mac)
Problems with the Best.prizedeal0919.info website
Malicious ads
Best.prizedeal0919.info is a website that promotes malware, scams, and other dangerous content. It does this by delivering bad ads to visitors. If you go to Best.prizedeal0919.info, it will forward you to another website that's often malicious. It is similar to Bestflowingstuff.co, Metovid.com, Checking-your-browser.com, and other sites that deliver ads online.
Best.prizedeal0919.info doesn't just show normal ads. It's used by malicious actors, spammers, fraudsters, and other people whose content tends to get rejected by mainstream ad-networks. To show malicious ads on reputable sites through professional and safe ad-networks requires a lot of time and work, however, there are sites like Best.prizedeal0919.info that don't censor malware.
Sources of Best.prizedeal0919.info ads
This malvertising ecosystem also involves shady, legally-dubious websites, such as video converters, file hosts, some monetized URL shorteners, and piracy sites. Ads that open the Best.prizedeal0919.info website can be found in those spaces.
Links to Best.prizedeal0919.info might also be shared in social media, in spam comments and fake celebrity posts. For example, imposter accounts are used to spread malicious links with messages promising rewards or a pleasant surprise. Download links can also be infected with Best.prizedeal0919.info adware.
Sometimes, Best.prizedeal0919.info will prompt visitors to subscribe to its notifications. Dishonestly, it says that you need to press the "Allow" button to continue (you don't). These Best.prizedeal0919.info pages are unexpectedly opened by other websites, before a file download or a video loading. Thus, users are tricked into thinking that they must press the Allow button to use the site they were on. Then, Best.prizedeal0919.info starts sending them pop-up ads in notifications.
Dangerous ads
The types of ads that Best.prizedeal0919.info shows can genuinely be dangerous to your private information, your wallet, or they can just waste your time. Examples include:
Browser hijackers – web browser extensions that change browser settings and inject ads in various webpages. Although not very harmful, they can be annoying.
Fraud sites, such as binary options fraud. Various get-rich-quick scams that Best.prizedeal0919.info advertises require you to invest money for a chance to get back a lot. If you put in a lot of money, scammers will contact you and try to trick you to put in even more money.
Fake giveaways, surveys, sweepstakes are also advertised. For example, the Annual Visitor Survey. These not only cost victims money, but also steal their payment information.
Fake software updates. Sometimes, Best.prizedeal0919.info opens a fake Flash Player download site. You can download malicious files from them and infect your computer with malware.
Scareware. Fake virus alerts are a common way to distribute fake antivirus applications and sell people bogus tech support.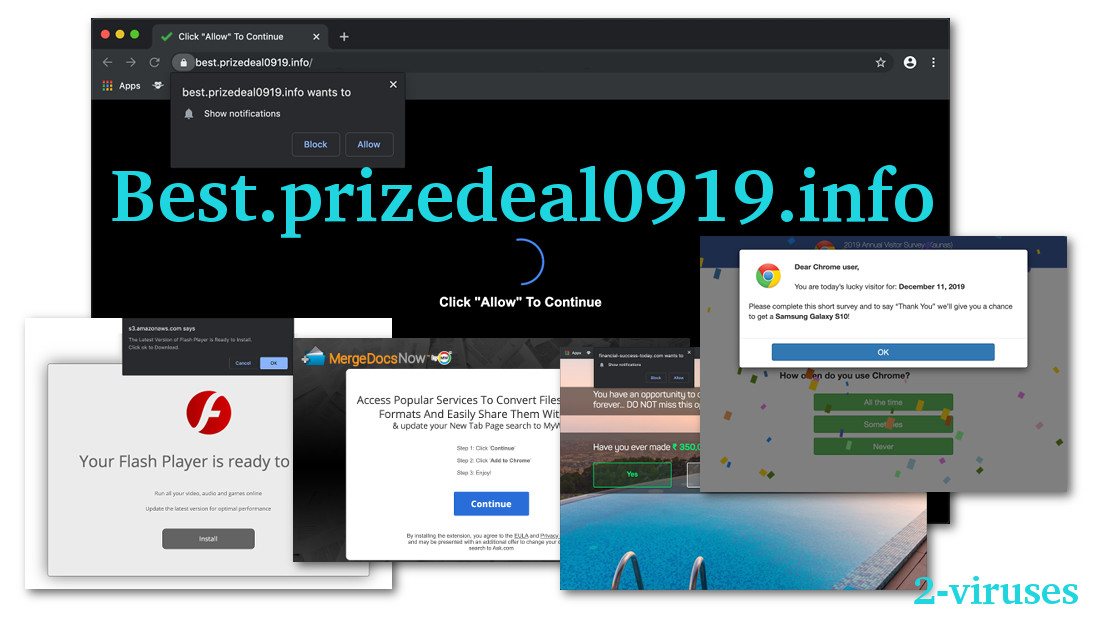 How to stop Best.prizedeal0919.info's ads and redirects
The notification spam by Best.prizedeal0919.info can be blocked by just going to browser settings and making a few changes.
Users of Chrome can type "chrome://settings/content/notifications" in the address box. In the list of addresses that can send notifications, choose every one that you aren't interested in getting updates from and block them.
In the Safari menu, choose Preferences, Websites, Notifications. There'll also be a list of sites that send notifications, including Best.prizedeal0919.info. Block it.
Edge – open Settings, Advanced settings, Notifications, Manage. Next to Best.prizedeal0919.info, there'll be a switch that needs to be turned off.
Firefox – type "about:preferences#content" in the address bar, find the Notifications section. Block unwanted sites.
This on its own only blocks notifications but you can still load the website. So, block Best.prizedeal0919.info to stop seeing it online. You can block just Best.prizedeal0919.info manually, however, there are so many malicious websites out there, that it would not be very effective at protecting you. So, it's a good idea to block as many malicious sites as possible with the help of an ad-blocker, an anti-malware program, or another tool.
Besides blocking malicious websites, anti-malware programs (SpyHunter for PC or Combo Cleaner for Mac) are also good at removing malware. It's advisable to scan your computer to check for adware and other malicious programs. If you got some fake Flash update file or a browser hijacker downloaded by some Best.prizedeal0919.info ad, it's best to delete them.
Automatic Malware removal tools