Nerinlelighda.pro is a website that pushes very annoying pop-up ads and is responsible for unexpected new tabs being opened, links being redirected to random and unexpected pages, and other distractions to your web browsing. It starts with a completely fake warning to "Please install the new Video Update" to trick people into allowing adware to hijack their browser.
Nerinlelighda Pro Adware quicklinks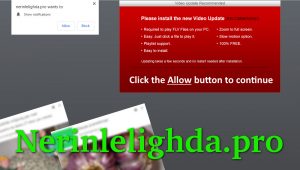 Random new tabs opening on your browser, links not taking you where you expected them to, other strange behavior are symptoms of an adware virus having hijacked the browser. There may or may not be any malware on your computer, but Nerinlelighda.pro's redirects and pop-ups are being caused by the website rather than computer malware. However, this type of hijacking is correlated with unwanted or malicious programs being installed, so desktop malware is even more of a concern. For example, Video Update pop-up that is very similar to the one that Nerinlelighda.pro uses has spread unwanted programs in the past.
How ads by Nerinlelighda.pro begin
Nerinlelighda.pro is very similar to Topernews.me, Plsppushme.com, and other illegitimate adware sites. The biggest difference between them and Nerinlelighda.pro is the unique fake alert about a needed update being displayed:
Please install the new Video Update (RECOMMENDED)

Required to play FLV Files on your PC.
Easy: Just click a file to play it.
Playlist support.
Easy to install.
Zoom to full screen.
Slow motion option.
100% FREE.

Updating takes a few seconds and no restart needed after installation.

Click the Allow button to continue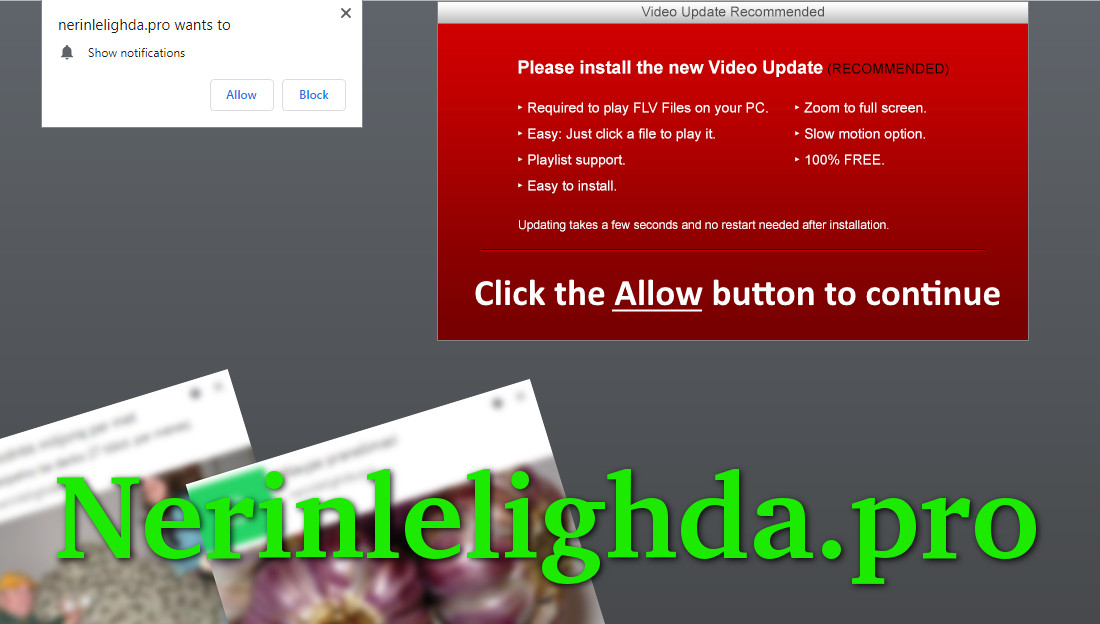 The "Allow" there refers to permission that you grant the website to send you notifications — the annoying bad ads that clutter your browser. All these adware sites want you to do it, and they use various fake page designs and manipulation tactics:
Click "Allow" to play a video (when there is just a picture of a video).
Click "Allow" to download a file (it's usually a fake download button, but sometimes it downloads real malware).
Click "Allow" to install a critical update (it's fake).
Click "Allow" to fix your internet connection (also a fake warning).
Relying on people clicking "Allow" out of inertia without even thinking about it.
Forcing people to click "Allow" by expanding the page to full screen and hiding the user interface.
The ads by Nerinlelighda.pro are more than just distracting: they're misleading and the products they advertise are actually dangerous. Fake testimonies and being used to promote scams, unregulated medical products, and unwanted software, as well as fake social media pages and spoofed news articles. It's not safe to even expose yourself to such ads, unless your goal is to become familiar with what ads look like when they don't have to obey ethical behavior guidelines.
How to stop Nerinlelighda.pro pop-ups
To stop the ads, the first thing to do is to access your browser settings. The main menu usually leads to a window where you can find site settings. Nerinlelighda.pro and various other sites that have permission to push notifications to your browser are listed there. You can block them from sending you pop-ups by disabling site notificatons.
Remember that notifications can be useful: they can update you when your favorite blog posts a new article, or when you get a new email. It's sites like Nerinlelighda.pro that are a problem with how they abuse this technology to show unwanted ads.
For the most popular browsers, the instructions are like this:
Chrome: type "chrome://settings/content/notifications" in the address box, find Nerinlelighda.pro — block it from sending you notifications.
Safari: in the Safari menu, choose Preferences, Websites, Notifications — block updates from Nerinlelighda.pro.
Edge: open Settings, Advanced settings, Notifications, Manage — find Nerinlelighda.pro and its switch; turn the switch off.
Firefox: type "about:preferences#content" in the address bar, find the Notifications section, block updates from Nerinlelighda.pro.
Look out for other websites — if you don't want to receive updates, there is no need to allow them.
Like I said earlier, one type of product that Nerinlelighda.pro promotes is unwanted software, such as fake optimizers, browser toolbars, and other products that pretend to be useful but only exist to display you more ads and force you to subscribe to unneeded services. It's advisable to scan your computer using an aggressive antivirus tool — one that checks for low-reputation software, as well as serious malware. Spyhunter (PC), or Combo-Cleaner (Mac) could do the job and it's a good idea to make sure that your regular security solution detects PUPs, too.
Automatic Malware removal tools