Stream2watch are websites that claim that they can help you watch sports streams by a global selection of channels for free. Unfortunately, trying to use Stream2watch to watch the streams doesn't really work – it causes redirects to subscription signups with egregious hidden fees. People who don't carefully read Terms of Service risk losing a significant amount of money to dishonest services. Variants of Stream2watch include Stream2watch.ws, Stream2watch.site, and Stream2watch.co.
Stream2watch Redirects And Ads quicklinks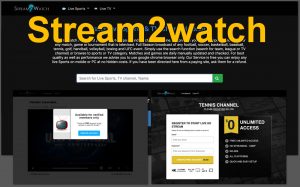 Stream2watch is a somewhat dangerous site that should be avoided:
Threats by Stream2watch
Scams,

malicious advertising.

How people find it
Ads,

web search.

Possible harm
Leaked credit card and other personal info,

unauthorized monthly charges,

low-quality service delivered,

malware and scams in notification ads by Stream2watch.

How to stop Stream2watch ads
Block notifications from unwanted sites,

protect your credit card,

use antivirus programs (like SpyHunter for PC or Combo Cleaner for Mac) to find and remove malware,

block malicious URLs.
Stream2watch ads – bad subscriptions
Misleading subscription offers
People find Stream2watch when they are looking for a way to stream TV channels, usually to watch sports events. Stream2watch provides a generous list of available channels and their streams seemingly for free. But trying to watch a channel may not work. Instead of showing you the stream, Stream2watch may instead open a page that demands that you register for a service and give your credit card information.
The pages advertised by Stream2watch are supposedly ad-free, support even 4K resolution, and work on mobile devices. On top of all that, registration is free. Sounds too good to be true, doesn't it?
Here are some reviews of Fuuze, one of the services that I noticed was advertised on Stream2watch. People's complaints are pretty consistent:
charged for around $50 without being warned,
promised a free trial but still charged,
after complaining, offered a 50% refund despite deserving all 100%.
Services that Stream2watch redirects you to offer paid subscriptions of around $49. One variant I saw was promising a 5-day free trial, except the free trial cost around $2. Another variant offered all of 2 hours of free trial that would start immediately after you give your credit card number and if you don't cancel before the end of the 2 hours, you will be charged. It's ridiculous, and all this information is not front-and-center – no, it's hidden in tiny print at the bottom of the screen and in the Terms of service page. This is similar to how Geeker.com, Tzarmedia.com, and VodPlus work. The behavior of these services defies common sense and, in some cases, laws.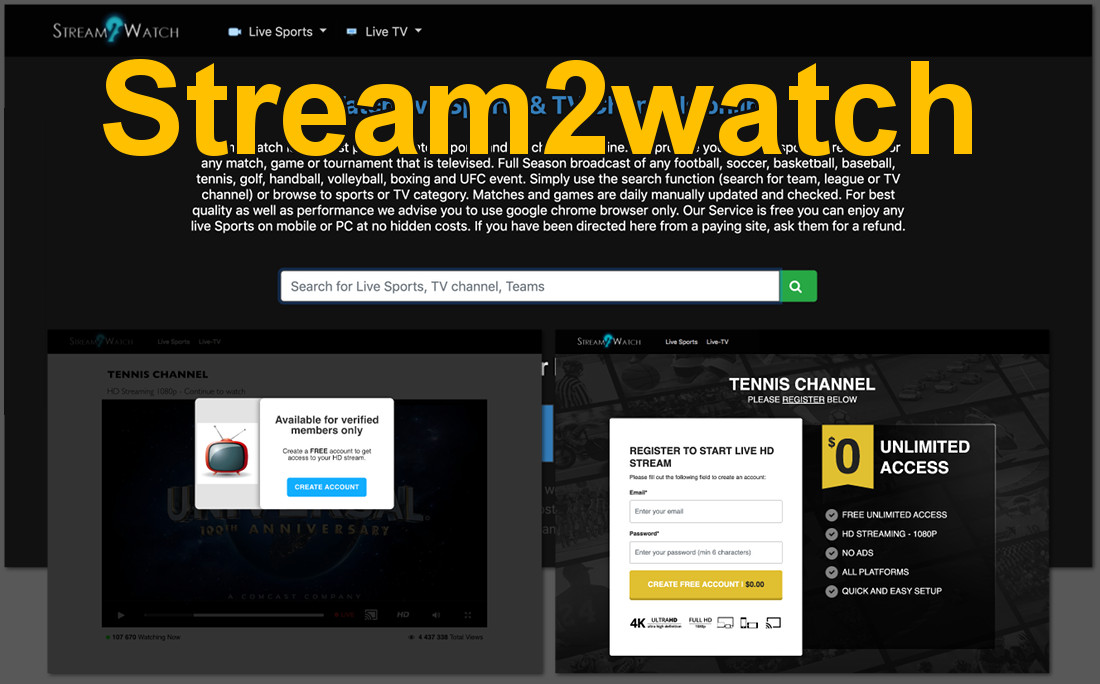 Scam sites are common
Stream2watch redirects users to sites like Allsports4free.live and Playspotz.com, which ask you to register with your credit card for "verification". This is a classic among scam sites. For example, dishonest Amazon surveys and misleading gift card giveaways promise people various prizes and then use their credit card data to sign them up for coupon sites. Fake Google Rewards Centre surveys promise people free phones and then sign them up for an online games service.
Generally, the services are pretty low-quality, too. They have a small selection, low-quality products, and absurdly high fees. Sure, they may not be doing anything too illegal, but customers are still being misled. Not to mention, Stream2watch promised you a stream. And with the low quality of the offered services, you probably won't be seeing the stream.
How to deal with the Stream2watch redirects and ads
Avoid illegal sites
You could find Stream2watch after searching online for free Tv streaming online. The problem with that is that if you can't find free legal avenues, you'll have to deal with illegal sites. Sure, Stream2watch has a disclaimer that it never hosts streams and so it's not doing anything illegal, but it's still basically a pirating site. And pirating sites attract advertisements by scammers and fraudsters (because normal advertising companies won't work with illegal sites). Illegal sites are a great medium for malware to spread.
At least some of the people who visit Stream2watch find it through notification spammers like Celeb-secret.live and Click-on-this.today. Stream2watch also may offer you notifications after you visit it – not to warn you about new streams, but to show you more ads. The ads include scareware, diet pills, gambling sites, and fake giveaways.
Avoid the spam
One way to protect yourself from all these scams is to use an antivirus program to block suspicious URLs.
Next, you should check your notifications settings in your web browser. Find Stream2watch and other sites that are sending you unwanted pop-ups and block them:
Chrome – type "chrome://settings/content/notifications" in the address box.
Safari – in the Safari menu, choose Preferences, Websites, Notifications.
Edge – open Settings, Advanced settings, Notifications, Manage.
Firefox – type "about:preferences#content" in the address bar, find the Notifications section.
Unsurprisingly, visits to sites like Stream2watch may cause or be caused by malware. For example, adware can fill your browser with ads that aren't supposed to be there. Or you can download some malware from one of Stream2watch's ads. It's a good idea to scan your computer for malicious programs – SpyHunter for Windows, Combo Cleaner for Mac OS, or any other competent anti-malware scanner would do.
Protect your bank account
The services advertised on Stream2watch are trying to scam people. If you gave away your credit card information to one of those shady sites, be careful:
keep an eye on your bank account,
read the terms of service of the service that you signed up for,
cancel the service if you don't trust it,
ask for a refund if you were charged illegitimately,
consider contacting the police or filing a complaint to a consumer protection organization in your country.
Automatic Malware removal tools