Frees.best might look just like an official, legitimate survey about your experience with Google with the additional reward of a phone of your choice – iPhone Xs Max or Samsung Galaxy S10. In reality, the survey is fake and the prizes are a scam meant to steal people's private information and money.
Frees Best Survey Scam quicklinks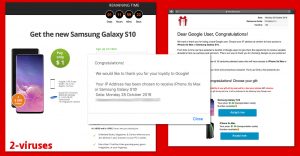 It's not uncommon for fake giveaways to be used by criminals to make some profit:
Promise users a valuable prize, then get them to pay bogus fees on top of bogus fees (registration, verification, shipping, etc.).
Get victims' private information and sell it or use it to try and rob them.
Sign victims up for fake subscription services.
It's also common for known services and companies to be used as cover by criminals who want people's trust. That's why so many tech support scams impersonate legitimate companies and why Frees.best pretends like it's a Google page when it's not.
Frees.best is a simple site with a fake survey that anyone with the most rudimentary coding knowledge can make. Then ad-networks without standards, like AdSupply and Adfoc.us, are used to spread the malicious page to thousands of people.
Frees.best classification
Dangers of falling for the fake giveaway

Private information, including payment data, exposed to criminals
Online accounts hijacked
Time and money wasted

Malicious pop-up causes

Adware infection
Visiting infected websites
Visiting sites with dangerous ads

Frees.best pop-up removal

Ignore the pop-up
Get rid of all adware and malware (Combo Cleaner for Mac, SpyHunter for PC)
Change passwords and protect your bank account
The Frees.best scam process
The Frees.best site plays out the scam the same way for every user. It claims that you won a phone, asks for your credit card details, asks you to pay for shipping.
Frees.best starts with a pop-up thanking you for your loyalty to Google appears (Frees.best has absolutely nothing to do with Google, it's just using that company's name). It says that your IP address was chosen to receive a phone. This message might be in English, but it's likely to be translated into the language that fits the location of the user: Frees.best targets countries all over the world, including Bolivia, South Africa, and Canada.
Once you close the pop-up, a page appears with this text:
Dear Google User, Congratulations!

We want to thank you for being a loyal Google user. Choose your IP address at random to have access to iPhone Xs Max or Samsung Galaxy S10.

From time to time we have selected a handful of Google users to give them the opportunity to receive valuable donations from our partners and sponsors. This is our way to thank you for choosing Google as your preferred service.

Today is your lucky day! You are one of 10 randomly selected users who will have access to iPhone Xs Max or Samsung Galaxy S10 .

To receive your gift, simply fill out our short and anonymous research. Hurry up! Only a few presents are available today!
A few very simple questions appear, like "How satisfied are you with Google?", "Would you recommend Google?", and "What do you like most about Google?", each with three replies.
No matter how you answer the questions, Frees.best then displays some text about checking IP addresses and choosing your rewards. Then, two phones are displayed – an iPhone Xs Max and a Samsung Galaxy S10 – as your potential prizes. Supposedly, only a few of these phones are reserved, a 5-minute timer is counting down, urging you to hurry up and claim your phone.
If you do choose one of the phones, a new page loads – a page from freemobile.best. This time, a 36-hour timer is ticking down. This page asks for your email address, a password, and payment information. It promises that the winners fo the phone will be contacted over email. The subscription service Nipsplay is mentioned nearby.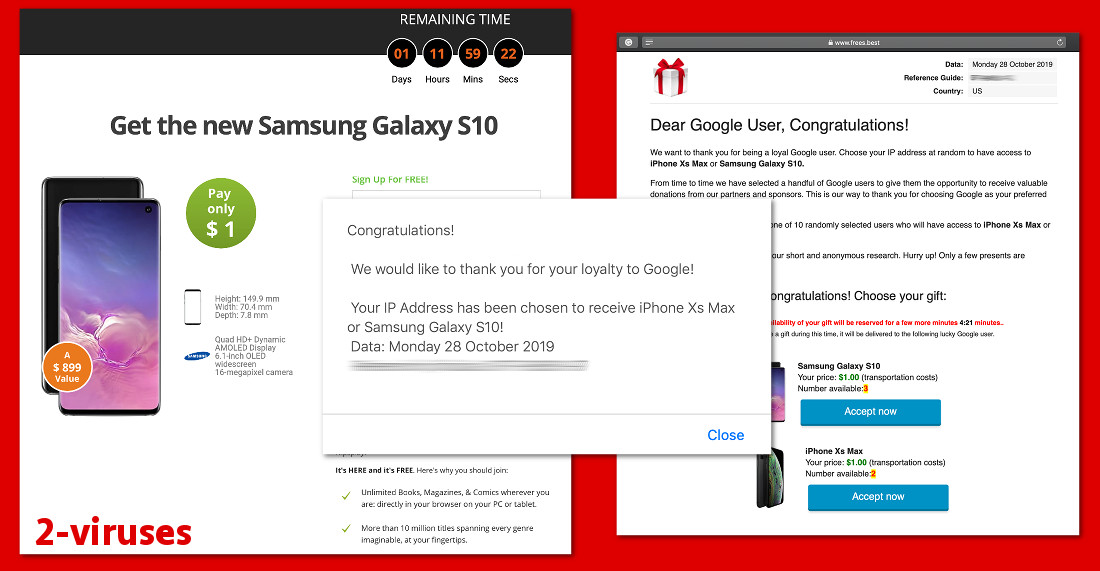 How Frees.best spreads
Overall, the scam is a version of Google rewards Center and similar to various other scams, like "Win a New Phone", "Thank you for support of Facebook", and "Annual Visitor Survey". Frees.best spreads it, but it's only one malicious page of many. The fraudsters responsible for it can easily get new websites if Frees.best gets too infamous. But these sites need to be advertised, promoted if they are to reach people who would unwittingly give money to this scam.
Putlockers, video online conversion sites, social media, filesharing sites, notification spammers, etc. advertise Frees.best. Sometimes, ad-servers are infected to deliver malicious links and redirects. Other times, the site owners voluntarily work with shady ad-networks despite knowing that they spread dangerous sites. This all means that Frees.best and the fake survey might be difficult to avoid. Even legitimate sites might accidentally spread it, occasionally.
I say that Frees.best is advertised, but it's most likely to open in redirects, which do not look like ads. You might try to open a website and, once in a while, it will redirect you to some unrelated site, like Frees.best. Being redirected to a survey is not unheard of, so it might make the fake Google giveaway look somewhat legitimate, but be careful – a lot of dangerous content is promoted using redirects: fake virus alerts that spread junkware, fake login pages that steal passwords, etc.
Desktop computers and mobile devices both are vulnerable to the Frees.best scam site. This article on excessive pop-ups has more info on how ad-networks are involved in malicious ads.
How to avoid Frees.best and other fake giveaways
If you encounter a pop-up from Frees.best or another site that claims that you were chosen to win a prize, avoid it. Malicious ads that lure in users with the message that you won a prize are a staple of online scams. Close the browser tab, you can use the Alt+F4 keyboard shortcut if you're a Windows user and the Cmd+W if you're on MacOS (just press the two keyboard buttons together when you want to close a window).
There are a lot of measures you can take to prevent scams like Frees.best from showing up, even though the protection can never be perfect:
Make sure that your browser has its security features turned on: blocking pop-ups, warning you about unsafe sites, etc. It's not perfect, might miss Frees.best, but this type of protection does make a difference.
Review the programs and browser add-on that you have installed and make sure that they're all trustworthy. Malicious programs and browser extensions can serve as adware that opens dangerous sites, or they might download more malware. Have your antivirus program scan your computer as often as it needs to.
You can use ad-blockers to block malicious ads. Ad-blockers are often free and they can do a good job of malicious ads. Some criminals will find a way around ad-blockers, but many won't.
Use an antivirus program to block malicious sites. Frees.best is recognized by some security providers, so a program that monitors which websites your browser visits and blocks the malicious ones could be useful.
Update your software, especially the antivirus program, with the newest security patches so that malware can't take advantage of any bugs.
It's not likely you can completely protect your computer from bad-meaning websites. At the same time, Frees.best loading its page in your browser doesn't mean that your machine is necessarily infected. If you don't give Frees.best your information or give it fake data, it doesn't do anything. This scam might be spread by malware and it's advised that you remove it if there's any on your computer (Spyhunter for Windows or Combo Cleaner for Mac OS would do a good job). However, the Frees.best fake survey page probably doesn't infect your computer with anything. So, if you only encountered it once and closed it, don't worry: malicious ads happen and the best way to deal with them is to just ignore them.
If you found yourself caught in the web weaved by Frees.best, don't delay:
If you used any of your real passwords during the process, change them and make sure that 2-step verification is set up.
If you revealed your payment data, make sure that the criminals can't take advantage of it: check for strange transactions, you might be able to get refunds if you contact your bank quickly. Credit card fraud is a big problem and it's all done to steal money.
Watch out for malicious spam in your email. If this email was exposed, it might be used to send you malware in the form of a malicious email, some of the most dangerous malware spreads this way.
Automatic Malware removal tools