Click-on-this.today is the malicious website responsible for the intrusive push notifications that are labeled as being from "Click-on-this.today". It sends the pop-ups to your browser and it promotes some dangerous and harmful websites that are designed to scam people and infect their computers with malware. Ads by Click-on-this.today appear regardless of what website you are on both desktop and mobile browsers. Click-on-this.today and its pop-ups should be blocked as soon as possible.
Click On This Today Ads quicklinks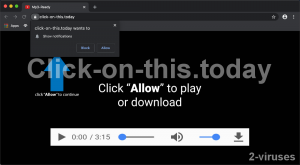 Stop ads from Click-on-this.today:
How Click-on-this.today works
Redirecting each visitor to an ad site,

tricks people into subscribing to web push notifications,

shows ads in those notifications.

Dangerous content that Click-on-this.today promotes
Get-rich-quick schemes,

adware products,

malware.

Similar sites
Vimlo.pro,
Stop Click-on-this.today ads
Unsubscribe to its notifications,

remove malware (SpyHunter for PC, Combo Cleaner for Mac),

block malicious websites.
How Click-on-this.today ads work
Click-on-this.today is not a normal website. When you try to visit it, it'll immediately redirect you to one of its partner sites. It loads webpages of those who have paid to be promoted by Click-on-this.today – that's how advertising works with these malicious websites).
Links and ads to Click-on-this.today are posted on torrent sites, but, unexpectedly, they're also found on social media sites like Facebook and YouTube. The ads open Click-on-this.today in a new browser tab or a background window. Click-on-this.today then automatically chooses a website for you according to your location and your browsing habits.
Sometimes, when you visit Click-on-this.today, it asks you to allow notifications. It might show a fake download site that supposedly requires you to subscribe to notifications to download it, or a page where you must allow notifications to prove that you're not a robot. Click-on-this.today uses these and other lies to trick users to receive its web push notifications which contain the same malicious ads that Click-on-this.today shows online.
Click-on-this.today doesn't show normal ads. It works with those advertisers who want extremely aggressive pop-ups and those whose products are not considered safe. Those advertisers have no one to turn to but shady websites like Click-on-this.today. So, most of the ads by this site are unsafe.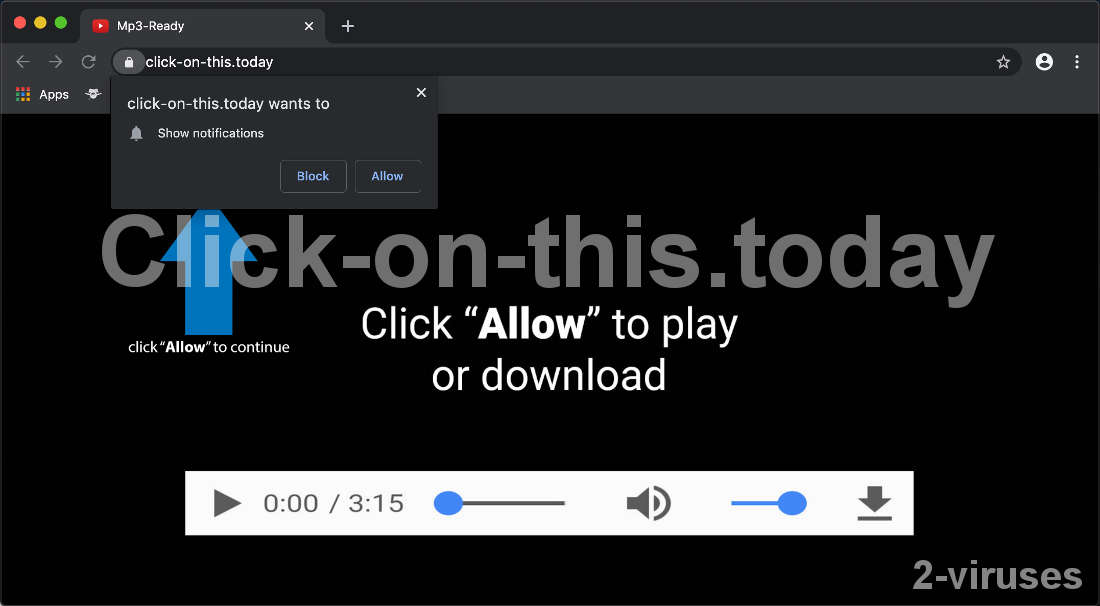 Dangers of Click-on-this.today ads
What are some examples of dangerous ads by Click-on-this.today? A variety of scams, browser hijackers and other adware, some shady medical products, and misleading and super-expensive services. Plus some content inappropriate to children and people vulnerable to addictions. Some of that stuff just doesn't fit the guidelines of other ad-networks, some is actually illegal.
Click-on-this.today often promotes various get-rich-quick schemes. The ads for these often show people holding wads of cash and celebrity images. Clicking on the ads might take you to a website that tells a story about someone getting really rich really quickly by putting their money in some cool new trading service. Fake news articles and fake testimonies are used, with fake celebrity endorsements. It's not hard to see some red flags – spoofed sites have the wrong URL and are not interactive, fake endorsements use stock photos and phrases copied from other websites. Most obviously, get-rich-quick schemes always promise fast, effortless returns for no work and with no risk, which doesn't turn out well for the victims.
Click-on-this.today also promotes some adware viruses like the Searchgg search engines and Mindspark hijackers like PDFConverterHD. These browser extensions can manipulate your web search results to include more ads and they read your browsing history and your search terms. They negate the security and encryption that has been implemented on so many websites to protect your privacy.
There's more – Click-on-this.today promotes stuff like fake lotteries and giveaways that collect fees for nonexistent prizes and subscribe you to fraudulent services, potentially unsafe diet pills with unrealistic effects, and fake antivirus software. Needless to say, you should ignore all ads that Click-on-this.today shows.
How to block Click-on-this.today ads
To get rid of the Click-on-this.today problem, there are a few things you need to do:
Unsubscribe from Click-on-this.today notifications to stop its ads in your browser.
Scan your computer for malware and remove all the unsafe programs and browser extensions.
Block Click-on-this.today and other malicious websites with an antivirus program or an ad-blocker.
Reflect on how your browser was infected and be careful of the other notification spammers.
To get rid of Click-on-this.today
Chrome – type "chrome://settings/content/notifications" in the address box.
Safari – in the Safari menu, choose Preferences, Websites, Notifications.
Edge – open Settings, Advanced settings, Notifications, Manage.
Firefox – type "about:preferences#content" in the address bar, find the Notifications section.
Click-on-this.today promotes browser hijackers, rogue antispyware, and it might even open sites that automatically download malware. You should scan your computer with some real anti-malware tool, such as SpyHunter for PC or Combo Cleaner for Mac to check if your computer has been infected. Use a program with real-time web protection to block bad sites.
Next time you encounter a site that asks you to allow notifications, think twice. Consider disabling the permission requests completely.
Automatic Malware removal tools