Celeb-secret.live uses fake video players, captchas, lotteries, download pages, and other content to trick visitors to subscribe to its notifications. Then, Celeb-secret.live abuses those notifications to flood people with malicious ads. Adware viruses and websites promote Celeb-secret.live, which, in turn, advertises more malware and harmful content. Being exposed to Celeb-secret.live's notifications puts your computer at risk of infection.
Celeb Secret Live Notifications quicklinks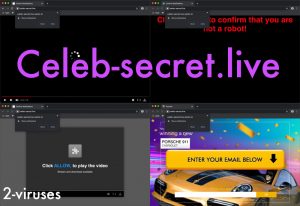 Celeb-secret.live is a dangerous and annoying site that allows malicious actors to send you ads:
Type of threat
Adware,
Problems caused by Celeb-secret.live
Annoying ads,

controversial and age-inappropriate content,

scams,

malware.

How the notifications start
Celeb-secret.live is advertised by malicious ads and adware,

visitors are manipulated into allowing notifications.

Stop Celeb-secret.live notifications
Set browser settings to block unwanted pop-ups,

remove malware from your system (Combo Cleaner for Mac, SpyHunter for PC).
Consequences of Celeb-secret.live notification spam
If you're receiving push notifications in your browser labeled as "Celeb-secret.live", then you must already see how annoying and persistent these ads are. They make web browsing on the infected browser nerve-wracking. Not to mention, these ads are dangerous.
In a way, Celeb-secret.live is like an ad-server: it decides what ad to show you based on your location and whatever other data it has on you, then it forwards you to the page that is the ad. But unlike with normal ad-networks, there are no regulations on Celeb-secret.live notifications. No honesty or safety standards that would protect you. No age checks to make sure that content is appropriate.
So, links to websites of varying legality are sent to you as notifications from Celeb-secret.live:
online stores,
casino sites, betting sites, and ad-filled content farms,
fake surveys, giveaways, and get-rich-quick scams,
malware under the guise of fake software updates and antivirus tools.
It's not always easy to tell what site a Celeb-secret.live notification will open. Some of those pop-ups look like social media updates, new emails, or antivirus warnings. So, you may accidentally click on them even when you're aware that Celeb-secret.live is not safe.
Scams can cost you money, malware can cause frustration and cost you money – malware is ultimately a for-profit venture and cybercriminals either try to sell you useless stuff, try to trick you into giving away your payment information, or try to extort money from you. Celeb-secret.live is the same – its operators make money from advertisers and its advertisers use Celeb-secret.live to spread their malware and make money.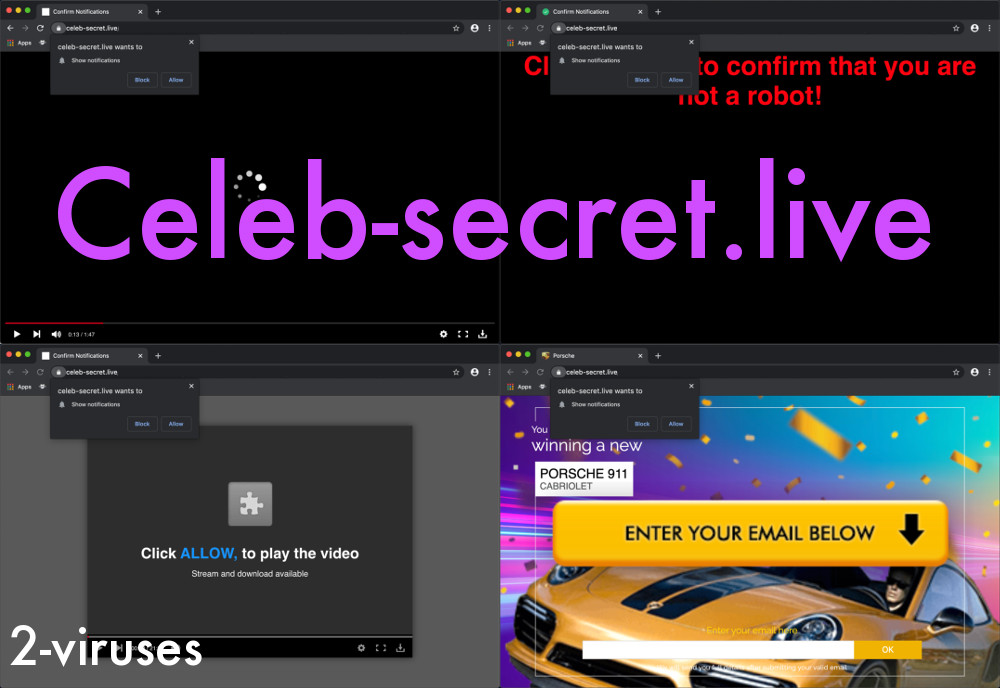 How notification spam starts
Celeb-secret.live is advertised online:
promoted by adware viruses like Special-offers.online on Infolinks adware,
opened by monetized URL shorteners, such as Uiz.io, Ouo.io, and Ckk.ai,
unfortunately, advertised on legitimate websites like Youtube and Gmail with infected ads.
Seeing Celeb-secret.live may or may not mean that your computer is infected with adware. It could be that an infection is causing your browser to open malicious webpages. It could also be that you visit pirating and streaming sites that show malicious ads. Maybe you visited a website that was infected with malware and caused random redirects – without the knowledge of the site's owner. Or maybe you clicked on an infected ad on a trusted site – no website or ad-network can keep their ads 100% safe.
Once you're on Celeb-secret.live, you should see one of its many page designs made to trick visitors to subscribe to its notifications. Maybe you need to click "Allow" to play a video, or to prove you're not a robot. Celeb-secret.live can choose a design depending on what site sent you to it. A streaming site will show a loading video. A music converter might open Celeb-secret.live with a loading bar or a download button.
Thanks to this design, visitors of Celeb-secret.live might miss that they're on a new website. They might think they're on the old one and follow what Celeb-secret.live instructs them to do.
Web browser developers see this problem and are addressing it. In the future, you should see fewer or no notification pop-ups on desktop and mobile browsers. This feature should come with new browser updates to Chrome (Chrome and Edge can silence notification prompts) and Firefox (Firefox to hide notification pop-ups) and make default browser settings such that notification pop-ups are hidden. You can still use notifications, but the fraudsters behind Celeb-secret.live and similar sites will probably come up with new ways to trick people.
How to stop Celeb-secret.live notifications
Go to your browser settings and block all notifications from Celeb-secret.live and every website that you do not know on the list:
Chrome – type "chrome://settings/content/notifications" in the address box.
Safari – in the Safari menu, choose Preferences, Websites, Notifications.
Edge – open Settings, Advanced settings, Notifications, Manage.
Firefox – type "about:preferences#content" in the address bar, find the Notifications section.
Next to each entry in your list of sites that can send you notifications, there should be a switch of a menu (three dots) that allows you to manage that site's permissions. Choose "Block" to block notifications. Be liberal with which sites you block: you can always change that later and there's no need to allow unfamiliar sites to send you pop-ups.
Also, it would be good to scan your computer with a reliable antivirus program (like Combo Cleaner for Mac OS, SpyHunter for Windows, or another program). This will show you if malware is present on your computer and if one of the ads downloaded anything dangerous.
Automatic Malware removal tools