Geeker.com fraudulent website is a movie-streaming service that carries many similarities with Popcornvod.com. It's quite dangerous to use. You will experience financial losses from your banking account as these deceptive services charge your credit card without obtaining permission. The customer service, allegedly providing support and answering clients' question, is reported to be constantly out of reach.
Geeker.com fraudulent behavior
Most ridiculous excuses are made up to avoid interactions with actual clients of Geeker, like, that they are having bad weather in New York. If you sign up for a 30-day free trial, you will have to create an account. Of course, among your email address, phone number and other personal information, you will be required to reveal your banking account information.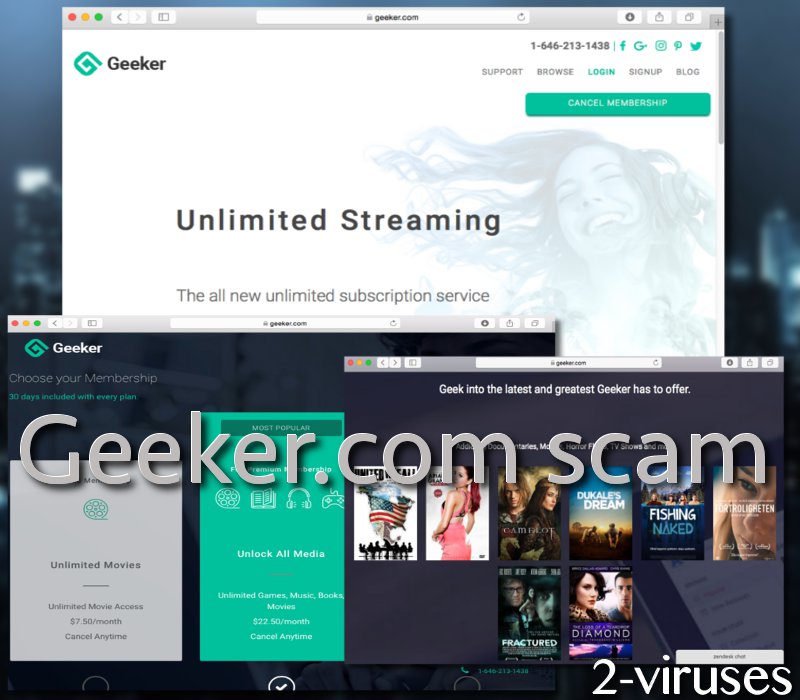 If a free trial requires you to reveal such important information, you can already presume that unvalidated billings will take place (Are free trials really free?). Somehow, this specific type of scam has been selected by many cyber criminals. For instance, owners of Muvflix and Tzarmedia.com are also aiming to tempt users with free memberships, only to rip them off once they've revealed their credit card details.
Feedback about this service is anything but positive. Take a look at a couple of testimonials:
"1. I didn't realize the charges from this bunch had been on my credit card for 9 months– stupid me! I have never bought anything from them, have NO IDEA who they are, yet they were bilking me for $19.95/ month.
2. THEY STOLE $100 FROM MY CARD! I signed up for a $9.95/month membership and just saw that they have been charging my card every week for 3 months = $103.00. I called their support while I was on the screen that showed it was a $9.95/month membership and she asked which button I clicked to get there. Then the screen vanished and was replaced with a login screen so I have no proof.
3. I signed up for a free trial membership with ReadAnyBook.com. I tried to cancel my trial membership and there was no option to cancel. It slipped my mind due to excessive apartment hunting. When I saw that my account was overdrawn their records showed Geeker.com as the culprit. Since my bank confirmed that they are indeed a fraudulent operation, my money was refunded by my bank
Any one who has been scammed by geeker should report it to their bank. Chances are you'll get your money back since they are a confirmed fraudulent operation. My bank also blocked them from making any further withdrawls."
In fact, the Geeker.com Trustpilot page is nothing but bad reviews of disappointed, disgruntled former customers. And no wonder that so many people wanted to cancel their membership. On Geeker.com's front page it boasts of a vast library of movies, music, games, and books, but in reality, the quality of these products that you're supposed to pay a subscription fee for is very poor. The games are mostly casual, like match-three; you'd have no trouble finding them for free. The books don't include anything popular and famous. The same with movies and songs. It looks like Geeker is asking people to pay for something that they could get cheaper elsewhere.
To the people who want to cancel their free trial, The Geeker scam promises that they will be able to do that anytime they wish. This can be done via members area, customer support, email and social media. However, even though clients claim to have contacted the service about cancellations, representatives of the Geeker.com fraudulent website insist they did not receive any notifications, needlessly delaying users and forcing them to risk losing money.
In fact, in (Common scams and frauds), the service answered users' concerns, but the message was always the same. They claim that they need users' credit card information to make transactions for $0.01 USD for validation purposes. However, they do not reveal that they do not accept membership cancellations and charge users for full prices of their services.
Also, Geeker.com scam can display deceptive advertisements that will make you lose even more money. Fraudulent domains to donate, participate in surveys or other activities will take place. For instance, we noticed that content from Adf.ly, Adk2 and Propeller Ads Media will be presented. We have a testimonial from a former user that had signed up for the 5-day free trial:
"Signed up to Geeker for 5 days free trial with debit card. During process an ad came up for Unicef or some charity like that which I wasn't interested in anyway. I pressed the continue button and only noticed then that by pressing this button I was donating €1 to Unicef or whatever. A little trap set for us. Looking at my Bank statement I noticed that €1 went to Geeker NOT Unicef. Shame on you Geeker scamming the charitable organisations as well as everybody else".
You probably wouldn't expect a company as unethical as Geeker to care much about the wellbeing of its users. It would honestly be safest to cancel the Geeker.com membership, or at least to watch your bank account carefully to make sure that you notice any unauthorized charges as soon as they happen.
How to get out of Geeker.com
Geeker.com fraudulent services should be canceled immediately. Contact your bank provider and inquire about the suspicious transactions that have been occurring. One former user explained that banks detect this service as a scam and will probably refund the lost money. Furthermore, never sign up for free trials that require your banking account information and don't give away your credit card data to companies which you don't trust.
Furthermore, the service might be advertised on your screen because of an adware infection. Please try to find a suspicious tool in your operating system and get rid of it via Control Panel. If this sounds too hard, simply run a scan with Spyhunter.
How to remove Geeker.com scam using Windows Control Panel
Many hijackers and adware like
Geeker.com scam
install some of their components as regular Windows programs as well as additional software. This part of malware can be uninstalled from the Control Panel. To access it, do the following.
Start→Control Panel (older Windows) or press Windows Key→Search and enter Control Panel and then press Enter (Windows 8, Windows 10).
Choose Uninstall Program (if you don't see it, click in the upper right next to "View by" and select Category).
Go through the list of programs and select entries related to Geeker.com scam . You can click on "Name" or "Installed On" to reorder your programs and make Geeker.com scam easier to find.
Click the Uninstall button. If you're asked if you really want to remove the program, click Yes.
In many cases anti-malware programs are better at detecting related parasites, thus I recommend installing Spyhunter to identify other programs that might be a part of this infection.
Automatic Malware removal tools