Tzarmedia.com scam aims to trick people into signing up for a 5-day free trial. While it is promised that users are going to be able to play games, listen to music, read books, stream movies and download software, Tzarmedia.com service is nothing but a ripoff.
We have discussed similar traps like Geeker.com scam: both of them hope to profit from naive users. Concerned clients of Tzarmedia have filled the Internet with negative reviews about this service. Comments state that this company steals money from customers' credit cards (How Free Trials Can Lead to Months of Credit Card Charges).
Controllers of Tzarmedia.com scam charge clients' credit cards without authorization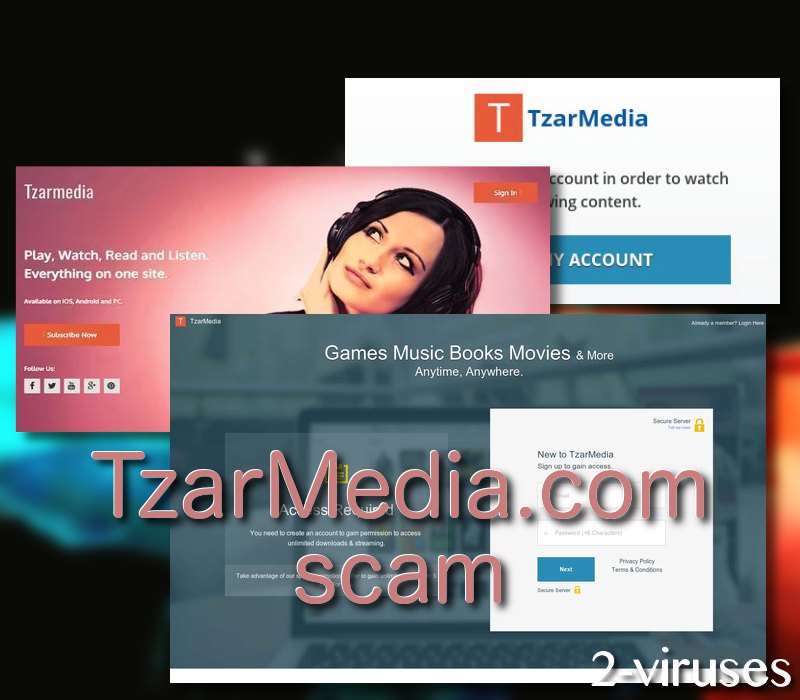 Even though clients indicated to never have signed up for a "premium service", they reported that their credit cards were being charged monthly. The approximate losses are of $35 a month, meaning that the longer this suspicious activity goes on, the more money people will lose (How free trial web offers can be credit card traps).
In addition to this, there appears to be a problem with the refunds. Not all deceived users are getting their money back. Even if they do receive some refunds, they are very likely not to cover all damages. Similar issue is also shared by people, scammed by Copybinary.me hoax.
The problem is that Tzarmedia.com hoax lures people in with the free trial. While it is indicated that during the 5-day trial users will be able to cancel their membership, this is not as easy. During trial, users will have no choice but to try the Express Online Cancellation service which will push a cancellation request to the top of the queue.
It costs $1, but we do not think that this service properly works. Despite the request for cancellation, Tzarmedia.com scam will still be aware of your credit card inforamtion. Therefore, it will automatically assign users for a "premium service" and start charging their credit cards. The same strategy is utilized by controllers of Musikmac scam.
In addition to this, Tzarmedia.com deceptive services does not even offer movies, books or music material it promises. Clients will provide the scammers with credit card details, will get charged an extortionate amount on a continuous payment authority, only to discover that the movie/book they intended to enjoy is not available.
Online surfers should be suspicious of Tzarmedia.com scam from the moment they notice it. During the registration for a tree trial, the service will require your bank details. This feature alone is very fishy.
The appropriate method would be to require this info after users decide to sign up for a premium version. Instead, the scammers will charge credit cards without their owners' knowledge. If you do not want to be charged $40, $50 or more dollars for a deceitful service, please stay away from this scam.
Take a look at a few negative reviews:
"It keeps charging me even though i cancelled. On top of it all, i cant even watch movies!!! Absolutley horrible!!!

I just signed up for a free trial just to watch a show online. Gave my CC info (stupidly), and long story short, the show I wanted to watch ended up being nowhere on their website, when the original site that took me to Tzar TOLD me the show was on the website. I cancelled IMMEDIATELY and took screenshots of my transaction receipts just in case. Don't use this site.

No idea how they moved us up to"premium status" for a service we never ordered nor use. So they just deduct $34.95/month from our checking account and then tell us NOT to contact our bank as it would 'slow down' the refund process….they will only refund the last 3 months payment…even though they collected for 12!!! YUCK. "
How to recognize an unreliable service like Tzarmedia.com scam?
First of all, you should be aware of the fact that many current online services will try to scam you. Offers for free trials is one of the successful ways that millions of online surfers get scammed every year.
However, there is a way to prevent this from happening to you. If you are signing up for a free trial, the service should not require your credit card details just yet. This should be done after you decide to order the full version.
In addition to this, it could be that some suspicious adware parasite (active in your PC) promoted Tzarmedia.com scam in online advertisements. To stop the streams of rogue ads, please try to get rid of malware as soon as possible. For instance, you could try to find suspicious programs in your Control Panel. However, a better idea would be to run a scan with an anti-malware tool. Spyhunter will take care of your issues without hesitation.
How to remove Tzarmedia.com scam using Windows Control Panel
Many hijackers and adware like
Tzarmedia.com scam
install some of their components as regular Windows programs as well as additional software. This part of malware can be uninstalled from the Control Panel. To access it, do the following.
Start→Control Panel (older Windows) or press Windows Key→Search and enter Control Panel and then press Enter (Windows 8, Windows 10).
Choose Uninstall Program (if you don't see it, click in the upper right next to "View by" and select Category).
Go through the list of programs and select entries related to Tzarmedia.com scam . You can click on "Name" or "Installed On" to reorder your programs and make Tzarmedia.com scam easier to find.
Click the Uninstall button. If you're asked if you really want to remove the program, click Yes.
In many cases anti-malware programs are better at detecting related parasites, thus I recommend installing Spyhunter to identify other programs that might be a part of this infection.
Automatic Malware removal tools