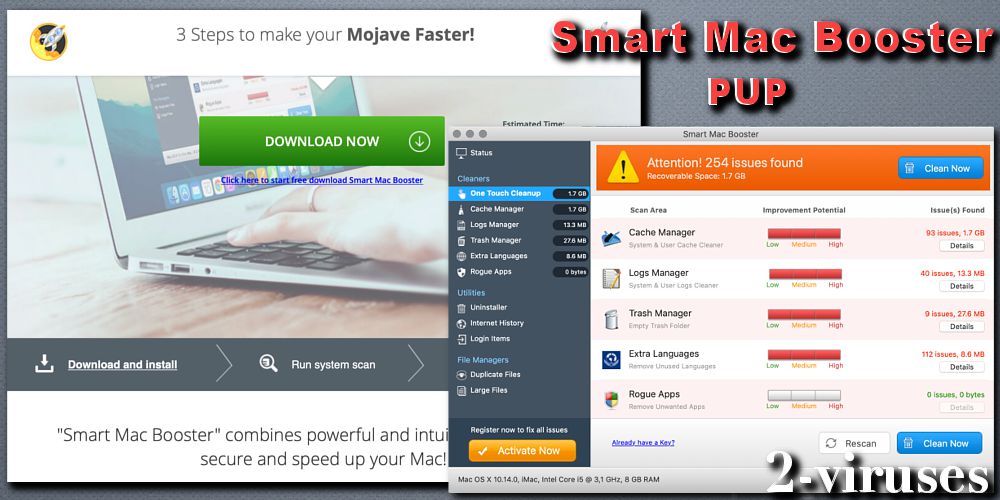 Smart Mac Booster is a potentially unwanted application that Mac users have to deal with after they fall for various scams claiming that they were infected with "Bankworm", "(3) viruses", and other made-up viruses. The software promises to make your Mac faster and more secure, but it does not deliver  – it's just a rogue tool which exaggerates system errors to convince you to purchase the premium version in order to fix them.
Smart Mac Booster Pup quicklinks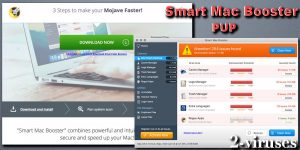 Smart Mac Booster PUP is a creation of an ill-famed company PCVARK. This establishment is known for its other unwanted software pieces, such as My Mac Speedup, Mac Tweaker and Mac Cleanup Pro, plus plenty of other Mac tools, as well as fake antivirus tools for the PC. If this is your first time getting infected with a rogue application like Smart Mac Booster PUP, we highly suggest reading about its features so it would make sense why it's necessary to get rid of it, on the other hand, if you know exactly what situation you got yourself into, simply skip to the elimination part.
The Smart Mac Booster application is spread by fake virus alerts. Some users might be under the impression that this app is safe or even associated with Apple – it's not, it's just scareware that uses malvertising and adware to spread to as many people as possible.
Smart Mac Booster should be removed as soon as it's discovered:
Type of infection

Scam
Scareware
PUP (potentially unwanted program)

Smart Mac Booster symptoms

Constant scans and pop-ups about issues
Slower Mac, especially startup

Distribution
How to remove Smart Mac Booster

Uninstall the program manually, by deleting all the associated files
Delete the application automatically, using programs like Combo Cleaner
What is Smart Mac Booster
Smart Mac Booster can be categorized as both a potentially unwanted program as well as a rogue application. It uses some extremely dishonest ways (usually fake virus alerts) to slighter into computers and become extremely persistent.
Dishonest scan results
The main website of Smart Mac Booster PUP is slick and professional-looking. It claims that this utility tool will help you speed up your Mac system and ensure security from malware (what a paradox!). It boldly declares itself to be "#1 System Utility for MAC in the World *" with no source. Unwanted programs often decorate their home websites with security seals, partner stickers, and logos exclaiming how safe and good the program supposedly is (they're usually either outdated, irrelevant, of impossible to verify).
In reality, Smart Mac Booster fakes errors and issues, scaring the victims and then offering a costly solution. While the approach of a free scan with paid removal is often used by legitimate programs, Smart Mac Booster severely misrepresents the scan results to convince people to buy the program – a total scam. The items that Smart Mac Booster considers "issues" include:
files in your Trash folder,
logs,
extra languages,
cache.
Deleting these items will free up a few Megabytes and that's about it. This software marks useful items like cookies as needing to be removed to make your Mac perform better – when, in reality, websites will just load slower.
No wonder it manages to discover issues even on freshly installed systems – Smart Mac Booster is desperate to mark anything as a problem. It declares your Mac status as "Critical" with no justification and shows you pop-up warnings every time you start up your Mac, all to scare and bully people into buying the full version of the program.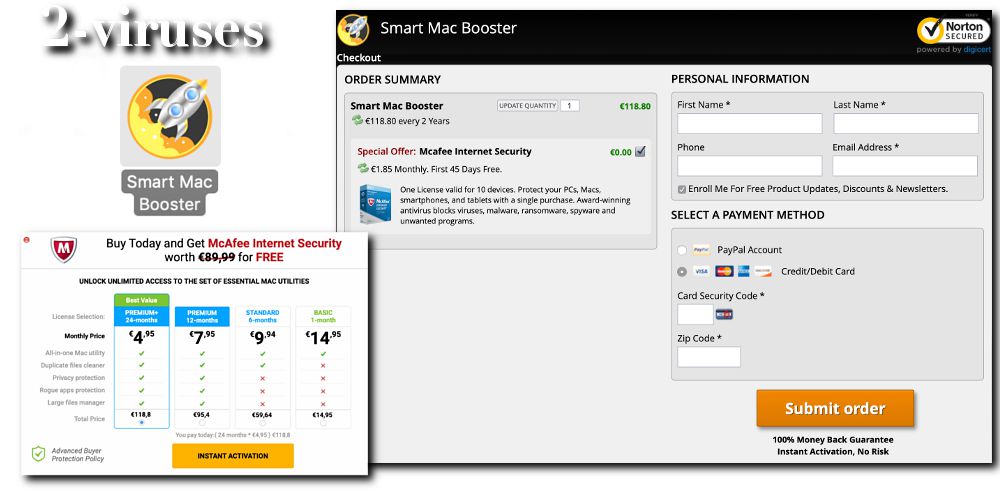 Expensive useless program
It might be useful to understand that Smart Mac Booster is not a virus and cannot do much malicious to your Mac, except for irritating you badly. It's more like a scam. Once it is done scanning your computer automatically, it will urge you to clean the "errors" by getting the full version of this product. Then it redirects you to a payment site, which claims that every 2 years of Smart Mac Booster will cost you around $130 (or €118). Mind you, the payment will go through a third-party service which may not be able to refund you if you change your mind, and also the charge will be automatically set to renew, so even if you will stop using this program but won't discontinue the subscription, crooks will be emptying your account regularly.
And if you will decide to postpone the purchase, Smart Mac Booster PUP will make sure to remind you about the bogus errors every couple minutes. It might even hide itself from being removed from startup, so you might have to quit it manually every time you turn on the computer.
To make a long story short, Smart Mac Booster is not dangerous malware, but a cunning application that uses scareware techniques to earn the revenue from gullible users who believe in its lies. There are plenty of worthy tools that can help you manage your Mac efficiently, but Smart Mac Booster PUP is clearly not one of them. Because of its persistence, you might need extra help during the elimination, so please feel free to follow our guided instructions below in order to rid of this unwanted app.
How Smart Mac Booster infects systems
Not this is the interesting part. For the last few years, Smart Mac Booster has spread by using fake virus alerts. The proliferating domain might look something like  'play3736.simplelife35.agency', 'prize7450.mondaysunday96.live', and others.
At first, a pop-up appears in your browser:
'Virus Found. A website that you visited today has infected your Mac with a virus. Press OK to begin the repair process.'
It might even lock your browser until you eventually decide to run the offered scan.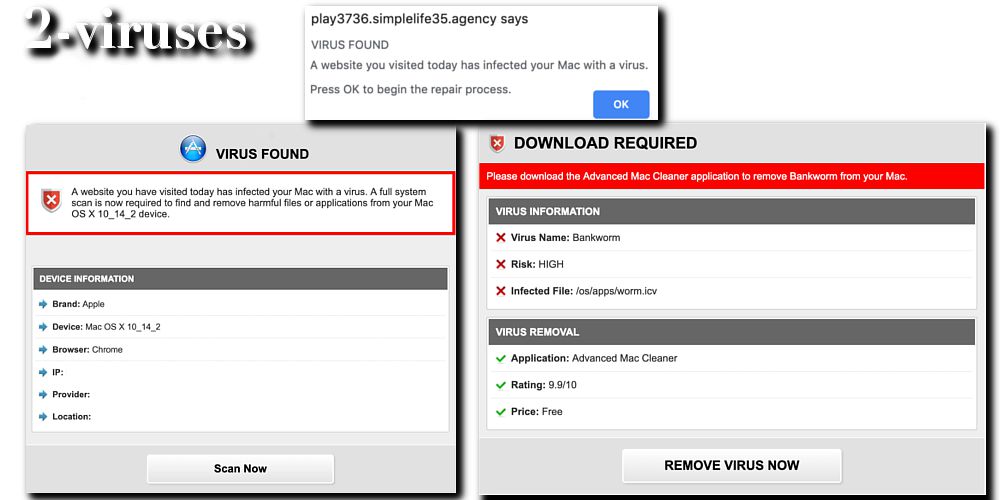 One example of such malicious pop-ups is the 'Bankworm virus' scam. Another is the "Your Mac is infected with 3 viruses!" alerts, including this later example. There's also Your Mac might be infected. There seems to be a thriving industry of scamming people into believing that their Mac is infected and selling them useless programs to "fix" the problem.
These scams offer a fake scan which "runs" and very quickly pretends to find malware on your Mac. After seeing the made-up scan results, you're taken to Smart Mac Booster's home site, or have the installer download immediately. The installer comes hidden under the name of maccleaner.pkg.
According to Apple, alerts like the ones that promote Smart Mac Booster should be ignored. These malicious websites work like ads and show the same warning to all Mac users, even though they do look up your location and IP address. If you choose to go along with the fake alert, you're urged to perform a scan, which is fake and always finds some malware. If you think about it, how can a browser run a proper system examination when it doesn't have the authorization to access other folders? This is simply a scareware scam that plays with users' emotions in order to offer the unwanted Smart Mac Booster program.
If these fake alerts appear repeatedly, your Mac might be infected with adware that needs to be removed. According to one investigation, some PCVARK programs could infect a Mac with malware which replaces system warnings with fake ones that promote PCVARK's products.
How to remove Smart Mac Booster from Mac
It's best to uninstall Smart Mac Booster. Don't use the provided uninstalling application, though, because it's unsafe and can cause even more problems.
Users who are not sure about their technical skills or don't want to take the risk, can straight away begin scanning their compromised systems with malware removal programs, such as Combo Cleaner, but those who are willing to try can follow our guide below in order to eliminate Smart Mac Booster PUP by hand. Feel free to choose any security software of your choice, just make sure that it indeed detects malware.
Automatic Malware removal tools
When it comes to getting rid of Smart Mac Booster manually, you have to make sure that all files related to the virus are deleted so it would not renew itself and install again. To do that you'll have to take extra measures and not just a simple application termination, which, of course, is necessary but insufficient. Here are the additional steps:
Remove Smart Mac Booster from Login Items.Go to System Preferences > Users & Groups >

Current User > 

Login Items. Check 'Smart Mac Booster' and click on the '-' button at the bottom of the window. This will prevent the malicious program from booting up automatically every time you turn the system on, making the computer run faster.

Delete Smart Mac Booster from Applications. Go to Finder > Applications > Select Smart Mac Booster and drag to Trash bin > Empty Trash. This will get rid of the main files of the PUP.
Eliminate leftover Smart Mac Booster preferences from Library. Go to Finder > Go > Go 

To Folder > T

ype '~/Library'. 

Then search various folders for the leftover files that can be related to Smart Mac Booster and delete them. You may find:

Library/Smart Mac Booster and Smbstr

Library/Application Support/Smart Mac Booster ALSO 'Smbstr' folder
Library/Caches > files related to Smart Mac Booster and Smbstr
Library/Cookies > com.smbstrhlpr.smbstrhlpr.plist

Library/Preferences > files related to Smart Mac Booster 

and Smbstr
Library/LaunchAgents > 

files related to Smart Mac Booster 

and Smbstr
Mind you, when looking for files in these mentioned folders, remember that the names of potentially harmful files can consist of other prefixes/suffixes and etc, therefore you should really examine well when looking for Smart Mac Booster related data (eg. com.smbstrhlpr.smbstrhlpr.plist). After removing Smart Mac Booster PUP from all these directories, it should leave you alone for good, and if not, then simply run a scan with a Combo Cleaner. Last but not least, don't forget to cancel the auto-charge subscription of Smart Mac Booster services at your bank do you would not continue paying crooks.