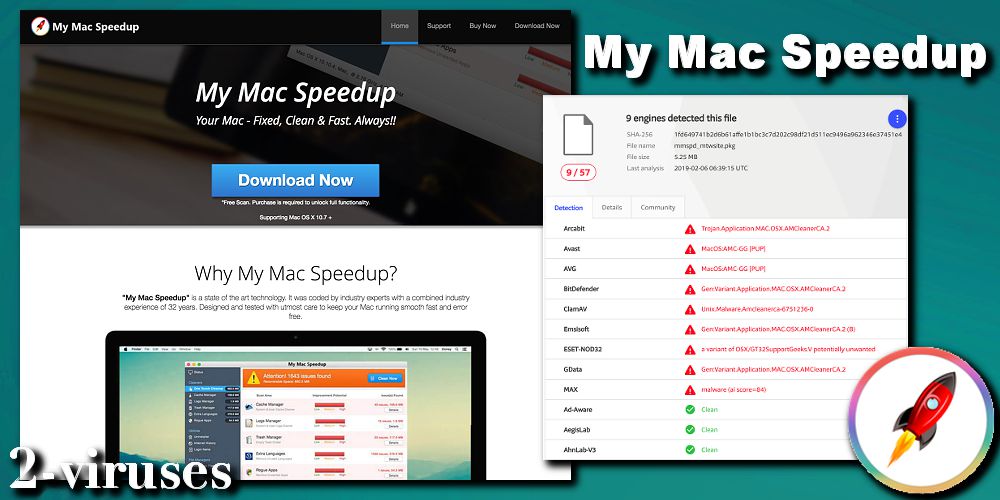 There probably isn't a person who doesn't want to make their computer run faster and have more space. File duplicates, cache, browsing history, leftover folders make up the junk that interferes with your Mac running as efficiently as when you just bought it. And not to mention possible malware which adds more issues on the top. My Mac Speedup is a multi-utility tool that claims to detect and clean unused data, manage apps, speed up the boot time, remove file copies and large folders also get rid of rogue apps, which seems like a program that is too impeccable to have all these qualities in one spot.
My Mac Speedup quicklinks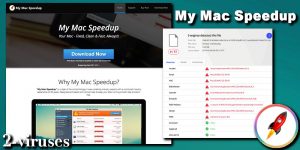 But what sounds like something that is too good to be true, it usually is, and My Mac Speedup is the exact case of this rule. This Mac optimization program is nothing more than an unwanted rogue application, which generates exaggerated system scan results and promises to clean everything up, as well as many other positive features, yet only if you pay for it. Moreover, it appears that the design of this miraculous My Mac Speedup is identical to other Mac PUPs like Mac Tweaker and Mac Cleanup Pro, which already are known to be precarious.
In short about My Mac Speedup:
Type of threat
Potentially unwanted program,

optimizer.

What My Mac Speedup does
Detects hundreds of errors even on clean Macs,

slows down your computer with its unnecessary scans,

demands that you pay for the removal of the "problems",

shows pop-ups that say that your Mac is in danger for as long as you don't pay.

Distribution
Bundled with free applications,

downloaded from its home site,

malicious and deceptive ads (fake virus warnings).

How to remove My Mac Speedup
Manually delete related files and uninstall it,

use an anti-malware program (such as Combo Cleaner).
If you have become a victim of My Mac Speedup which appeared on your Mac unexpectedly, or even if you installed it on your own free will, we suggest you read this post about this deceitful app, whose main purpose is to profit from users without providing any benefit and the consequences it can lead to. As well as that, at the bottom of the page, you will find elimination instructions that will help you successfully remove My Mac Speedup PUP once and for all.
What is My Mac Speedup
My Mac Speedup falls into the category of the potentially unwanted programs (PUPs), which means that the application is not as malicious as other computer viruses but yet is not worth the trust as other reliable software. Apart from having a different name, this optimization tool is not in a slightest different than a few other PCVARKs unwanted programs and simply is made to increase the possibility of getting more victims who potentially will pay for the full version.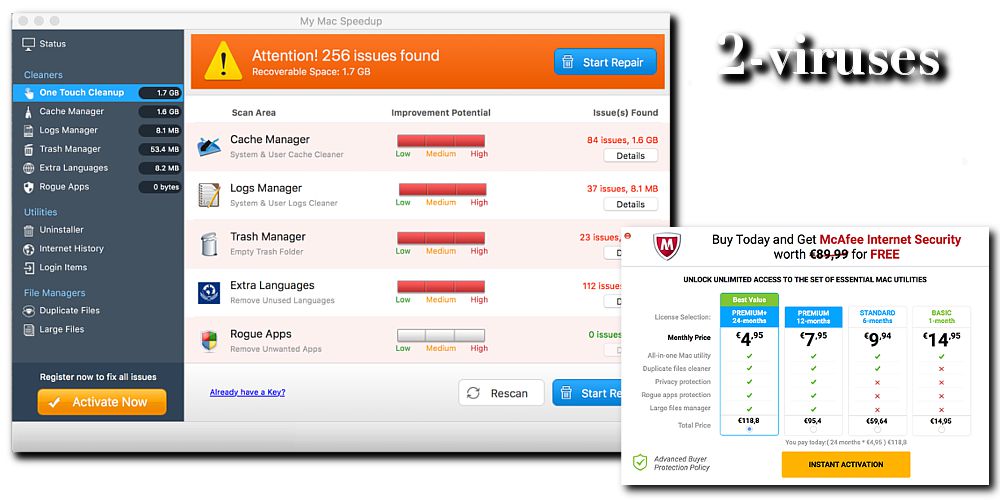 Besides the questionable distribution techniques, My Mac Speedup raises even more flags once it's inside of Mac. It runs a supposed scan that takes no more than a minute (which seems like an insanely fast time to go through all the data) and then shows dozens if not hundreds of errors even on freshly installed operating systems. Funny enough, it doesn't detect any rogue applications while literally being one of them. If you decide to trust the presented results, which at first sight can appear very concerning, you will see a pop-up that will tell you to get a membership if you desire to solve the Mac issues.
While this free-scan-paid-service approach is seen even in legitimate programs, we ensure that since the errors were fictitious, the full premium service will also be as useless. And no matter that the price is rather inexpensive (€118 for 2 years), compared to some other software, that's still a lot to pay for the fake tool to fix fake issues. Additionally, if you make the purchase, this way you will be giving out your credit card data, which can later be used for automatic renewals without any warning. If you still are not sure about My Mac Speedup program's secret agenda, check Virustotal.com report, which clearly shows that several reputable antivirus programs mark this app as malware. Once you realise that there is no need to have a special utility tool to take care of your system, you can begin looking into removal options and manual ways how to remove junk files.
How does My Mac Speedup spread
Every kind of malware has a different preferred method to distribute and for My Mac Speedup PUP bundling and scams are the main proliferation strategies. This application has its own website which is supposed to lure in victims by convincing how great this Mac tool is and to install it voluntarily. But this isn't a very successful technique and developers put their trust in shadier alternate options. My Mac Speed can much easier get inside the systems via other bundled software that is being spread in third-party websites, torrents, and other unofficial sources. Typically My Mac Speedup and other unwanted programs hide as recommended apps which can be only opted-out if the user runs Setup Wizard in Custom/Advanced mode.
Now speaking of scams, there are a few fake messages that appear during the browsing sessions on victims' screens saying that their Mac is infected with viruses and needs immediate help with some sort of a program, which later ends up being My Mac Speedup. Scams, that are known to be spreading some sort of a rogue program are 'Your Mac Might Be Infected!', 'MAC OS is infected with Spyware', 'Your Mac Is Infected With 3 Viruses!'. These are the websites that you should be aware of and close immediately, or you'll end you with the annoying and useless program like My Mac Speedup. Right now, these online frauds are on their peak, therefore any shady and legitimate domain has a potential to redirect you to them.
How to remove My Mac Speedup fast
Rogue programs like My Mac Speedup usually have the uninstall option because they are designed to feign real applications with all the features, which ensure the trust of a user, thereby manual removal is definitely an option in this case of infection. However, as you will see in our guide, you will need to remove more than an application itself in order to cleanse the Mac fully. Although this technique works just fine, we suggest going with another option – automatic My Mac Speedup elimination.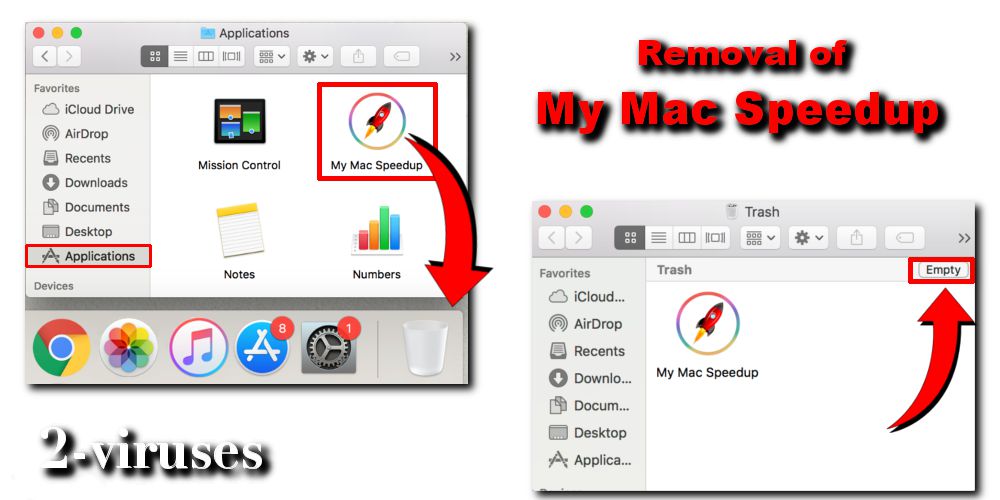 Automatic malware removal tools have an advantage in this case because they detect not only My Mac Speedup but other viruses that might have slithered in as well, saving users' time and efforts. Combo Cleaner is the perfect choice of a trustworthy and sophisticated anti-spyware program, which will hunt down and remove all the threats and related harmful files just in a few clicks.
Automatic Malware removal tools
How to delete 
My Mac Speedup from Mac
My Mac Speedup can be deleted as simply as other Mac applications, except for a few occasions when it gets too persistent. Yet unlike the typical computer programs, this PUP does require a couple of additional steps to fully delete it from the system, like removing it from Login Items and clearing the leftover files. Therefore, in order to help out our readers, the 2-viruses team listed quick and easy instructions on how to successfully eliminate My Mac Speedup virus from the compromised machines. Here is what you need to do:
Remove My Mac Speedup from Login Items.Go to System Preferences > Users & Groups > 

Current User > 

Login Items. Check 'My Mac Speedup' and click on the '-' button at the bottom of the window. This will prevent the malicious program from booting up automatically every time you turn the system on, making the computer run faster.

Delete My Mac Speedup program from Applications. Go to Finder > Applications > Select My Mac Speedup and drag to Trash bin > Empty Trash. This will get rid of the main files of the PUP.
Eliminate leftover My Mac Speedup preferences from Library. Go to Finder > Go > Go 

To Folder > T

ype '~/Library'. 

Then search various folders for the leftover files that can be related to My Mac Speedup or 

PCVARK 

and delete them. You may find:

Library/My Mac Speedup

Application Support/My Mac Speedup

Caches > com.mymacspeedup.my-mac-speedup

Preferences > com.mymacspeedup.my-mac-speedup.plist

Or 

'

mmspdsettings' and 'mmspdparams' files in 

other directories 
If the actions above did not work and My Mac Speedup reinstalled again, you should try getting rid of it with a proper malware removal product.