Mac Cleanup Pro is one of many rogue applications for Mac computers developed by the infamous company PCVARK. There is no doubt that this product is malicious: Mac Cleanup Pro is spread online using dishonest and malicious tactics and it detects many problems on every Mac it's not, just to get more people to spend money on it. If you dig deeper into the company's page, you'll be surprised how many other similar junkware products they have: US System Care, Mac Tonic, and Mac Heal Pro are just a few of many.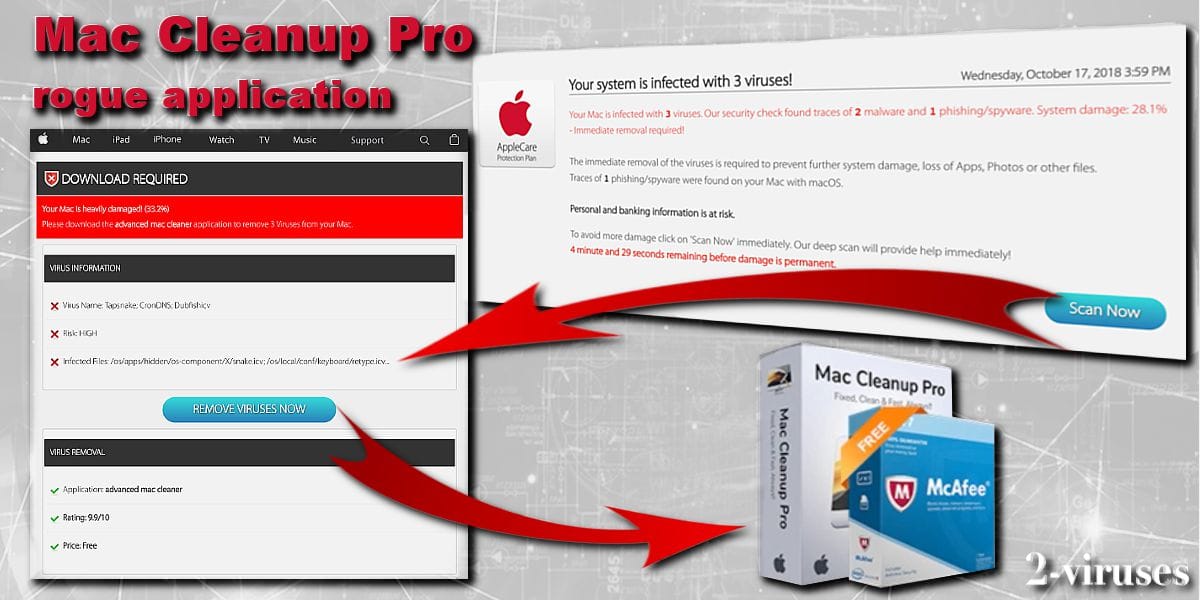 Mac Cleanup Pro Virus quicklinks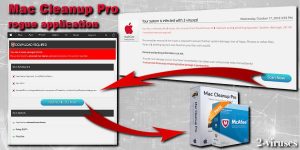 Mac Cleanup Pro is a potentially unwanted program, it needs to be removed:
Type of threat
Potentially unwanted program,

scareware,

scam.

Effects of Mac Cleanup Pro
Frequent scans and pop-ups,

warnings about your computer being in trouble,

slower computer.

Distribution and installation
Malicious ads and redirects,

fake virus detections,

fake software updates,

adware promos.

Mac Cleanup Pro removal
Quit the Mac Cleanup Pro process or start your Mac in safe mode,

delete the program and associated files,

scan your computer with anti-malware tools (Combo Cleaner Malwarebytes, etc.).
Surprisingly, Mac Cleanup Pro is already widespread even without any visible place on the iTunes app store and with only bad word-of-mouth. Google the name of this product and you'll find discussions about it being a scam, showing annoying pop-ups, etc.
Currently, Mac Cleanup Pro installs via antivirus detection spam called 'Your Mac Is Infected With 3 Viruses!', which can appear on your browser after visiting a malicious website. Also, some people got Mac Cleanup Pro installed with fake Adobe Flash updates.
Maybe Mac Cleanup Pro virus appeared randomly on your Mac and now you're afraid to get rid of it because it may be an important program. It's not. Mac Cleanup Pro is adware –  refuses to be removed, causes redirects, pop-ups, ads, detects fake viruses, in the end luring out money from you.
If you'd like to learn more about why Mac Cleanup Pro is not worth keeping and how to remove it and all the persistent files, then you came to the right place: the 2-viruses.com team will share their best knowledge and tips on how to deal with this infection, so keep on reading.
What is Mac Cleanup Pro
Potentially unwanted program
On its surface, Mac Cleanup Pro is a Mac system optimization tool: it can detect malware, manage Logs, Trash, Cache, and, ironically, detect Rogue apps. Such features combined with a sophisticated design does give an impression that this Mac software may come in handy and might as well be worth a $118.00 upgrade, especially after it saved you from 3 dangerous viruses that were (supposedly) found on your Mac!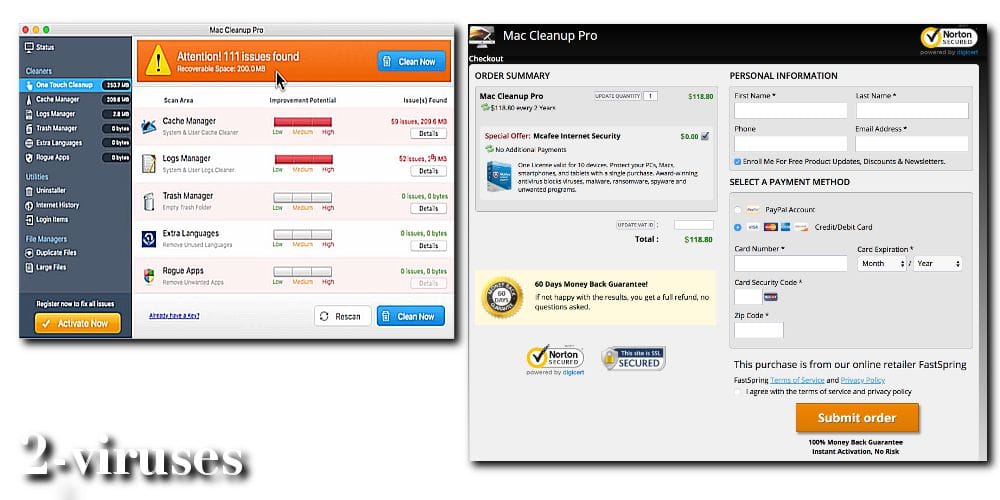 Whether it was a fake software update or a fake virus warning that got Mac Cleanup Pro on your computer, they were fake. Once Mac Cleanup Pro is downloaded (the installation file is usually called MacCleaner.pkg), it automatically starts scanning your Mac and finds hundreds or even thousands of "problems" and "issues" of high severity. Those errors that it shows are meant to  scare you. Then Mac Cleanup Pro offers that it can fix all the fake problems, if only you buy the paid version.
This is well known by antivirus vendors, here is a VirusTotal.com scan, here is another one. They show that Mac Cleanup Pro is seen as a potentially unwanted program – a really mild but still dangerous form of malware. Detection names include "Adware.MAC.Generic", "Program.Mac.Unwanted", "OSX.Trojan.Gen", "Misleading:Win32/Lodi", and others. By no means is Mac Cleanup Pro an actual virus, but it is easier for users to refer to it like that, because of its malicious actions.
Mac Cleanup Pro effects on your Mac
Once Mac Cleanup Pro gets on your Mac, it creates some files and settings to ensure that you can't easily remove it; dragging it to Trash/Bin may just not work. It also sets up scheduled scans and starts the first one right away:
Mac Cleanup Pro finds cache files, logs, extra languages, files in Trash, and claims that they're "issues". Visual symbols that we associate with errors (a warning sign, bright red colors) are used to make these "issues" look bad.
Then, Mac Cleanup Pro declares your Mac status "Critical" and offers to fix all issues.
The close functionality is overwritten to show you a pop-up urging you to buy the $118 upgrade.
Mac Cleanup Pro starts every time you log on and slows down your Mac with its scans.
It constantly shows pop-up messages about your Mac being in danger and pushing discounts.
It's not just that Mac Cleanup Pro is dishonest – it's bad for your computer, too. For example, cookies and cache files, the ones that it declared as "issues", can speed up your Mac by saving frequently used information for quick access. Languages barely take up any space on your Mac and they can be useful. And Mac Cleanup Pro running all the time and scanning things every day just slows down your Mac for no good reason.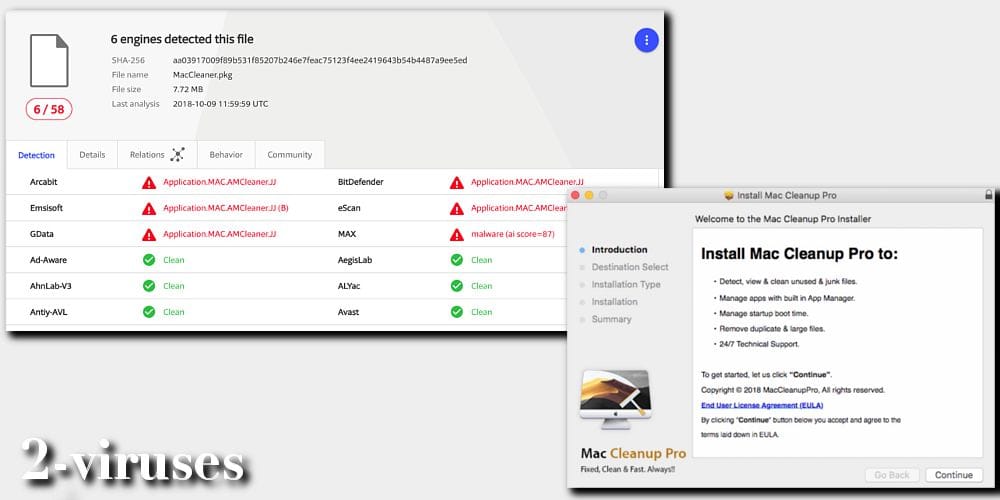 You certainly should stay away from the Mac Cleanup Pro as far as possible. This optimizer is related to Cobalten redirect virus, which is also a very intrusive malware piece, and an additional reason to get rid of PCVARK's creation if it already got installed.
How does Mac Cleanup Pro PUP infect computers
Usually, everything starts with an unlucky redirect to one of many malicious sites, such as www.apple.com-system-security.live, which generate a scam antivirus report claiming that 'Your Mac Is Infected With 3 Viruses!' and that a trojan (e.tre456_worm_osx) was found on your system. The site poses as official Apple support, but it is not related at all. It pretends to scan your Mac and then offers Mac Cleanup Pro as the solution to the fake virus. The site threatens that if you don't download it, your Mac will be breached, your files will be deleted, and your information will be stolen.
Such sites appear after clicking on malicious ads online. They can also appear thanks to adware or a redirect virus like Cobalten.com.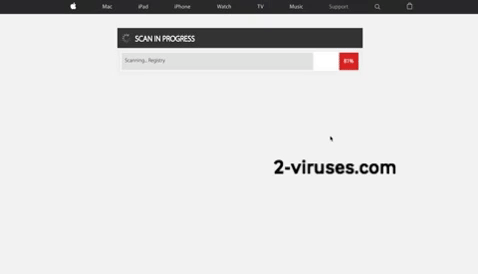 If you recognized that 3 virus pop-up is a scam and closed the window right away, then your system is not infected with Mac Cleanup Pro. However, it's a whole different story if you clicked on the 'Scan' button. As you can see in the gif above, it takes you to another site which tells that a 'Download is required' to complete the action. Clicking anywhere on the page will finally download the rogue Mac Cleanup Pro program onto your Macintosh.
Fake software updates work in a similar way: they're caused by bad ads shown on shady websites or by adware infections. You may not intentionally download Mac Cleanup Pro, it may be bundled with a few other infections.
How to remove Mac Cleanup Pro virus
When it comes to removal, Mac Cleanup Pro can be a real challenge to get rid of. Don't forget that its developer PCvark is a professional in this shady potentially unwanted program business, therefore know well that the harder the removal, the better chances to sell the product, show malicious ads, etc. Of course, you should try removing the Mac Cleanup Pro application like any other program – by stopping the process and dragging it to the Trash, but we don't promise much success.
You may be able to find and get rid of Mac Cleanup Pro's files on the Library folders like LaunchAgents, Application Support, LaunchDameons, and others. However, the easiest way to get rid of Mac Cleanup Pro (and other infections) is by using an anti-malware program.
Combo Cleaner, Malwarebytes, and other good-quality anti-malware programs can detect and remove Mac Cleanup Pro and other malware with no problems. Unlike it, these programs are real security tools and not adware. Fakes still exist, so be careful of them. (What is a fake anti-spyware).
Automatic Malware removal tools