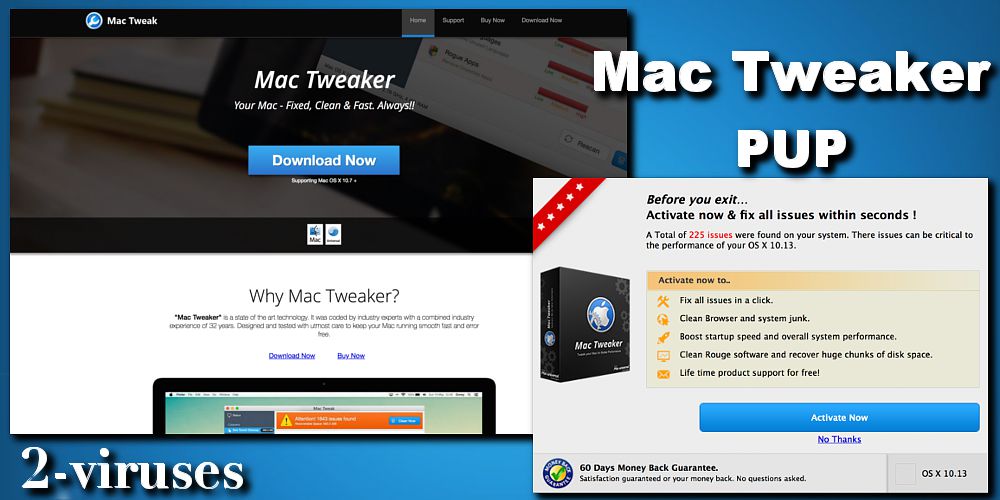 Mac Tweaker is a potentially unwanted application for Mac computers, which pretends to serve as a utility tool, but in reality, just aims to lure out money for the full product version from the unaware victims. Its aggravating persistence, constant pop-ups, and scareware features soon enough make even the most gullible users to doubt this program's legitimacy and look for answers to why Mac Tweaker acts the way it does and how to remove it.
Mac Tweaker Pup quicklinks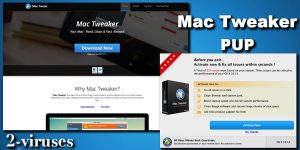 At first, innocent-looking system optimizer Mac Tweaker seems like a serious tool, which only wants the best for its customers and right after the installation begins scanning all the folders and showing critical errors in them, rushing user to take an action right away and clean up duplicate and junk files, rogue software and etc. However, once the person clicks on 'Clean Now' button, the program explains that in order to fix so many issues, you have to get a full version of Mac Tweaker, which apparently is one of an infamous
PCVARK companys
creations.
Hopefully, you have not yet paid the PCVARK and started questioning Mac Tweaker PUP before trusting them your credit card information because in this article we'll explain all about the behavior and consequences of this rogue application and ways to remove it not only by using special anti-malware programs, but also a tested manual method. (Why system optimizers are not necessary)
What is Mac Tweaker PUP
As you can tell from the introduction, Mac Tweaker is not a trustworthy product, but an unwanted application, which simply pretends to have abilities to detect Mac OS errors. Not only it doesn't provide any benefit to the users, but it also uses scareware techniques to force its customers to pay the company for the full version, so that the presented issues could be solved. This is a tricky part not to fall for Mac Tweaker's scam because there are tons of legitimate programs that use this kind of free-scan-paid-removal model. The difference is that reputable software does really detect problems of the system and solve them, while PCVARK's Mac Tweaker generates random large numbers even on a clean system and then pretends to fix it by simply showing different results. Such a useless program requests for €39.95 for 6 months and the subscription renews automatically after that unless you cancel it.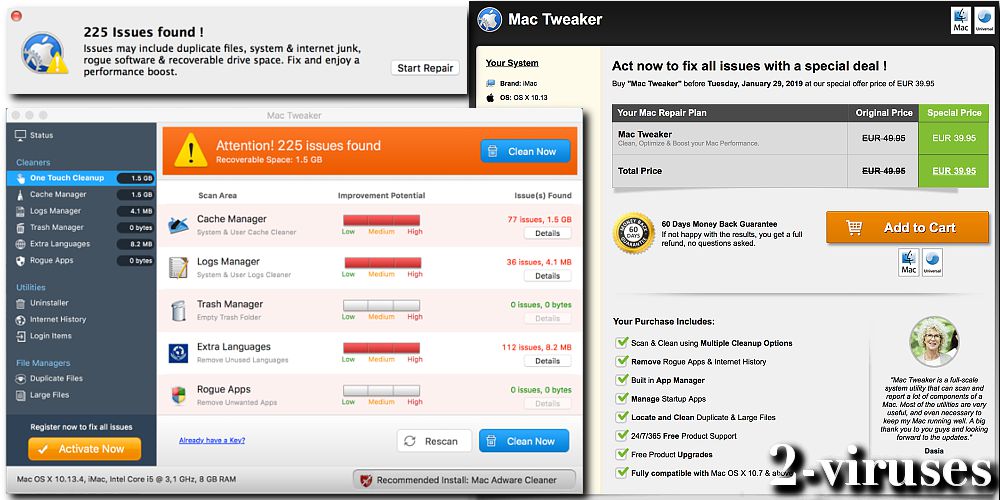 Mac Tweaker PUP has been on the market for around a year now and quite a few antivirus programs recognize it as a malicious application, as the Virustotal.com report shows, therefore if you have one of these products on your computer they are very likely going to warn you before the installation or even block it. For that reason, PCVARK company released other two exact copies of system optimizer Mac Tweaker, just with different names Mac Tweak and Mac Tweak PRO, so that their products could infect more computers unnoticed and continue on performing malicious deeds.
There is obviously no reason to pay Mac Tweaker application to clean the errors because most of them are fake and designed to scare you, just like other PCVARK's software PC Repair PRO, Mac Cleanup Pro or Advanced Mac Cleaner PUP. In addition to that, if you don't purchase the offered premium version, Mac Tweak continuously reminds you to do that by generating irritating never-ending pop-ups. If you did give your bank data to the company, you must cancel the subscription or else, even after the removal of this unwanted application the payment will renew. Please, continue on reading to learn the best ways to get rid of Mac Tweaker PUP and finally free your computer from the unnecessary junk.
How does Mac Tweaker spread
Mac Tweaker, just like other PCVARK's programs has its own website, which honestly has a very professional looking design and convincing promotions, claiming that this is an efficient tool that can help you take care of your computer as best as you can. This, of course, attracts users that always are looking ways to improve their Mac's speed and power, and they simply voluntary download the applications, only later to find out that it's actually malicious. Yet, such free-will downloads make up only a very small amount of success for the creators, that is why it isn't the only distribution method.
Another Mac Tweaker PUP proliferation technique noticed by our researchers was spreading via scam pages, like 'Your Mac Might Be Infected!', 'MAC OS is infected with Spyware', 'Your Mac Is Infected With 3 Viruses!'. They tend to perform a fake online scan and redirect you to a Mac Tweaker installation page as a solution. Also, there are many users who find Mac Tweaker application installed on their computers automatically without any prior request for permission or warning. This typically happens when the unwanted software spreads through Bundling.
We all have tried downloading some program from Freeware/shareware websites, torrents or just shady free sources, and knowing typical behavior PCVARK pays some vendors to add their software in some other popular program's installer to spread it together. In some cases, you are allowed to select the Setup Wizard mode, whether it's Custom/Advanced or Express/Recommended installation where you can check which apps you want to set up and which ones not, but often such questionable program bundles install every content all together with no choice. This very likely could have happened to you, that is why you have no idea how Mac Tweaker PUP sneaked in.
How to remove Mac Tweaker virus fast
The most efficient way to completely get rid of Mac Tweaker PUP is to trust it to a specialist, or in other words, a reputable malware removal program. We ran multiple scans with various products on an infected system and found that and Malwarebytes were able to detect and remove Mac Tweaker virus effortlessly with no struggles, moreover, they were one of the easiest security tools to use. All you need to do is to download above-mentioned software, install it and run a full scan of your Mac, and in a few minutes, the program will give you the results and further directions on what to do with the found malware. The wonderful thing is, that these anti-spyware programs will remove not only the main threat but other viruses and related malicious files as well.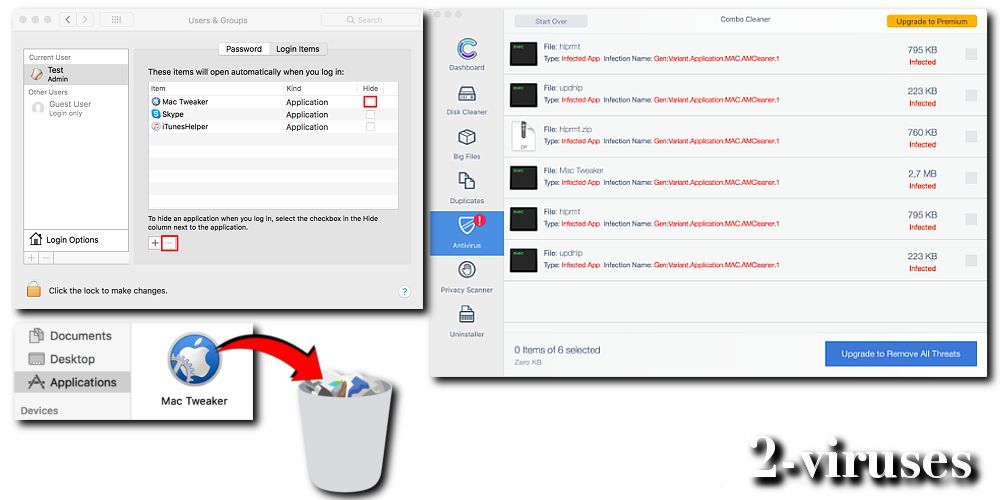 As for the system utility tool, which you hoped Mac Tweaker will be, we offer to try Combo Cleaner, which additionally has an anti-malware detector too, furthermore is reliable and actually do a proper job, when it comes to taking care of the system's well-being. As well as that, make sure to check our Reviews page for other products that our researchers tested and evaluated.
Automatic Malware removal tools
How to delete Mac Tweaker PUP manually
Having a special anti-malware program really makes Mac Tweaker removal very easy and quick, however, there are cases where such luxury is not available for some reason, or you simply prefer to clean up your computer manually. For that, we have put up brief instructions on what helped us to fully get rid of the annoying Mac Tweaker application permanently, without the help of any additional programs. So here are the steps:
Remove Mac Tweaker from Login Items.

Go to System Preferences > Users & Groups > Current User > Login Items. Check 'Mac Tweaker' and click on the '-' button at the bottom of the window. This will prevent the malicious program from booting up automatically every time you turn the system on, making the computer to run faster.


Delete Mac Tweaker program from Applications.

Go to Finder > Applications > Select Mac Tweaker and drag to Trash bin > Empty Trash. This will get rid of the main files of the PUP.

Eliminate leftover Mac Tweaker preferences from Library.

Go to Finder > Go > Go To Folder > Type '~/Library'. Then search various folders for the leftover files that can be related to Mac Tweaker or PCVARK and delete them. You may find:

Library/Mac Tweaker

Application Support/Mac Tweaker

Application Support/mt

LaunchAgents/com.tlcwws.hlprmt.plist
If after performing all of the actions above you cannot seem to still get rid of the Mac Tweaker PUP, then we highly suggest you get a proper malware removal product.