Have you clicked on some link and a message claiming that Your Mac Is Infected With 3 Viruses! appear, offering AppleCare to clean them? If so, you have encountered an online scam, that is trying to make your life miserable and scare you into getting malicious content, so your Mac would actually get damaged. This rapidly spreading pop-up has already been seen by close to 10 million people around the virtual world, mainly focusing on the victims from the US, the UK, Canada, France, and the Netherlands, where there is a big community of Apple product owners.
Your System Is Infected With 3 Viruses Scam quicklinks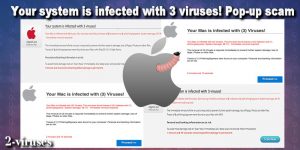 Even though Scams are well recognized by many online surfers, yet such kind of virus can take you by surprise and succeed with its malevolent deeds. Amazon Rewards Event, Win a $1000 Amazon Gift Card, 2018 Annual Visitor Survey scams are the better-known ones, which act just like Your System Is Infected With 3 Viruses! pop-up and has managed to compromise thousands of gullible people and lure out money and personal data. That is why engaging with any threat like this is going to bring only despair rather than benefit, no matter if it claims otherwise. Continue on reading this article and find out what are the causes, reasons, and removal options for Your System Is Infected With 3 Viruses! pop-up scam.
Is Your System Is Infected With 3 Viruses! pop-up a scam
Universally, Macs are believed to be More secure than Windows, yet when malware does infect Mac OS, it can take a lot of efforts to remove it, therefore users try to avoid it as much as possible. Knowing this, some crooks decided to come up with Scareware scam sites, which display a fake message about the existing viruses, that would persuade people into downloading malicious files and actually compromising their systems. Your System Is Infected With 3 Viruses! is one of the examples of such kind of threat. This scam can also try to convince you that there is E.tre456_worm_osx, Zeus, Dubfishcv or Tapsnake virus found on your computer which you need to quarantine immediately.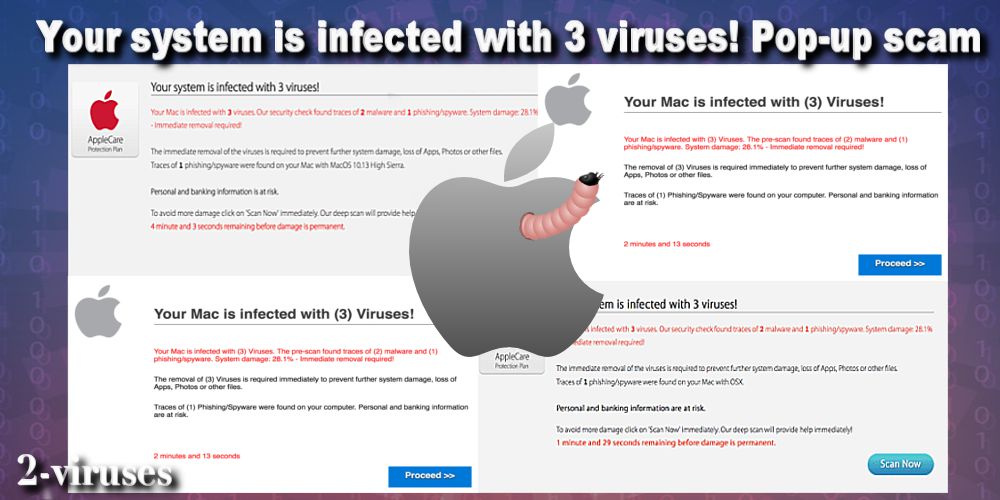 Do not believe the message about the found malware, because it is nothing but a deceitful report, which is engineered to lure you into the hackers' trap and download Malicious script codes and compromise the browser and later the whole computer. There are many sites that can cause Your System Is Infected With 3 Viruses! pop-ups, but the main ones so far are apple.com-clean-macbook.live, http://apple.com-macbook-secure.me/, http://com-macbook-mend.systems/, http://com-safe-mac.systems/, 5893756617www.apple.com-clean-macbook.live, www.www.apple.com-clean-macbook.live. VirusTotal.com report shows that the main scam site, called apple.com-clean-macbook.live (as well as its subdomains), is actually recognized as a malware, phishing and spam page. Therefore, you know now that this scam is officially malicious, moreover, if you have an antivirus, most likely it will be blocked. 
If you choose to interact with the Your System Is Infected With 3 Viruses! pop-up then you will definitely need to get a good anti-malware tool because of all the unwanted consequences this scam will bring. Don't forget that the threat actors are hackers and instead of actually helping, they want to make money off of you. The first signs of the infection that you'll notice be the default search engine changed to Yahoo search, constant redirects to various ambiguous adult sites, crashing/freezing browser, unwanted applications/extensions and excessive ads from PopAds, PopCash, AdsTerra, AdRight, Propeller Ads Media advertising networks. Gaining profit from Third-party sponsors and gathering user information for them is a rather old monetization technique in the malware world.
Your System Is Infected With 3 Viruses! scam presents itself to users that are already victims of some other adware/PUP (not as serious viruses as the scam is suggesting) infection, and have exposed system vulnerabilites. That is why we recommend you to discontinue whatever you are doing on your Mac and clean the system first before your computer gets harmed even more.
Why are you seeing Your System Is Infected With 3 Viruses! pop-up
According to the SimilarWeb.com analysis top referring sites that take you to apple.com-clean-macbook.live scam web page are redirects like 9amq5z4y1y.com, ww2.m4ufree.tv, buffstreamz.com, 4o64flb.com, www2.swatchseries.to. Some of them are only rerouting viruses with no content and some provide online streaming services and etc. Your System Is Infected With 3 Viruses! pop-up can appear on your screen because you possibly click on such diverting link or ad in one of these mentioned sites. That being said, your Smart online using skills play a crucial part of your Mac's state.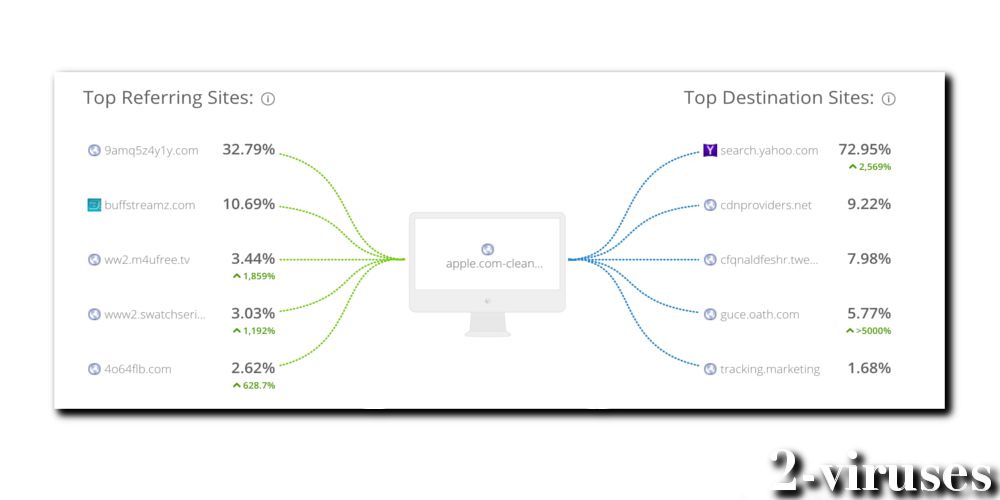 Constant Your System Is Infected With 3 Viruses! messages can indicate that you truly are dealing with some sort of advertising malware, which is trying to generate revenue from this scam developers for taking you to their malicious sites. If you have recently installed some software from torrents or Freeware distributing sites, then you could have missed an additional application that sneaked in through Recommended installation mode. That's exactly why you always want to set up programs only from official sources and by carefully reading every page in the Advanced mode, opting out from everything unwanted.
How to stop Your System Is Infected With 3 Viruses! scam
If you want to remove Your System Is Infected With 3 Viruses! scam from ever showing up on your screen, you will need a trustworthy security program that will detect the actual cause of this message and remove it for you. There are tons of great products, but we recommend reputable Malwarebytes (which has a free trial), Spyhunter or Combo Cleaner anti-spyware programs. Not only they are easy to use, but you can be sure that they will detect all the worrisome issues from your Mac, restoring the security. 
Manual removal is not an option, because the existing virus can be disguised and hidden anywhere, therefore to find it amongst all the software that is already installed or system files would take ages and require advanced technical knowledge. You can as well look into how to disable web push notifications, so that the virus would allow you to use your browser properly until you clean the Mac. Also check this guide by Apple on How to avoid scams.
Automatic Malware removal tools