Delta Search Virus - How To Remove?
Delta Search virus is a malicious program that causes redirects to a sub-domain on  Delta-search.com website. The program is categorized as a browser hijacker as it seeks to boost traffic to a specific website by force (without full consent) and get profit this way. Makers of this browser hijacker get money for clicks on advertisements in their search results. This malware gets into computer systems after installing some free programs that are bundled with adware and hijackers.  Typically, Delta malware or related toolbar is used for IE and plugin or extension for other browsers. There are no visual toolbar on Firefox and Chrome except search engine change thus it is harder to track down. The fact that there is no useful function but searches are hijacked is one more proof that Delta search is very malicious software.  It is possible that it is distributed with trojans as well.
This particular virus changes the settings of your browser, which include default search page, homepage, some Internet settings alterations and so on. As such, all search traffic is re-routed through their homepage, which might collect information about things you look for. As you are not given the choice to use different search engine, this is not a thing to be taken lightly. Additionally, Delta Search virus will install programs that freeze browser settings and revert them back after each restart. This is done to prevent the "uninstall" instructions they provide on their website from being useful.
Delta Search is supported by ads. Thus you can be rerouted to some other websites that contain malware infections. Quite easily they can also be installed to your computer. Typically, search hijacks are accompanied by rogue registry cleaners and common browser adware, that display even more advertisements.
Our research shows, that infection was using name Claro Search previously. This is well – known hijacker on its own, though replaced with Delta for now. Additionally, there are couple well-known versions (hosted on separate subdomains): Mixi DJ and VisualBee. These toolbar versions are promoted using their own names, but use the same engine, same dirty tricks and are basically the same.
You are highly advised to remove this malware from your computer immediately after noticing it on your computer. Do not hesitate and run a full system scan using a reputable antispyware tool, for example Spyhunter. Don't forget to change your search provider manually to the one you prefer. If you want to remove the hijacker yourself, here are manual instructions :
Special Delta Search removal instructions
First, you will have to remove Delta Search and related programs from control panel  and browser plugins. In control panel I recommend uninstalling ALL programs installed on the same date as problems have appeared. Some versions of this virus installs software that block browser settings from changing. Such program is called Browser Protect, Sprotect or similar. To identify these, scan with Spyhunter might be useful.  You can use other anti-adware programs as well.
After Browser settings freezer is uninstalled, you can uninstall the extensions and revert Delta search virus infected settings in your browsers.
How To remove Delta Search virus from Internet Explorer:
Click arrow on the right of search box
Do following: On IE8-9 choose Manage Search providers, On ie7 click change search defaults
Remove the Delta-search.com from the list
How To remove Delta Search from Firefox :
Enter "about:config" in url bar. This will open settings page
Type "Keyword.url" in the search box. Right click it & reset it.
Type "browser.search.defaultengine" in the search box. Right click it & reset it.
Type "browser.search.selectedengine" in the search box. Right click it & reset it.
Type "browser.startup.homepage" in the search box. Right click it and reset it.
Search for 'browser.newtab.url'. Right-click and reset. This will make sure that the search page won't launch on each new tab.

If the settings revert

and scan with anti-malware programs are clean: Close firefox, open file explorer and enter %AppData% in the address bar. enter user.js in search box. If this file exists, rename it and start firefox again. You will have to repeat the steps above.
How To remove Delta Search from Google Chrome:
Click 3 horizontal lines icon on browser toolbar
Select Settings
Select Basics ->Manage Search engines
Remove unnecessary search engines from list
Go back to settings. On Startup choose open blank page ( you can remove undesired pages from the set pages link too).
If your New Tab page is hijacked, you will have to scan with anti-malware program or use New Tab Redirect extension from Chrome Store.
Remove shortcut hijack (all browsers) (optional):
If your browser opens Delta Search page on startup only, try this:
Right click on your browser icon. Choose Properties;
Open Short cut tab;
Delete Delta Search part from target field.
Note, that you might have to scan with anti-malware programs if the Delta Search problem continues – we can not rule out that the toolbar is installed with help of malware. For such cases, repeat scan with Spyhunter, Hitman Pro or use Adwcleaner.
Here a video version of removal guide:
Automatic Delta Search Virus removal tools
We might be affiliated with some of these programs. Full information is available in disclosure
Delta Search Virus screenshots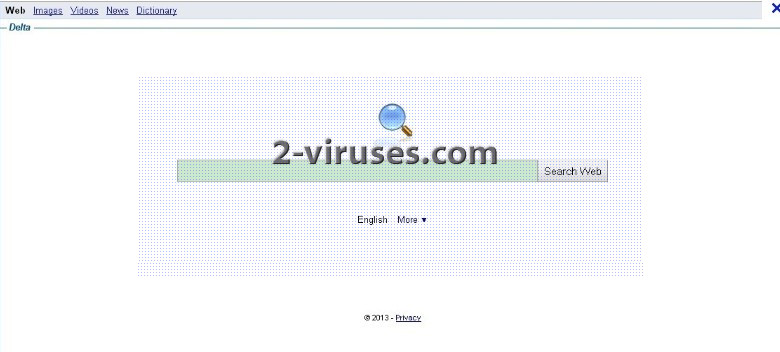 About the author