Default-search.net Virus - How To Remove?
Default-search.net virus has many similar variants: Search.mytab.club, Mytabclub.virus, Search.powermediatabsearch.com and BlpSearch.com browser hijackers. All of these tools are products by Aztec Media and highly-reliable security researchers have found out that the company creates adware applications, detected in JS/Adware.AztecMedia.A (1). The infection has been determined to be most active in United States, Brazil, Mexico and Spain. Knowing this information, we invite people to read a Spanish version (2) of this article which might be easier to comprehend.
Default-search.net browser hijacker is a persistent infection: even though it is over 5 years old, it does not give away its position as one of the leading rogue search engines (3). Its reputation is very disturbing and many people indicated to have installed it during a packaged Setup Wizard. Delta Homes malware appears one of the traveling companions.
What is more, reports about this infection clearly suggest that there multiple reg-flags for this product for searching. For instance, AdBlocker can allow malvertising to appear and during online shopping activities, users' confidential information is attempted to be stolen. To prove our evidence, we provide some testimonials (4) about this Default-search.net virus:
"This is a really bad site ..
always my adblocker block many Ads and Popups witch is a very unwanted softwares and black-listed programms
even when you try to buy something …. it doesn't let you buy and always wanna take my credit card details
also there is many server names witch is updated in 21/12/2014
https://www.newbrandstore.com ,and many other softwares and sites witch is blocked by my Antivirus ((avast internet security));"
"Installed without permission together with delta homes and other well known malware. Simply horrible."
"Trojan were imbedded in download file
6/18/2014 12:50:19 PM,High,sysapcrt.dll (Trojan.ADH.2)
6/18/2014 12:50:17 PM,High,systemkservice.exe (Trojan.ADH.2)."
"Please do not enter this website because it is not safe."
"This site is often set as home page and default search engine by potentially unwanted software. It's annoying and low-quality, and it's probably also a spyware."
Default-search.net virus is a browser hijacker that seeks to increase traffic of certain websites and make financial profit this way. The program can affect Internet Explorer, Mozilla Firefox or Google Chrome browsers. It is not difficult to notice this application on your computer as once inside, it will replace your homepage and default search provider with Default-search.net. It displays search results using Yahoo search engine at the moment, however, it might change at any point.
The program is usually installed to computers together with other applications that you can download from the Internet. It is distributed with such tools like, Linkey and Optimizer Pro. You should be very careful when getting any programs from the Internet that are free of charge. You can avoid installing unwanted applications by paying more attention to the installation steps of the software that you are downloading from the Internet. If you see any options that are already selected for you and that indicate about installing unknown programs, you should always deselect them.
If your computer has already been affected by Default-search.net virus, your browsing will become completely unbearable. You will not be able to make any searches without interruptions. What is more, Default-search.net virus can collect information about your browsing habits and send it to the third parties which can use it for marketing in the future.
To remove Default-search.net virus, go to Control Panel, Add/Remove Programs list and uninstall it from there. It is recommended to uninstall ALL programs installed on the same date as problems have appeared. Some versions of this virus install software that blocks browser settings from changing. To identify them, scanning with Reimage or other reputable antispyware tool might be useful. Then you can uninstall the extensions and reset settings in your browsers.
Default Search search engine is protected from change using a "Settings Manager" program. You should uninstall it from Control Panel before changing any settings in your browser or it will come back after restart.
Special removal instructions of Default search virus
How to remove Default-search.net virus from Internet Explorer (older versions):
Click on the arrow on the right of the search box;
Do the following: on IE8-9 choose Manage Search providers, on IE7 click on Change search defaults;
Remove Default-search.net from the list.
How to remove Default-search.net virus from IE 11:
Click on the Settings icon (top right)->Manage Addons;
Select Search Providers;
Change the default search engine to Bing or Google;
If any of these search providers is not available, follow "Find more search providers" in the bottom of the screen and install Google.
How to remove Default-search.net virus from Firefox:
Enter "about:config" in url bar. This will open settings page;
Type "Keyword.url" in the search box. Right click and reset it;
Type "browser.search.defaultengine" in the search box. Right click it and reset it;
Type "browser.search.selectedengine" in the search box. Right click it and reset it;
Type "browser.startup.homepage" in the search box. Right click it and reset;
Search for "browser.newtab.url". Right-click and reset. This will make sure that the search page won't launch on every new tab;
If the settings revert and scan with anti-malware programs are clean: close Firefox, open file explorer and enter %AppData% in the address bar. Enter user.js in the search box. If this file exists, rename it and start Firefox again. You will have to repeat the steps above.
How to remove Default-search.net virus from Google Chrome:
Click on the 3 horizontal lines icon on the browser toolbar;
Select Settings;
Select Basics ->Manage Search engines;
Remove unnecessary search engines from the list;
Go back to Settings. On Startup choose 'Open blank page' (you can remove undesired pages from the set pages link too);
If your New Tab page is hijacked, you will have to scan with anti-malware program or use New Tab Redirect extension from Chrome Store.
Remove shortcut hijack (all browsers) (optional):
If your browser opens Default-search.net page on startup only, try this:
Right click on your browser icon. Choose Properties;
Open Short cut tab;
Delete Default-search.net part from target field.
References:
Automatic Default-search.net virus removal tools
We might be affiliated with some of these programs. Full information is available in disclosure
Default-search.net virus screenshots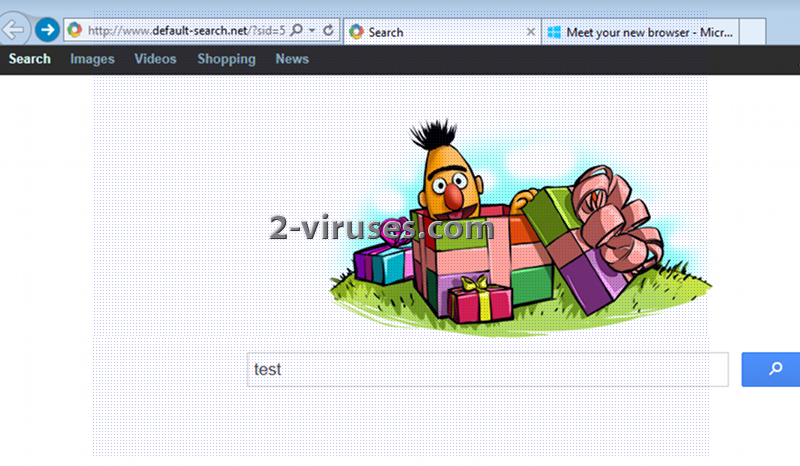 About the author