Win Magician, or WinMagician, the Windows counterpart to Mac Magician — a program that's supposed to serve as a PC utility and web and anti-malware protection. It says it will free up drive space, stop scams and infected downloads, clean your registry, and scan for malware.
Win Magician Pup quicklinks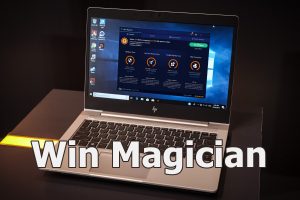 However, this program is considered by some to be potentially unwanted. Not malicious, but not very useful, and possibly installed on some computers without first getting the consent of the owner of the PC.
Win Magician is not an exceptional program in any way from other potentially unwanted programs that offer universal PC protection and maintenance suites. Its user interface is indistinguishable from some optimizers, like Quick Mac Care and Mac Tonic. Its website is a mess, wrong features are being described in the wrong sections and the text is ripped from Win Tonic and ITL Windows Optimizer (different tools that are also considered junkware).
There are enough red flags to cause doubt about the program's quality. At the same time, its developers are making an effort to be less unethical than some fake optimizers out there, which is why Win Magician is only a potentially unwanted program and not a rogue optimizer.
Win Magician problems and removal:
Features of Win Magician

Registry cleaning
Junk file removal
Startup managing
Malware scan

Sources of distribution

Fake online scans
Freeware bundles
Downloading from the official website

Possible problems

Dishonest installation
Broken registry resulting in an unstable OS
Deleted files resulting in slower browsing

Remove Win Magician

Uninstall manually using the Control Panel
Scan for suspicious programs using anti-malware tools (SpyHunter)
How useful is Win Magician?
Win Magician mainly focuses on helping people free up space on their computers. It can do this by deleting logs, caches, temporary files. This might free up a few megabytes of space. It can also increase the time it takes for websites to load. And the space that was recovered will be filled again because programs don't stop caching, creating temporary files, logs. This means that, soon, Win Magician will perform a new scan and again find new files to delete.
Win Magician's Web Protection seems to consist of telling me to install an ad-blocker on my browser. It's not bad advice, but considering that a lot of websites are fighting against ad blockers, it could really decrease the quality of my browsing.
Win Magician is also a registry cleaner, which is something a little suspicious — modifying the registry is risky, Microsoft says that it does not support the use of such utilities because they're generally unhelpful and risky. A broken registry can require to completely reinstall the operating system. A perfect registry doesn't offer perceptible improvement in performance.
At the end of the day, Win Magician, which is a paid program, mostly offers things you can already get for free by just using Windows native features — cleaning out unnecessary files, managing startup applications, scanning for malware. It's probably not harmful, but in most cases, it's not a useful or valuable program.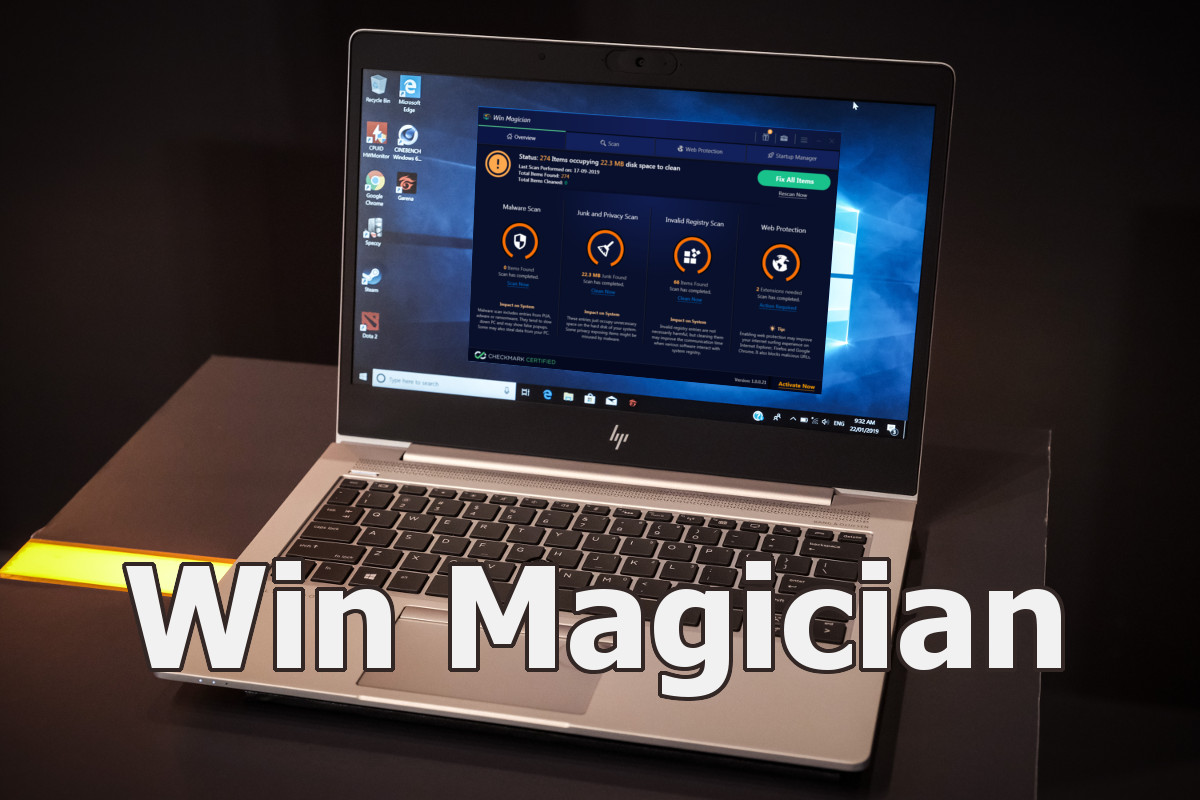 Problems with Win Magician
This potentially unwanted application attempts to fix the features for which other, similar PC optimizers were criticized for: it includes itself in the Startup Manager, my copy didn't try to install additional programs with itself (though it does have a section where it recommends other applications), and it doesn't use bright red text with big warning signs for each little file that it finds.
Still, there's a good reason why "PC optimizer" and "registry cleaner" are such distrusted software categories.
A lot of these programs use bundling for distribution. If you found Win Magician on your computer and have no idea where it came from, there is a most likely explanation. Often, potentially unwanted programs come attached to other programs' installers and don't properly ask for permission to get installed. This is mostly used by programs that don't have another good way to sell themselves.
Another possibility is that the Win Magician program was downloaded thanks to malicious pop-ups online. Some fake warnings try to get people to believe that they've got a virus on their computer — like the Wod007.com fake scan, or the various versions of (4) viruses. Then these malicious sites recommend people that they download some program computer security program. This doesn't mean that the developers of the program wanted it to be distributed in such a way, but that doesn't matter when someone is tricked into installing a piece of software deceptively.
How to remove Win Magician
Win Magician should be simple to uninstall in most cases using the Control Panel. Though if you bought the paid version, the subscription would need to be stopped separately.
It is possible to fail to uninstall the program, possibly because some malware is keeping it there. Other times, pop-ups continue to appear after a program has already been removed. If those issues are plaguing you, you can use professional anti-malware programs, real ones, like Spyhunter, to find where malicious files and programs might be.
Automatic Malware removal tools
How to remove Win Magician PUP using Windows Control Panel
Many hijackers and adware like
Win Magician
install some of their components as regular Windows programs as well as additional software. This part of malware can be uninstalled from the Control Panel. To access it, do the following.
Start→Control Panel (older Windows) or press Windows Key→Search and enter Control Panel and then press Enter (Windows 8, Windows 10).
Choose Uninstall Program (if you don't see it, click in the upper right next to "View by" and select Category).
Go through the list of programs and select entries related to Win Magician PUP . You can click on "Name" or "Installed On" to reorder your programs and make Win Magician easier to find.
Click the Uninstall button. If you're asked if you really want to remove the program, click Yes.
In many cases anti-malware programs are better at detecting related parasites, thus I recommend installing Spyhunter to identify other programs that might be a part of this infection.