Win Tonic is a Windows app that is advertised as "a complete Web and Windows protection suite that also lets you clean disk space and boost system speed to a whole new level". However, Win Tonic is really a potentially unwanted program (PUP) that should be avoided. Though, this ight be difficult, as it can appear on computers without users' consent.
Win Tonic is one of many rogue security programs, such as Advanced Mac Cleaner, Malware Crusher, and Wise System Mechanic.
Win Tonic quicklinks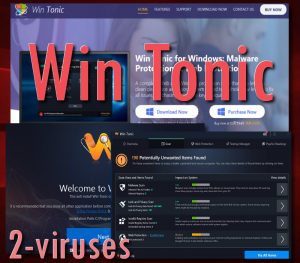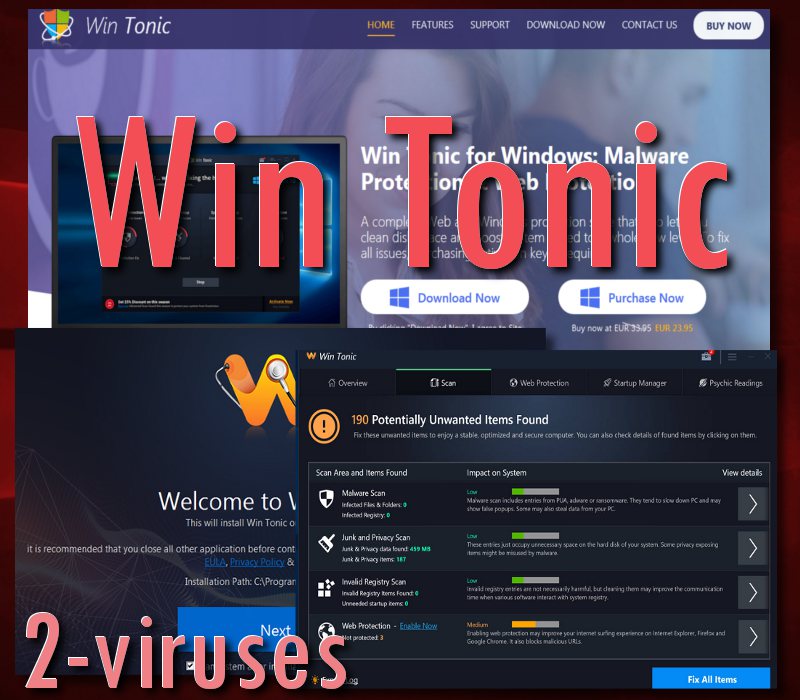 You may be tempted to download the free version of Win Tonic, but it won't improve your Windows PC. Instead, it'll run scans that warn you of various problems that aren't always real or substantial. After seeing such scan results, users might feel threatened enough to purchase the full version of Win Tonic for EUR 23.95.
Such deceptive strategies are not appropriate (Learn to Protect Yourself From Scareware Scams). Let's not forget that Win Tonic inflates the number of threats it finds with harmless entries of "issues" that do not harm the performance of your PC at all.
This fake optimizer certainly deserves to be considered a PUP:
Causes
Misleading advertisements.

Bundled with free programs.

Symptoms
Regular unprompted scans of your computers.

Slower PC startup due to scans.

Lots of "issues" constantly being found on your computer, no matter how often you "clean" it.

Pop-ups encouraging you to buy the program.

Known as
Win Tonic, Win32.Trojan.WisdomEyes.16070401,
PUP.Optional.WinTonic, Program.Unwanted.2349,
Trojan Starter
Removal
Automatic removal using antivirus programs (Spyhunter).

Manual removal using the Control Panel.
Is Win Tonic safe to use
According to a thorough analysis, Win Tonic unwanted program was identified as malicious by a number of trusted antivirus engines. They detected the security program as "Win32.Trojan.WisdomEyes.16070401", "PUP.Optional.WinTonic", "Program.Unwanted.2349" and "Trojan Starter". Here is one of the installers: Virustotal.com.
Win Tonic is automatically installed in C:Program Files/Win Tonic. Once it is installed, every time you restart your computer, system scans are launched. Win Tonic may claim that your device is infected with many malicious programs without justification.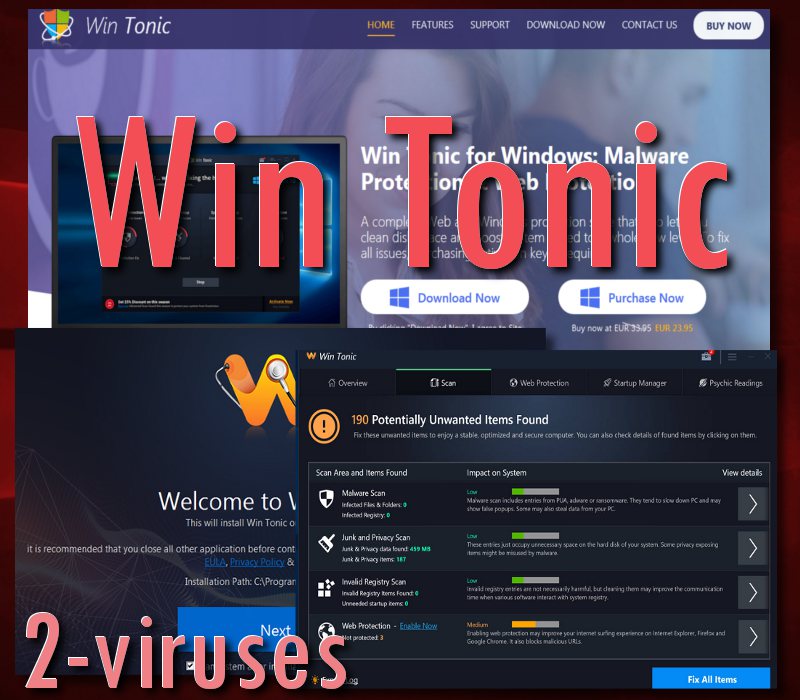 Win Tonic gets promoted by fake virus detections – a type of online scam. In the next part of this article, we will discuss the technique of bundling which is another method that this rogue security software is distributed (12 Downloads That Sneak Unwanted Software Into Your PC).
While Win Tonic might seem helpful and easy-to-use, we hope that you will select more reliable anti-malware tools to protect your computer from viruses. Continue on reading to find out the ways that you can remove this unwanted tool and prevent similar installations in the future.
How did you get Win Tonic virus
Win Tonic can be downloaded from its official website. However, we suspect that this is not the main distribution strategy that the owners of this tool rely on.
Bundling
We think that this suspicious tool is distributed through bundles of programs. This means that during an installation of another program, you might be offered to install additional tools. To avoid such offers, during Setup Wizards, it is best to select advanced or custom modes. If you do this, you will be able to refuse to install optional software.
Before installing any tool, please check whether it is reliable and security programs are not detecting it as potentially unwanted. Install only credible software which has been appreciated as helpful and efficient. Moreover, try not to use freeware/shareware distributing websites because almost all of them pair legitimate popular programs with malware like Win Tonic just to gain money from the developers. Take a look at this HowtoGeek.com article.
Scam advertisements
In addition, Win Tonic is promoted through malicious websites that are advertised online. Fake antivirus scans, (4) viruses warnings, and similar scams were used in the past to promote Win Tonic. These ads are designed to look like real antivirus warnings coming from Microsoft.com, your antivirus program, or another trusted authority. But it is never so.
When you're browsing the internet and are faced with a webpage that claims that there are viruses on your computer, think twice before taking the page seriously.
How to get rid of Win Tonic PUP fast
Since you might be looking for a new anti-malware tool that does actually work, we are suggesting that you install Spyhunter or Malwarebytes. Both of these programs are well-adjusted to detecting even the newest malware threats. You will also be able to run scans on demand and find out the current security status of your computer. These anti-spyware apps have been on the market for a long time and are trusted by many security specialists. Also above mentioned programs will help you to get rid of almost any PUP in a couple of minutes.
Automatic Malware removal tools
How to uninstall Win Tonic virus manually
You can also try to get rid of the deceptor yourself without the help of any program. Open your Control Panel and find the suspicious software which you want to remove. It might be under a different name sometimes, in that case just search for a program that does look unfamiliar and installed around the same time you noticed Win Tonic on your PC.
How to remove Win Tonic using Windows Control Panel
Many hijackers and adware like
Win Tonic
install some of their components as regular Windows programs as well as additional software. This part of malware can be uninstalled from the Control Panel. To access it, do the following.
Start→Control Panel (older Windows) or press Windows Key→Search and enter Control Panel and then press Enter (Windows 8, Windows 10).
Choose Uninstall Program (if you don't see it, click in the upper right next to "View by" and select Category).
Go through the list of programs and select entries related to Win Tonic . You can click on "Name" or "Installed On" to reorder your programs and make Win Tonic easier to find.
Click the Uninstall button. If you're asked if you really want to remove the program, click Yes.
In many cases anti-malware programs are better at detecting related parasites, thus I recommend installing Spyhunter to identify other programs that might be a part of this infection.