Quick Mac Care is described by its authors as the best application to clean up and speed up your Mac. The program is developed by PC Tonics Inc. This company also develops Win Tonic, Driver Tonic and some other utilities correctly detected as potentially unwanted programs (PUPs). The developers mention that it works as system maintenance and security application that scans and boosts your system by deleting annoying junk files, residual files and other unwanted items from your Mac machine. However, to fix all items, buying the license key is mandatory. There is nothing wrong with purchasing the licensed software as long as it works as advertised. Unfortunately, Quick Mac Care indicates a lot of false positives during its fictitious scans in order to force you into buying the license.

Quick Mac Care Remove quicklinks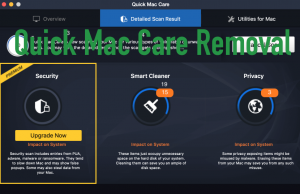 The negative review regarding Quick Mac Care is confirmed based on the experience of many Mac owners who mistakenly purchased its full version. Furthermore, the application is distributed through bundling with other free software and by means of producing scary pop-ups through the browser infected by the
adware
. The pop-up may indicate that your Mac has got serious viruses that need to be removed by the so-called "recommended" software. This leads to the installation of Quick Mac Care. This method of intrusive installation is referred to as online scam, so it is condemned by the civilized world and by common sense.
Fake alerts by Quick Mac Care
Once installed, Quick Mac Care amends system settings to be launched whenever you start your Mac. It initiates its immediate yet fictitious system analysis. In fact, this is the typical imitation of checking your Mac peculiar to other fake system optimization tools. The very scan does not last for a long time. Very soon the scary report is produced where a lot of security and privacy issues are mentioned. Quick Mac Care indicates that it can remove unwanted items that occupy unnecessary space on the hard disk of your system, fix privacy items that might be misused by malware. Finally, Quick Mac Care also promises to remove adware, malware or ransomware as long as you purchase its premium version.
We analyzed Quick Mac Care and its registered copy. The analysis made by several anti-virus companies concerning this program indicates that there is no substantial difference between the free and the paid version of Quick Mac Care. None of them is actually able to protect your Mac from the attacks of adware, browser hijackers and potentially unwanted applications. Therefore, investing money into this program is the waste of your time and hard earned funds.
How Quick Mac Care affects your system
In addition to the absolutely useless functionality and lack of any valuable service, Quick Mac Care causes the following negative side effects:
distracting you with excessive pop-ups reporting fake errors and demanding that you subscribe to its full version;
redirecting your browser to the associated payment processing page;
causing system slowdown, high CPU usage and other stability issues;
installing other malware without your approval.
Quick Mac Care makes several barriers that prevent you from removing it. You may access Finder, go to the list of your Mac applications, find Quick Mac Care and attempt to move it to the Trash, however, there will be a special warning that the application is in use and you cannot get rid of it easily. Even if you eventually manage to uninstall Quick Mac Care through the Force Quit Applications tool, the program leaves a lot of remnants that may continue the malicious activity within your Mac.
The best solution to remove Quick Mac Care
We mentioned that installation of Quick Mac Care without your direct intention could be caused by special adware active in your computer. We recommend to additionally investigate your available programs. Look for the applications like MyShopCoupon or MyCouponSmart, which are now specifically active in attacking Macs. Remove them right away. For the complete cleanup of your computer, we additionally recommend scanning your system with Spyhunter that will analyze other issues, detect and fix all available security vulnerabilities, delete remaining malicious items and protect your Mac from similar virus attack.

Automatic Malware removal tools