What is ScanGuard? According to its overly proud creators, this is the best antivirus and tune-up tool in the business. It is said to have industry-leading features. For instance, the program acts as an antivirus, meaning that it will detect malware infections. It is also identified to free your memory and a number of other features. Surprisingly, this application is said to be free-of-charge, but we doubt that such an allegedly efficient program could be offered completely for free.
Scanguard quicklinks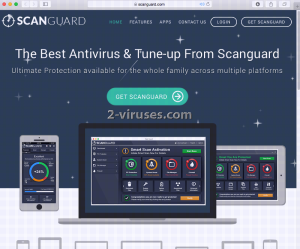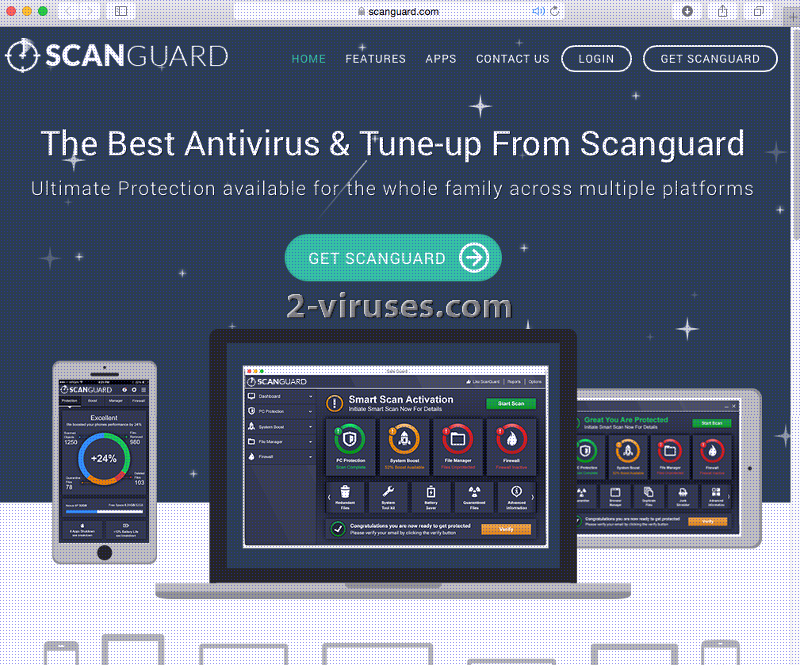 And we are totally right: ScanGuard is not a reliable tool. Many users that have explored its features explained that the program was only after their money and credentials to their email account. As it was explained, the security tool showed false positives for malware and persistently attempted to convince that the users were to buy another program or the full version of ScanGuard. It's not the first time we are facing programs like this: optimisers and fake utility tools like PCBooster and Cleanup My Mac are always vying for people's attention with misleading ads, trying to convince users that they need it.
Basically, ScanGuard lures people in with the promise of a reliable security product, but this is just a scam. Unsurprisingly, it's developed by SS Protect Ltd which has produced many other programs, most of which have been labeled as insecure and unreliable. Many people have been burned by them, so uninstalling ScanGuard is the safest thing to do.
ScanGuard features, harm, and removal:
Promised features

Antivirus protection
Utility features, like freeing disk space
Free of charge

Possible consequences

Large unauthorised charges and confusing fees
The affected computer being slowed down
Problems indicated by ScanGuard that are fake

Classification

Scam
Scareware
PUP
Fake antivirus program

Remove ScanGuard

Uninstall ScanGuard manually
Scan for PUPs (SpyHunter (PC), Combo Cleaner (Mac))
Cancel subscription
Monitor your credit card for unauthorised charges
Resist offers to install ScanGuard
ScanGuard is quite shady and former users have a lot of complaints about it:
Attractive ads and user interface
Poor customer support
High price, overcharging of credit cards
No free protection
ScanGuard pretends to find malicious files
ScanGuard fails to find real malicious files
Despite being a scam, it was not assigned to this category straight away. Experts required some time, feedback from users to determine whether the ScanGuard application is reliable or questionable. However, this process did not take long, as the Internet is flooded with negative reviews from people who were tricked into downloading the optimiser. Many of them said that they installed ScanGuard voluntarily, since its features sounded to their taste. However, users quickly came to realise that this security tool is only free at first: as soon as you start using it, trying out its features, you will be constantly pestered to download the full version in order to continue.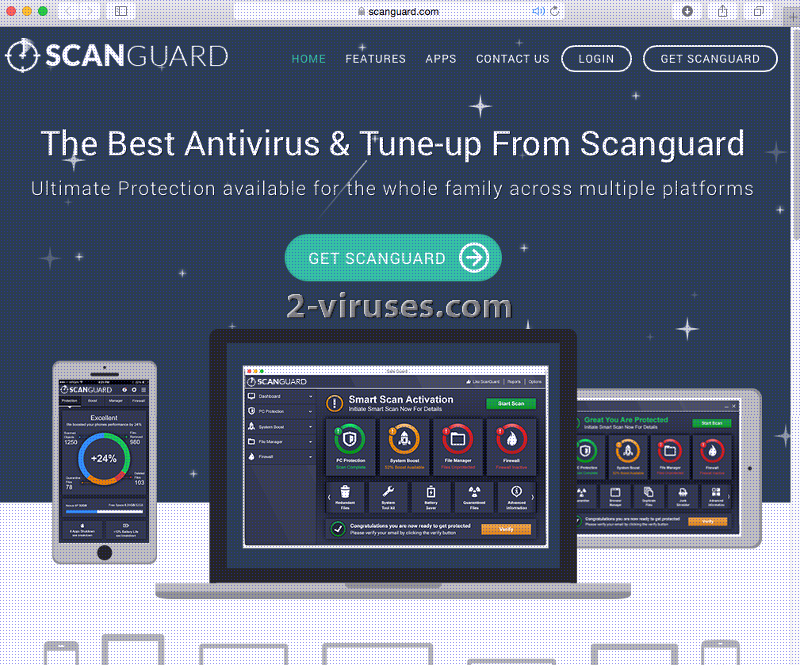 In addition to that, ScanGuard displays highly exaggerated results to security scans, implying that a system is infected with thousands of viruses. One of the users that had tried out this tool explicitly described the experience in this area. According to his/her story, ScanGuard showed warnings about infections that were not present in the device at that time. In order to prove this theory, user cleaned his/her device from any potential dangers and then ran a security scan with ScanGuard. Somehow, the application still managed to discover a ton of viruses that have allegedly entered the system. This deceptive trick is extremely popular among a number of other rogue security tools. They use a combination of fear and passive intimidation to reach their objectives. When a person is convinced that his/her computer device is facing thousands of viruses, he/she might actually purchase the full version of ScanGuard. Without any doubts, we can say that the pricy version is going to be just as useless as the free one.
Some users on Microsoft support forums are even asking if the ScanGuard software is legitimate. There are several schools of thoughts – it's either useless and not really needed by anyone or even unwanted and malicious. Either way, you should not use it nor keep it installed on a computer.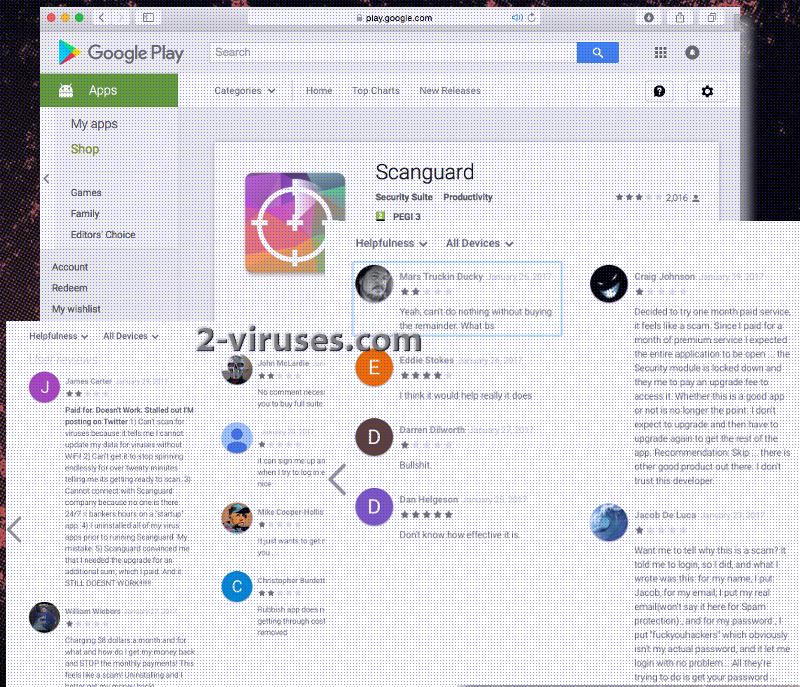 Meanwhile, reviewers of ScanGuard's mobile version on the Android platform complain about being constantly and severely overcharged, as well as not receiving refunds and the overall poor quality of the application and customer service.
Reports from users also indicate that the optimiser is actually quite widely promoted as its advertisements are present in a number of websites. Most commonly, articles with intriguing titles are created, and then they lead into a homepage of ScanGuard, offering to install a security tool. If you ever spot an ad for this tool in any of the websites you visit, never click on them. DO NOT throw coins on the table for a malicious, dishonest tool. In fact, stay away from other security tools that SS Protect Ltd. has introduced over its career.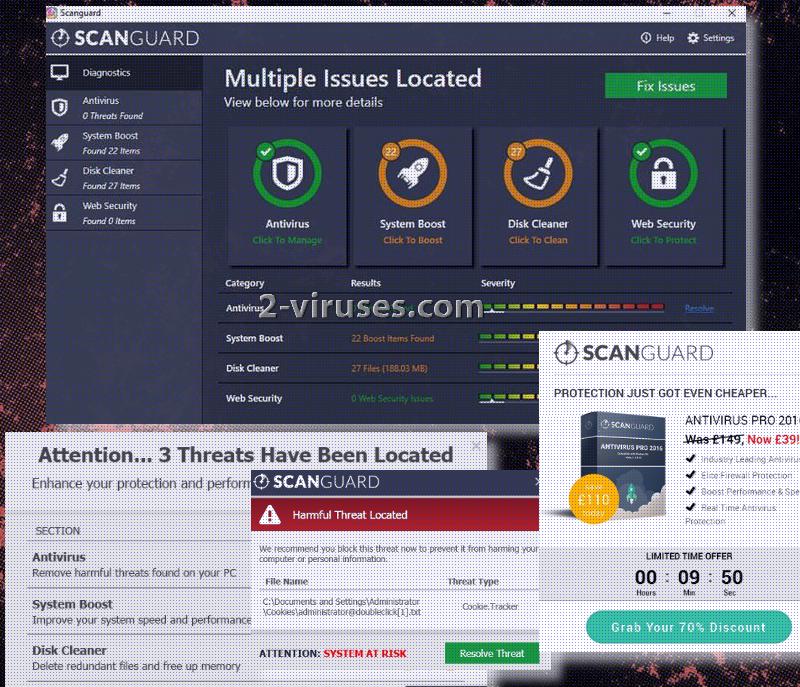 False advertising + ScanGuard application = convincing lie
ScanGuard is available for download on its official page. However, you should not be mislead by the statements and promises that are made on this website. Your security might be jeopardised just by using this tool — it does not offer quality protection, but you might be under the false impression that it does. This means that by using the program, if you are exposed to malware attacks, you won't be protected. When so many malicious programs spread in files distributed online, ScanGuard's failure to detect them could have severe consequences. Even using the free version of the optimiser can cost you all sorts of problems, like slow down the performance of your system.
When it comes to actually staying safe, use a reputable optimisation and security program. Research each one before you install it. ScanGuard's poor reviews online detail the ways in which the program has left people disappointed and they are more real than the program's shiny marketing.
How to delete Scanguard
Spyhunter for Windows or Combo Cleaner for macOS are legitimate security tools, capable of providing you with features that will protect you from malware. It should also appropriately detect ScanGuard and offer its automatic removal. For instructions to a manual removal, scroll down.
How to remove ScanGuard using Windows Control Panel
Many hijackers and adware like
ScanGuard
install some of their components as regular Windows programs as well as additional software. This part of malware can be uninstalled from the Control Panel. To access it, do the following.
Start→Control Panel (older Windows) or press Windows Key→Search and enter Control Panel and then press Enter (Windows 8, Windows 10).
Choose Uninstall Program (if you don't see it, click in the upper right next to "View by" and select Category).
Go through the list of programs and select entries related to ScanGuard . You can click on "Name" or "Installed On" to reorder your programs and make ScanGuard easier to find.
Click the Uninstall button. If you're asked if you really want to remove the program, click Yes.
In many cases anti-malware programs are better at detecting related parasites, thus I recommend installing Spyhunter to identify other programs that might be a part of this infection.
Automatic Malware removal tools