Search.hfreeformsnow.com is a search website that will be set as your new tab page if your web browser is infected with Free Forms Now add-on. Obviously, you can install this extension yourself, but usually that's not the case – it is distributed using deceptive methods and that's why we categorise it as browser hijacker.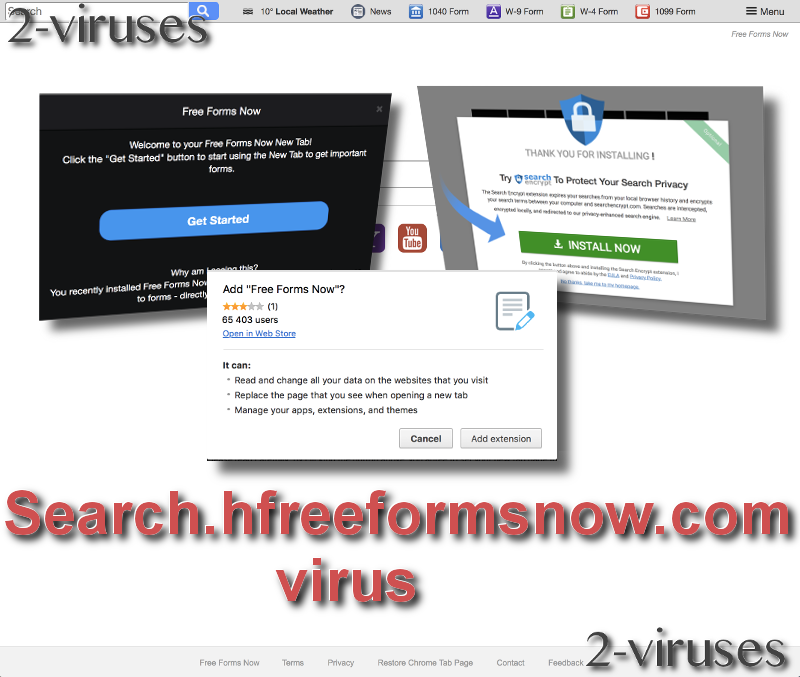 Actually, it is not the only reason why Search.hfreeformsnow.com is considered to be malware. It is also dangerous to use or simply keep it installed. This article should serve as a removal guide for this browser hijacker. We will also provide you with detailed information about features of Search.hfreeformsnow.com, so please proceed reading.
First of all, let's talk about the way this infection is distributed. It was developed by a well-known malware developer Polarity Technologies LTD. There are a lot of browser hijackers like this distributed by this company – Search.searchddn.com and Search.searchemailo.com are just a couple of examples. They act in a very similar manner and are distributed the same way.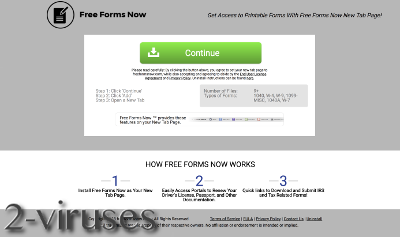 There is a website at www.freeformsnow.com where this add-on is described as a tool to use "all the most popular and common forms – find all commonly filled federal forms on your browser. 1040, W-9, 1099, and more". Once can download it directly from this website, but most of the installations are carried the other way, i.e. bundled with other free software.
It is distributed as a bundled with various freeware. Note that in most cases users are not well informed that this additional tool will be installed on their web browser, so it comes as a surprise. Also, after successfully installing it on a computer, you will be also offered to install Search Encrypt add-on. It is described as useful tool that will encrypt your searches and protect your data this way, but in reality it's just another malicious add-on. So in a worst case scenario, you would get not one, but two malware infections at once.
Search.hfreeformsnow.com – new tab hijacker
There are various browser hijackers, they all feature different traits. Even though it's typical for browser hijacker to take over the homepage, malware coming from Polarity Technologies LTD tend to hijack new tab and default search engine instead of homepage.
So if Free Forms Now is added to Google Chrome web browser (the only browser it is compatible with), new tab and default search engine page will be automatically set to www.search.hfreeformsnow.com.
Some of the users find this website to be attractive and useful and just ignore the fact that their computer was infected by continuing using it. However, we highly recommend not to do that, because:
Search.hfreeformsnow.com will track your searches and collect data. Some of the data might be personal and sensitive, so it is a huge security risk;
Search.hfreeformsnow.com will promote various links that are not even relevant to your search queries, therefore you will waste your time;
Search.hfreeformsnow.com might also try to install other malware (as it was seen with Search Encrypt) and push additional banner and pop-up advertisements;
Search.hfreeformsnow.com might be the reason why your computer is running slower and you experience freezes of web browser.
As you can see, there are more than enough reasons not to use this website and add-on. Almost nobody use this website on their own will – all visitors to this website come exceptionally from infected computers. We have examined this website with SimilarWeb tool and it seems like it first appeared back in October of 2017 and infections are only rising:
Luckily, it is not that hard to get rid of this tool. All it takes is a scan with reliable anti-malware application and a couple of manual actions.
So if you are interested in removing this hijacker (we hope you are), please open a new tab click on "Restore Chrome Tab Page" in the footer. On the following Window, click "Yes".

Next, you should run a scan of all files that are stored on your computer with either of those programs – Spyhunter. It will detect and remove all files that are related to Search.hfreeformsnow.com infection and other malware as well.
After this scan you will be 100% sure that your computer and private data is secure.
Automatic Malware removal tools