Prize Email 2019 (or Prize Email 20!9) is yet another scam for stealing people's money and personal information. It is very similar to the Like of the Year and Big Money Prize scams that have recently emerged. Prize Email 2019 promises a nonexistent cash prize of over $9000 and then asks for fees of up to $50, as well as the victim's personal information. Links to Prize Email 2019 are distributed by malicious ads, adware, and links in social media.
Prize Email 2019 Scam quicklinks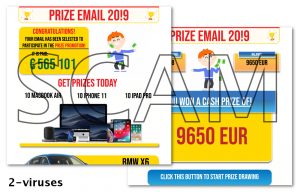 Prize Email 2019 is legitimately dangerous if you fall for it:
The danger of Prize Email 2019

Scam
Fake fees that are required to pay for the promised prize
Exposed personal information

Distribution of scams

Adware infections show malicious ads
Malicious actors inject bad ads into various websites
Links in emails and social media lead to scams
No associations with trusted websites or companies

Signs that Prize Email 2019 is a scam

All real users win the same amount in the same way
Fake comments
Fake security seals

Avoid the Prize Email 2019 scam

Block malicious websites
Delete adware using anti-malware tools (Combo Cleaner for Mac, SpyHunter for PC)
Recognize and ignore scam sites
How Prize Email 2019 works
Prize Email 2019 scam takes place on a simple webpage with clean, loud graphics. The design looks professional, mostly. It looks like the scammers actually put some effort in this one. The front page of Prize Email 2019 has this text:
Congratulations!
Your email has been selected to participate in the prize promotion!
and
Your electronic mailbox has been identified to participate in the prize draw
Various prizes are listed, including phones, laptops, a car, and cash. Comments on Prize Email 2019 comment on their wins. Some comments claim that Prize Email 2019 distributes wins according to some secret criteria, adding mystery to the whole thing.
You can go ahead and participate in the survey that Prize Email 2019 offers. The questions are very basic and pose no challenge at all. They are similar to the questions in Annual Visitor Survey, another scam. Also like in that scam, after finishing the three-question survey, Prize Email 2019 gives you three tries to draw some prizes. You win 9650 dollars for the account number #2590948. First, you only get $50, then nothing, then – over $9000. Looks like the scammers know how to build anticipation and play with our emotions.
How Prize Email 2019 is dangerous
So far, Prize Email 2019 hasn't done anything really dangerous. People's emotions were played with, but the site did not yet steal any information or money at this step. From now on, that changes and the dangerous part of Prize Email 2019 begins.
You are told that you have to pay a fee to get your money: either some $20 for the money being wired to you or $50 for the delivery of the cash prize. So, Prize Email 2019 requires you to give your personal information, payment information, and even your actual money. The money is already a win for the scammers, while the information can be sold online for a few more dollars.
Name, address, and payment information can be used for various fraudulent activities, including signing you up for fake subscription services and using your name to take out loans. Being scammed by Prize Email 2019 can be worse than just losing $50 – it could come back to haunt you.
Distribution of Prize Email 2019
The Prize Email 2019 site appears randomly to users over adware viruses, dangerous ads, as well as links in emails and social media comments.
It might be enough for you to visit a site that shows ads that are not reviewed for malware. Some malicious actors actually hijack, hack, or replace normal ads to show their malicious sites. Even on legitimate, safe, high-profile websites, there's a chance that an ad will lead you to a malicious site like the Prize Email 2019 scam.
Adware viruses just constantly inject malicious ads in your browser, redirect your links, and open new sites. Adware exposes users to lots of scams and malware. For people whose computer is infected with adware, Prize Email 2019 is not even the worst of what sites they have to deal with.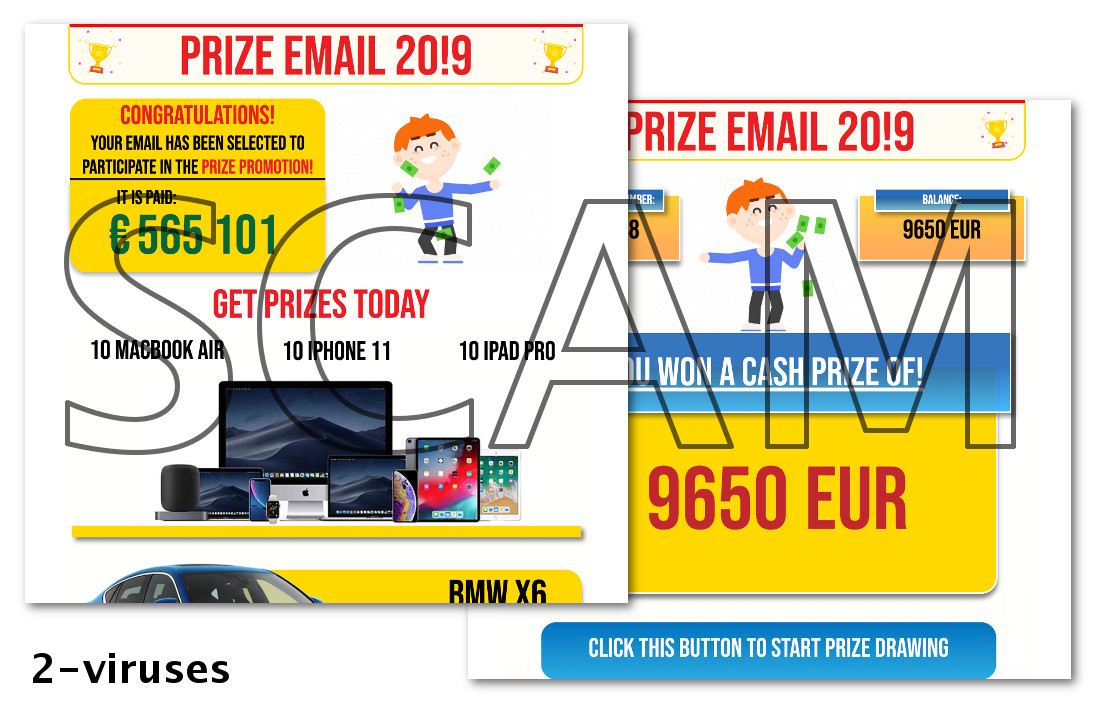 Links to Prize Email 2019 might also be distributed in social media. We're all familiar with links to get-rich-quick sites in comments and scam emails that ask us for money, impersonators posting links to malicious sites, and hacked accounts of your friends sending you mysterious links.
Prize Email 2019 is a fake promotion that's not based on any real giveaways. It's a scam through and through.
How to avoid scams and stop Prize Email 2019 pop-ups
You might end up on Prize Email 2019, but it's not too late to turn away from it. Just close the page – that's all that's needed. If a website that you trust redirected you to Prize Email 2019, let its owners know what happened: their site might have been infected without their knowledge, it happens.
To avoid scams like Prize Email 2019, it's a good idea to use an anti-malware program or an ad-blocker to block malicious websites. Those programs make it easy for you to block any site you want. Anti-malware tools like Combo Cleaner (Mac) or SpyHunter (PC) are also good for finding adware viruses on your computer, so take advantage of that and make sure that your device is clean. Adware viruses spread malware and all sorts of fraudulent schemes, they can't be allowed to stay.
As new scams very similar to Prize Email 2019 are being released, here are a few signs that show them being fake:
The site is not very interactive. For example, you can't post a comment.
Every time you return to the site, the comments are exactly the same. No matter which answers in the survey you pick, the wins are exactly the same.
No information on which company is holding the promotion. on some versions of Prize Email 2019, Privacy Policy and Terms of Service sites aren't even accessible.
The logos of antivirus companies listed in the Prize Email 2019 site are not interactive and do not open any sites that would confirm that they find Prize Email 2019's site to be safe. Those are literally just pictures.
The URL for Prize Email 2019 is not obviously affiliated with any known company. It's addresses like quizrolls.com, priwin.xyz, 2winwin.xyz, winwin2.xyz – similar to other scam sites.
Just use cybersecurity tools, browser safely, and if you encounter a site like Prize Email 2019, close it immediately.
Automatic Malware removal tools