The Annual Visitor Survey popup is another annoying ad that can be displayed on Internet Explorer, Mozilla Firefox or Google Chrome, Safari, or any other browser while you browse the Internet. The message claims that you have been personally selected for an annual anonymous survey and now you need to complete one more to get 3 exclusive offers. Despite seeming like a nice offer, this ad is fake and it only tries to make money as well as get some personal information about you.
Annual Visitor Survey Popup quicklinks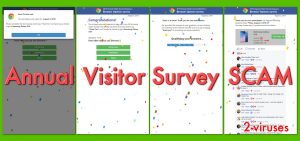 About Annual Visitor Survey popup
First of all, if you click on the Annual Visitor Survey popup and agree to take a survey, you might have to enter your phone number and be charged $5, or asked to provide your credit card data and be charged.
The Annual Visitor Survey scam is very similar to another Facebook iPhone giveaway scam, and another one, and this fake giveaway to "Win a New Phone". It's a popular type of scam that first tells you that you won a phone, then asks you to pay a token amount to "verify your identity", then to pay for shipping, etc. They try to steal people's private data for use in later scams and for robbing people. All these scams are faked and no phones are given to anyone.
The Annual Visitor Survey pop-up is a malicious ad and a scam that can result in you losing money and having your identity stolen if you go through with it:
Annual Visitor Survey classification

Scam
Malvertising
Phishing

Symptoms of Annual Visitor Survey being fake

Takes place on a non-interactive facsimile of Facebook
Ads to this page appear often
The URL is nonsensical (full of random numbers and letters)
You're required to pay for a prize

Dangers

Money lost
Personal information exposed to the scammers

Removal

Avoid shady sites
Remove adware (Combo Cleaner (Mac), SpyHunter (PC))
Update your software
Use real-time web protection
Don't trust online giveaways and lotteries
This scam starts as a pop-up exclaiming that you were selected to complete a survey and it takes place on a fake Facebook-looking page while colorful confetti rains in celebration. It's chosen because Facebook is such an omnipresent and trusted website, but definitely has nothing to do with the popular social media site.
The original version of the Annual Visitor Survey popup was noticed back in 2014. It was constructed as a survey with a fee and was an obvious scam. Now, crooks are constantly being a nuisance to Internet users with new hoaxes that have proven to be quite effective. Fabricated security scans, lotteries, giveaways are all valid methods to trick users to click on unsafe pop-ups (read more about the types of dangerous pop-up ads and how to recognize them) and be subjected to scams. In the case of the Annual Visitor Survey popup, the possibility of winning some sort of a prize is used to excite people and make them look past the signs that this might be a scam.
As you might have guessed, the Annual Visitor Survey is just another attempt to get you to give away your personal details to malicious actors so that they can abuse them later. If you complete the survey, you'll be offered a valuable item, such as the newest version of Samsung Galaxy or iPhone, for a token payment (1€ or $1). You'll also be required to fill out a form that includes your personal info. It and access to your credit card will be abused by the scammers, and, obviously, the phones and any other prizes are fake. In fact, if you know the URL, you can be "selected" and "win" the prize over and over again, because it is all completely staged.
If you notice an Annual Visitor Survey popup or anything even remotely similar to it, immediately close the browser tab (Alt+F4 for Windows, Cmd+W for Mac OS) and consider why the pop-up appeared. It might have been a bad ad on whatever site you were previously on, a malicious notification from an adware site (how to turn off notifications), or an adware infection on your computer. If you suspect an infection, please run a full security scan to guarantee that your device has not been infected. Adware is not only going to bring misleading and often harmful advertisements, but will also redirect you to online trackers, which will give crooks easy access to your online activity and enable them to perform targeted phishing attacks.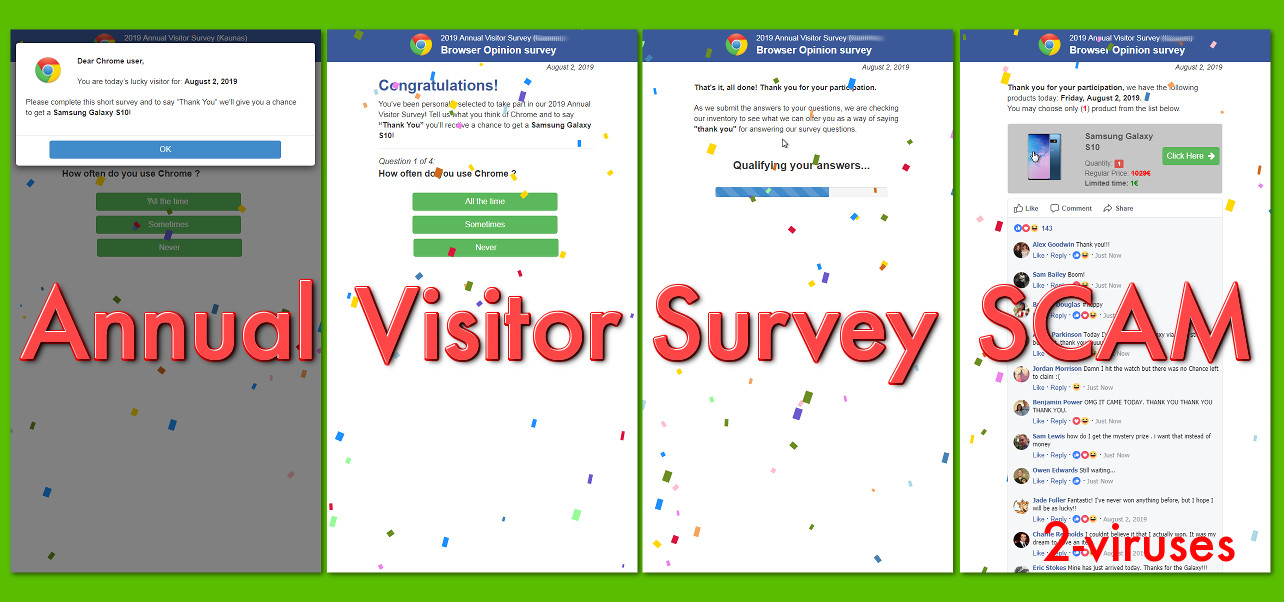 Distribution Methods of Annual Visitor Survey popup
Typically, adware is added when you install freeware to your system. This can be some video player, video recording manager, PDF creator, etc. We already know that it can come bundled with 1ClickDownlaod, FBPhotoZoom, Superfish or Yontoo. Avoid installing any unknown programs to your system. Also always review the installation steps of any software that you are downloading and make sure you don't agree to add any other programs if you see such options. If you have a bad feeling that the application you selected is not going to serve you well, please exit the installation as soon as possible. Installing bad software is easy, but removing it can be a huge pain. Run a full system scan with Spyhunter for Windows, Combo Cleaner for Mac OS, or use another legitimate tool that you trust. They will eliminate any potentially unwanted programs. Don't forget to upgrade your antispyware to its newest version to ensure the detection and removal of the most recent unwanted programs.
Speaking of updates, make sure to install security patches for your OS and browser because malicious websites abuse known security bugs to infect computers. And avoid unsafe sites – you can even go so far as to block known malicious websites with the help of real-time protection features of your favorite antivirus program.
Besides that, there's little we can do to avoid scam ads like Annual Visitor Survey. This one has many URLs, spreads on a variety of websites, and has already been alive for at least 5 years. Just try to keep a cool head, don't trust free giveaways on the internet, and always look something up if you're not sure if it's safe. Other people will surely have experience and valuable advice.
Automatic Malware removal tools