Annual Visitor Survey Popup - How To Remove?
Annual Visitor Survey popup is another annoying ad that can be displayed on Internet Explorer, Mozilla Firefox or Google Chrome while you browse the Internet. The message claims that you have been personally selected for an annual anonymous survey and now you need to complete one more survey to get 3 exclusive offers. Despite of that it sounds like a nice offer, this ad is fake and it only tries to make money as well as get some personal information about you.
About Annual Visitor Survey popup
First of all, if you click on Annual Visitor Survey popup and agree to take a survey, you will have to enter your phone number. It will automatically charge $5 from you. You definitely don't want to spend any money just for completing a survey. Do not expect to get any exclusive offers that the ad promise either. It's just a technique that the creators of this promotion use to make money.
The original version of the Annual Visitor Survey popup was noticed back in 2014. It was constructed as a survey with a fee and was definitely not a well-thought of scam. Now, crooks are constantly being a nuisance to Internet users with new hoaxes that have proven to be quite effective. Fabricated security scans, lotteries are the preferred methods to get users to click on bizarre pop-ups or other similar content that cannot always be seen as trustworthy. In the case of Annual Visitor Survey popup, the improved version is the fact that shady programmers have developed a sense for such notifications. They construct surveys and ask people to fill them in for the possibility of winning some sort of prizes.
As you might have guessed, this is just another plain attempt to get you to respond to third-party content. Do not allow to be redirected by external links and if you notice Annual Visitor Survey popup or anything even remotely similar to it, please run a full security scan to guarantee that your device has not been invaded by an advertising-supported monster. An adware is not only going to bring misleading and often offensive advertisements, but also go as far as placing tracking cookies into hard drives. This will give crooks easy access to your online activity and personal details you might employ online. For example, if you are logging into an online banking account, you surely do not want to be followed by some sort of parasite, ready to make unauthorized changes. A possibility of how a Annual Visitor Survey popup can look can be seen below.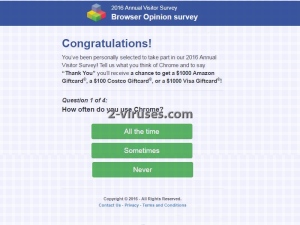 Distribution Methods of Annual Visitor Survey popup
Typically, Annual Visitor Survey popup is added when you install freeware to your system. This can be some video player, video recording manager, PDF creator, etc. We already know that it can come bundled with 1ClickDownlaod, FBPhotoZoom, Superfish or Yontoo. Avoid installing any unknown programs to your system. Also always follow the installation steps of any software that you are downloading and make sure you don't agree to add any other programs if you see such options. If you have a bad feeling that the application you selected is not going to serve you well, please exit the installation as soon as possible. Installing wrong software can only lead to unfortunate consequences.
If you don't want to contribute to making profit for cyber criminals, remove Annual Visitor Survey popup once you notice it on any of your browsers. Run a full system scan with Reimage, SpyHunter, Hitman or other legitimate tool that you trust. They will eliminate any potentially unwanted programs. Don't forget to upgrade your antispyware to its newest version to ensure detection and removal of the most recent unwanted programs.
Automatic Annual Visitor Survey popup removal tools
We might be affiliated with some of these programs. Full information is available in disclosure
About the author