There is a new online Big Money Prize scam. Those who encounter the scam are promised a prize of $11000. However, the money does not exist – Big Money Prize is there to collect victims' bank details and $29 from each victim. Then, the victims are either strung along and scammed out of more money, or just have their private information sold.
Big Money Prize Scam quicklinks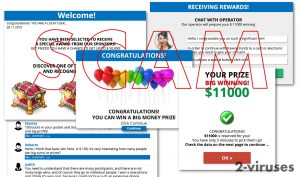 How Big Money Prize works
Big Money Prize is a scam that could be genuinely dangerous:
How Big Money Prize is dangerous

You might lose money
Your payment and personal information might be exposed to cyber-criminals

How Big Money Prize spreads

Social media messages, comments, posts
Emails
Ads and redirects on unsafe websites
Pop-ups and redirects by an adware virus

What if you fell for Big Money Prize

Tell the police and your bank
Check for malware on your computer (Combo Cleaner for Mac, SpyHunter for PC)
Change your passwords
Be careful of phishing attacks in the future

How to deal with scams

Close the browser tab or quit the browser
Remove adware and spyware programs
Block malicious sites
Big Money Prize goes fast, you have no time to collect yourself. There is urgency in every step of the process. the $11000 prize is incredible, life-saving money for some of us, so it might seem silly to not take this opportunity. The scammers are betting on this, manipulating people's emotions for their own gain.
The Big Money Prize scam is very similar to the recent "Like of The Year" award. They both have a fake chat with an operator with a stock photo to imitate a real-time conversation. They both promise you a few thousand dollars as a prize and they both ask you to reveal a lot of private information and to pay a $29 identification fee (which, as far as I know, is not a real thing).
When you first encounter Big Money Prize, you see a pop-up with balloons that says:
Congratulations!

You can win a big money prize
If you choose to continue, three treasure chests appear next to the text:
You have been selected to receive a special award from our sponsors!
Get prizes! You have a chance to get up to $ 50,000!
The first time, the chest is empty, but with the second try, you get $11000 (or so Big Money Prize wants you to believe). The comments at the bottom of Big Money Prize's page are reacting and gushing about their experiences. A pop-up at the bottom of the screen keeps telling you about the other people's winnings: $60, $900, $600. A picture with McAfee's logo is put there to give you a false sense of security, but it doesn't have a link to verify Big Money Prize's security. It's all very exciting and very manipulative.
Once you accept Big Money Prize's prize, it claims that it couldn't identify the recipient (this was before the page even asked for your bank details). So, Big Money Prize says:
Make an identification payment and receive a transfer
At this point, you're prompted to enter your payment information and pay this fee.
Consequences of falling for the scam
If you reveal your private information and pay the $29, that's money lost. You might be strung along for a while, asked to pay larger and larger fees and reveal more of your information. Some people lose thousands of dollars to online scams. But the prize money just isn't there – Big Money Prize is a hoax.
The more you interact with Big Money Prize, the more information you will reveal to the scammers behind it. This information can aid cyber-criminals in their later schemes. Personal and payment information packages about people, so-called "fullz", are sold and bought on the Dark Web, then the valuable ones are used in later schemes. If you're deemed an attractive target, cyber-criminals might try a spear-phishing attack on you. You also risk having your identity stolen.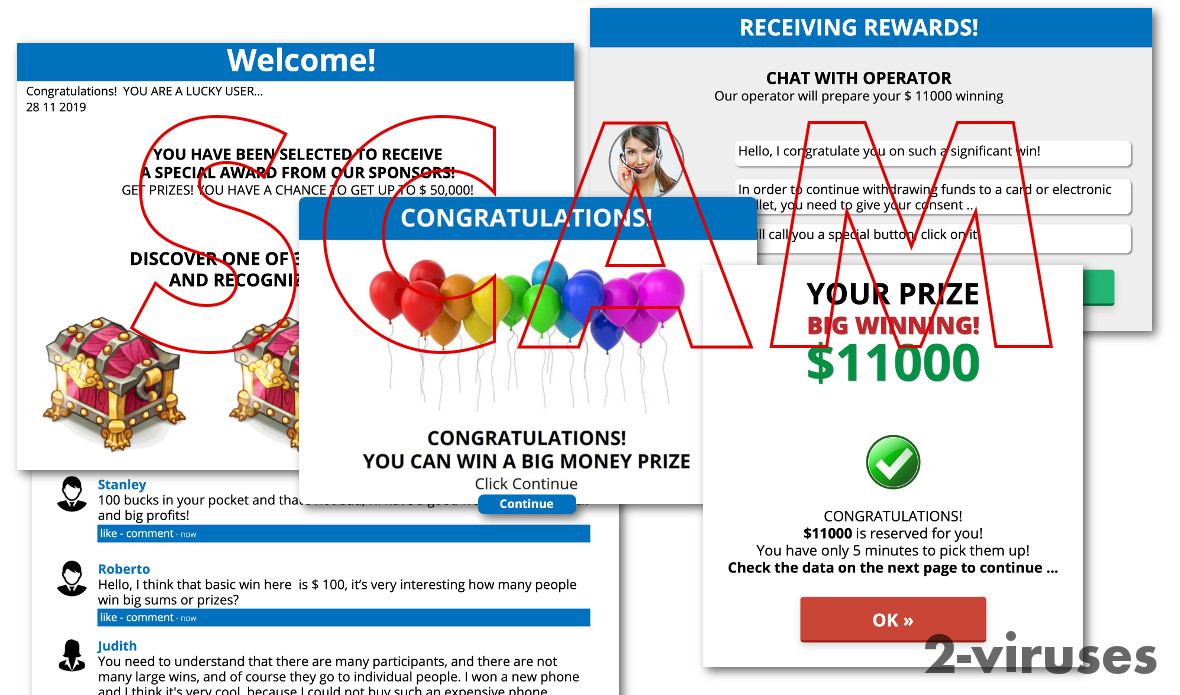 There are a few measures that you should take if you fell for Big Money Prize:
Report this event to the police or an institution in your country that deals with consumer rights, fraud, or cyber-crimes.
Call your bank and tell them about Big Money Prize. They should know if it's serious and what security measures you need to take.
Scan your computer and make sure no spyware and adware viruses are on it. If there are, remove them and change the passwords of online accounts.
Make sure you have 2-step verification securing your online accounts.
How to deal with scams like Big Money Prize
Big Money Prize and other scam sites are often shown by adware viruses. Also, malicious ads on unsafe websites. Another way that Big Money Prize could have been opened is if a link to it was shared with you in a social media message or in an email letter. The account of someone you know might have been used after being hacked by cyber-criminals.
Scan your programs with an anti-malware tool like Combo Cleaner for MacOS or SpyHunter for Windows. That should reveal if any malware, like adware viruses or password-stealers are on your system. If there are, delete them and change passwords.
If you encounter a site like Big Money Prize, other games, giveaways, email surveys, security alerts, and update prompts, you need to be very careful. There are a lot of scam sites online that prey on people's excitement, fear, and other emotions. If you encounter one and aren't sure if it's real, just take a break to research it.
Ignore and close Big Money Prize's page and other scam sites when you encounter them. If your mouse isn't responding or if the site took over your whole page and it seems like you can't close it, use keyboard shortcuts. Press the buttons Cmd and W on Mac, Alt and F4 on PC to close the current window. Or use Cmd+Alt+Esc on Mac or Ctrl+Shit+Esc on PC to open a window from which you can then force any program to close. Big Money Prize and most other scams are simply webpages. To close them, just close the offending browser tab. Even if a page doesn't look like it's a website, it probably is one. To see fewer of them, use an ad-blocker or an anti-malware program to block malicious websites. When Big Money Prize and other dangerous sites are discovered, their URLs (in this case, it's moneypoll01.top) are added to a blacklist and blocked from loading on your computer.
Automatic Malware removal tools