MacShiny rogue Mac system optimizer (by Cyan Soft Ltd.) is promoted in its official website and is indicated as the easiest tool to keep Apple computers protected and well-tuned. From this perspective, it is similar to such applications like PC Optimizer Pro. The recently-detected program supposedly includes the following features: trash cleaner, system status provider, security scanner, duplicate finder, advanced uninstaller, extensions manager, data eraser, fast issue fixer, performance booster and a few other traits to increase efficiency.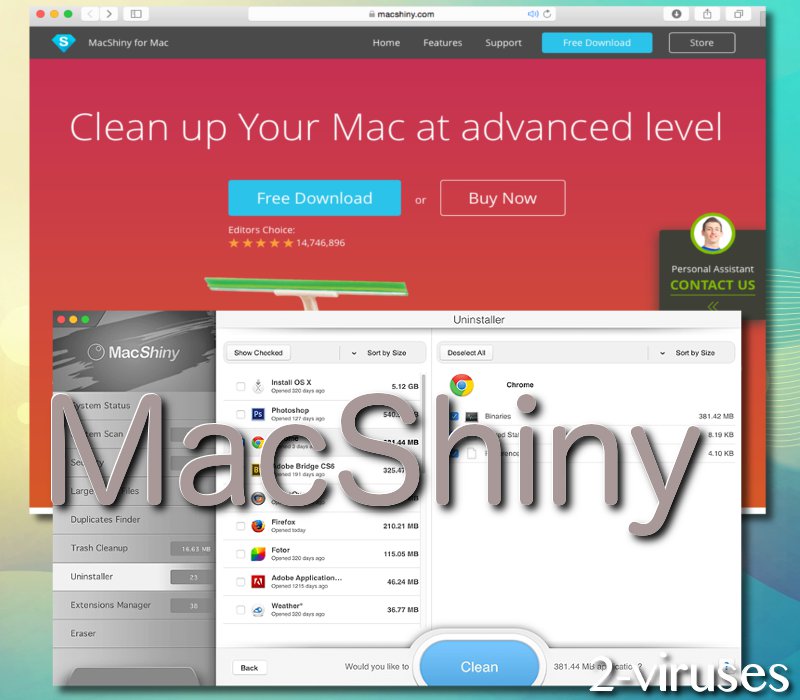 Macshiny quicklinks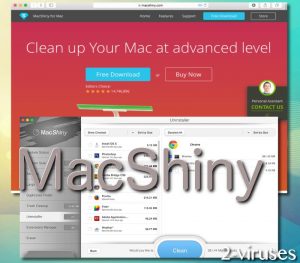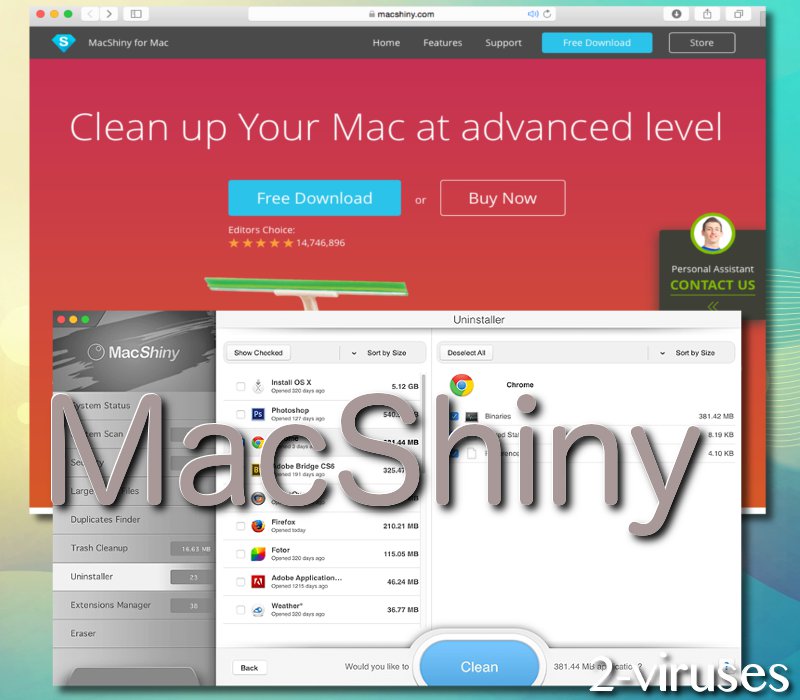 However, it is considered to be as rogue as Safe Cleaner and Cleanup My Mac that we have discussed previously. Legitimate security researchers have confirmed that MacShiny optimizer is a potentially unwanted program (PUP), and some seem to suggest that it is capable of functioning as a downloader for additional malware parasites.
While MacShiny is not a very serious infection, it does use deception to make your Mac seem infected, uses words like "dirty" and "dangerous" without any basis, labels tiny little junk files (that your Mac would delete on its own after a few days anyway) as problems. This app's scan results are not worth worrying about.
MacShiny is a potentially unwanted program that can be removed without worry:
Type of threat

PUP (potentially unwanted program)
Scareware

Problems with MacShiny

Misleading scan results which make the state of the Mac seem worse than it is
Redundant functions
Too-frequent scans slow down your Mac

Distribution

Misleading ads
Freeware bundling
Downloaded by another adware/malware app

Removal

Uninstall MacShiny and other suspicious applications manually
Remove malware using an antivirus program (Combo Cleaner)
MacShiny rogue Mac system optimizer should not be purchased because it is a PUP
We decided to download and scan MacShiny.pkg which is an executable to start the app's installation process. Just as we predicted, after an (antivirus scan of MacShiny), respectable security tools determined this application as BV:Downloader-OA [Drp], OSX/Deceptor.MacShiny.A, Trojan.Linux.Downloader, not-a-virus:HEUR:Downloader.OSX.MacShiny.a. From the word "downloader" we can speculate that this suspicious XAR archive will be capable of secretly installing additional unwanted tools or applications that are considered as more malicious.
The official website of MacShiny rogue optimizer receives over 30% of its traffic from redirection and over 50% from ads. You should be interested to find out that referrals are initiated by sites that are infected or partnered with overly aggressive ad-networks. To users, these redirects happen without their consent and are outside their control. And a lot of the MacShiny ads appear on adult sites which are also notorious for misleading and aggressive advertisements, such as fake virus alerts. This marketing strategy should not be exploited by respectable developers as users should be earned by providing professional and sufficient services, but MacShiny just isn't good enough.
Some users will be automatically transferred to the official website of this service rather frequently. In some countries, the tool is being offered more often than in others. For instance, people from United States, United Kingdom, Australia will be recommended to install MacShiny rogue more than other countries.
Even though MacShiny advanced cleaner might seem like a solid purchase, you should not waste money on this utility. For a 24-month license you will have to pay 4.95 euros/m. However, this means that you will be associated with this tool for two whole years: you should not take advantage of this limited time offer. Unreliable developers might exploit your banking account information and bill it without authorization (Free trial offers can bring unwanted credit card charges).
During the first 30 days of your license, it is proclaimed that people are allowed to get their money back. However, there might be some secretive conditions for this guaranteed condition. In addition to this, if you purchase the Deluxe plan for 24 months, in total, you will be charged 118.80 euros even though you might not find the tool efficient after a couple of months of usage.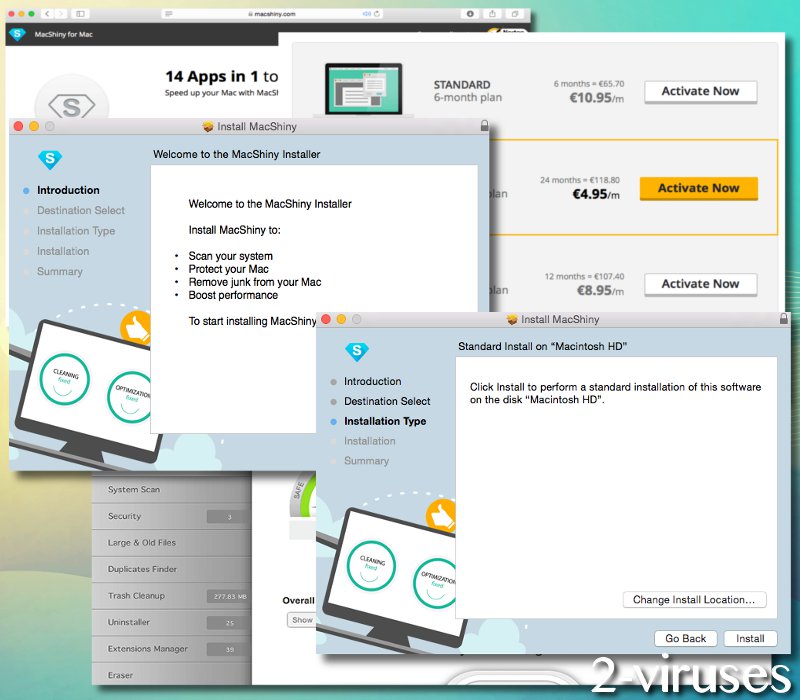 We do not even offer users to try out the demo version of MacShiny infection even though it is free of charge (Antivirus software scams: free trials). All that the tool will do is show false positives and hope to convince you to purchase the full version. The free trial will allow users to fix 100 detected issues but the rogue tool will make sure that this is going to seem like a drop in the ocean. We hope you won't consider getting this tool as it will only cause you security issues and potentially download more malicious software.
How to avoid potentially unwanted programs?
We keep reminding our visitors about the main ways to protect operating systems from the infiltration of suspicious software. Please have a respectable anti-malware tool installed and keep it updated. Combo Cleaner will do a sufficient job in finding PUPs and other potentially dangerous viruses.
For installation processes of freeware, we hope you will decide to install software via advanced/custom modes which will certainly be more beneficial than quickly running through the installer in basic mode. It is also recommended that people would read EULA documents and Privacy Policies so they would not be scammed in getting involved with a tool that will automatically charge credit cards or show deceptive ads.
Manual instructions to get rid of MacShiny potentially unwanted program:
Select "Go" and "Go to Folder" on the Finder toolbar.
In the "Go to Folder" section, write /Library/LaunchAgents.
In the folder that gets launched, please check whether there are any suspicious files that could be triggering adware to be active. It could be that entries, related with "Genieo" or "RarGenie" will be noticed.
If you find any suspicious files, you should move them to trash.
Write /Library/Application Support in the "Go to Folder".
Once again, check the folder for any alarming files or folders.
Check ~/Library/LaunchAgents folder for any dangerous entries. Do this by entering the folder name in "Go to Folder".
Finally, repeat the same routine with the /Library/LaunchDaemons folder.
In case this does not work, we strongly-emphasize to try the automatic removal option which we have mentioned above. Run a scan to see the location in which this adware is hiding.
Automatic Malware removal tools