PC Optimizer Pro (or PCOptimizerPro) is a commercial registry cleaner and a potentially unwanted program. It scans and detects PC registry and "privacy" issues and then asks for payment – like all commercial registry cleaners do.
There is a great number of various PC optimizers, so it can be easy to confuse the ones with similar names. PC Optimizer Pro is different from System Optimizer Pro, Super Optimizer, and Advanced System Optimizer, among others. The name is also similar to Optimizer Pro, which is installed with adware and trojans and is more dangerous.
While PC Optimizer Pro didn't use to be considered very harmful a few years ago, since then, the program's reputation has gone down. Those who use good-quality anti-malware protection and tried to install the program would have been warned by their security that this optimizer is potentially harmful. If you didn't see such a warning, remember to scan every file that you download and consider installing a stronger anti-malware program.
Pc Optimizer Pro quicklinks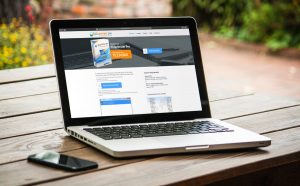 PC Optimizer Pro memo:
Symptoms
Many "issues" found even on healthy computers,

slower PC startup,

slower website loading.

Distribution
It's included in freeware bundles,

it's downloaded from its main website.

Problems
It might make the computer slower,

it causes unnecessary stress to users.

Remove PC Optimizer Pro
Uninstall the program manually,

cancel the subscription,

scan for other PUPs (Spyhunter).
PC Optimizer Pro is unhelpful
Although the program claims to fix various PC performance and stability issues, it is more likely to cause a few. It's aggressive, dishonest, and only scares its users unnecessarily.
It uses overly aggressive tactics for displaying the detected problems. For example, PC Optimizer Pro displays missing files in download history as a "problem" though it is of no concern for PC performance, stability, or security. It will also display browser cache as a privacy or performance risk, which might be inaccurate: although browser cache might be used to investigate PC owner behavior, deleting it would extend the loading times of often-visited websites.
Another funny thing about PC optimizer Pro is that it claims to free "valuable disk space" by deleting missing shortcuts, which take several kilobytes of space at the most. For example, PC optimizer Pro shows after a scan 35 problems of "Junk Files" that will save 29 kilobytes of space. This space wouldn't even fit a single photograph.
Thus it is no wonder that PC Optimizer Pro shows that your PC has several hundred issues. In many cases, all of them can be ignored and you should not purchase a full version of this program. If you need a registry cleaner, try using CCleaner or another tool that has a better reputation. Or simply reset Windows and keep your files.
In the end, it's not surprising that PC Optimizer Pro is detected by dozens of the most reputable anti-malware programs.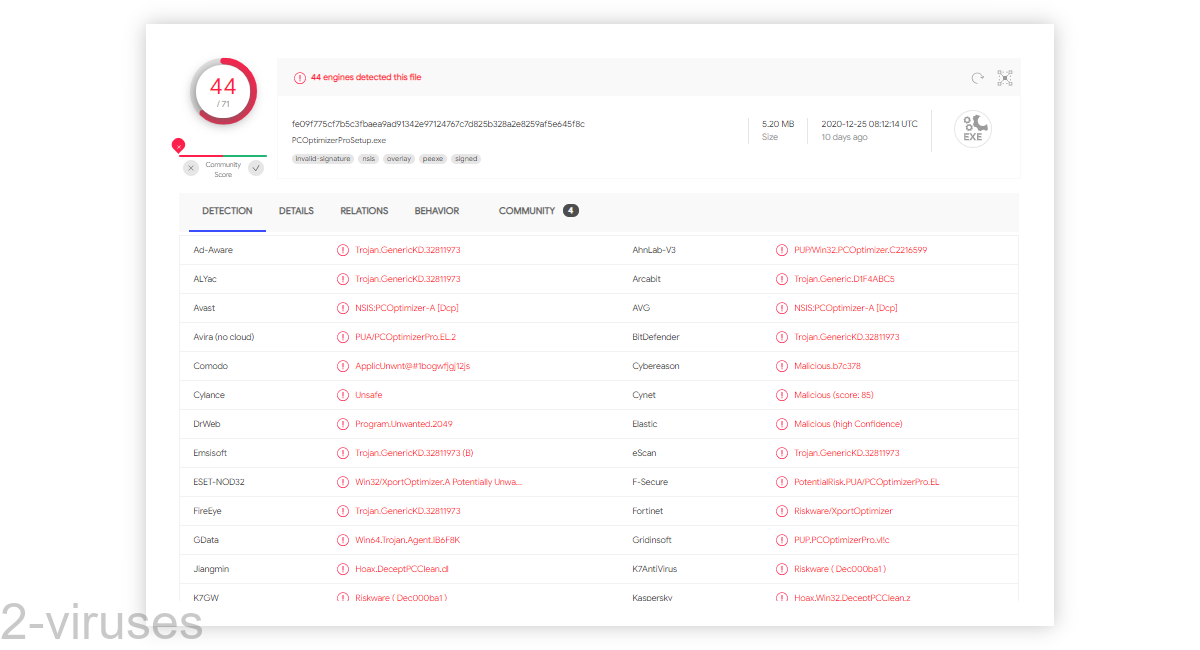 PC Optimizer Pro is dangerous
PC Optimizer Pro might seem harmless, if a little useless. So why is it detected by so many anti-malware tools? It didn't use to be so disliked in the past, but after enough cases that showed that it's actually malicious – doing things that can actually harm the user and their computer – many cybersecurity experts decided to classify it as they do. Among the issues with the program are these:
It might download and install potentially unwanted programs.
It detects neutral files and labels them as issues that need to be cleaned.
It's sometimes installed by bundlers of unrelated programs as an optional offer (InstallCore).
PC Optimizer Pro uses misleading marketing to appear more useful than it is.
The program's technical support act like scammers.
Concerning the last point, some people have observed that PC Optimizer Pro's technical support acted like scammers – asked to be allowed to remotely control the PC, lied that they found lots of issues, installed suspicious software, and charged large fees for the "service". This is typical of tech support, so if you see a warning about a security problem with your PC and there's a number to call on the screen – even if the number is said to belong to Microsoft themselves – don't call it, it's scammers.
The other issues are serious, too – if you have programs on your computer besides PC Optimizer Pro that you did not intentionally install, and especially if your computer is performing poorly, you need to remove some of that junkware. After all, the first piece of advice to improve a computer's performance is to uninstall unnecessary programs.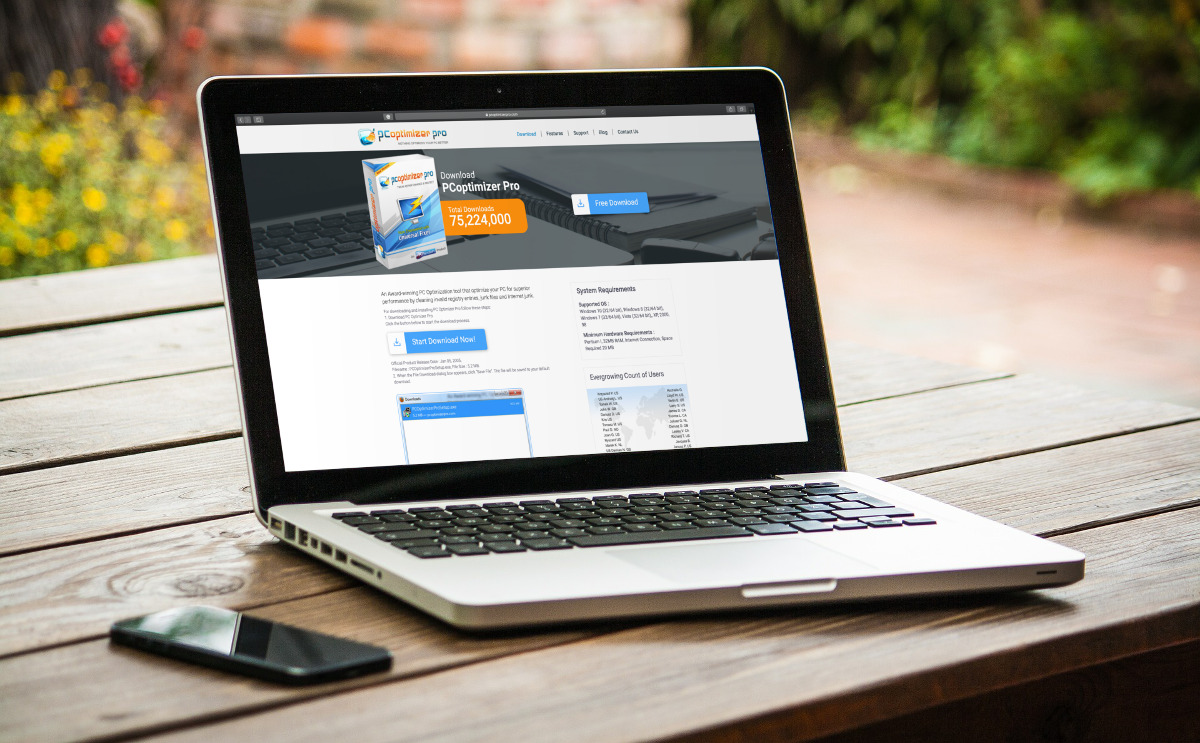 Remove PC Optimizer Pro
In case you detected PC Optimizer Pro installed on your computer without your consent, check if you have installed new programs recently. It might have been installed with some sort of freeware. I recommend Spyhunter and Malwarebytes Anti-Malware scan if you can't figure out how this software was installed. You might wish to uninstall it using the Control Panel or you can use RevoUninstaller if that doesn't work.
To improve the performance of your PC, check Support.microsoft.com. There are a lot of free tools that Microsoft provides to Windows users that help improve PC performance – just like PC Optimizer Pro promises to do, except for free.
Automatic Malware removal tools
How to remove PC Optimizer Pro using Windows Control Panel
Many hijackers and adware like
PC Optimizer Pro
install some of their components as regular Windows programs as well as additional software. This part of malware can be uninstalled from the Control Panel. To access it, do the following.
Start→Control Panel (older Windows) or press Windows Key→Search and enter Control Panel and then press Enter (Windows 8, Windows 10).
Choose Uninstall Program (if you don't see it, click in the upper right next to "View by" and select Category).
Go through the list of programs and select entries related to PC Optimizer Pro . You can click on "Name" or "Installed On" to reorder your programs and make PC Optimizer Pro easier to find.
Click the Uninstall button. If you're asked if you really want to remove the program, click Yes.
In many cases anti-malware programs are better at detecting related parasites, thus I recommend installing Spyhunter to identify other programs that might be a part of this infection.