Cleanup My Mac is a potentially unwanted program (PUP) imitating Mac optimization through fixing various stated problems. The information provided in the reports by Cleanup My Mac is absolutely faulty. If you install this application on a brand new Mac computer, it will still report many bugs that supposedly require to be immediately fixed. However, the software is not worth investing the money into. This conclusion is based on detection of its installer by several anti-virus programs and by the reviews about it on many security-related blogs.
Cleanup My Mac quicklinks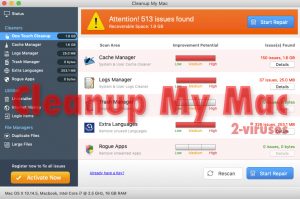 Cleanup My Mac works in a manner similar to Mac Cleanup Pro, Mac Fixer Pro, and other fake system optimization apps designed for the sole purpose – to report false positives and make the users waste their money for nothing. Instead of improving the system functionality, such applications essentially slow down the computer performance and keep essentially distracting the Mac owners from other important work.
Cleanup My Mac impact on the system.
At first glance, it looks like the motives of Cleanup My Mac are quite genuine. It says that by scanning your Mac it tries to remove the unwanted items that may occupy the considerable space on the hard drive, for example:
system and user cache;
system and user logs;
items in Trash;
unused languages;
unwanted rogue apps.
We analyzed the capabilities of Cleanup My Mac on our real Mac machine full of adware-type programs, browser hijackers and other rogue programs. The so-called scan reports by this program did not find any of those serious threats. We were only suggested to clean the Trash, remove the logs and get rid of unwanted extra languages. Scanning with this software did not help us improve the system speed and did not locate the items that should have been detected if Cleanup My Mac was indeed a powerful anti-malware. However, it simply does not have such important functions.
Attempting to fix the errors reported by Cleanup My Mac eventually leads to the payment processing page. The hoax says that in order to activate its full functionality, purchasing the licensed version is required. However, the reality is that there is no substantial difference between the full or trial versions of this software. Both of them are equally useless when it comes to combating real malware. When the license of Cleanup My Mac is mistakenly purchased, the program simply clears the list of its false positives, whereas the users might think that the issues have been professionally treated.
Cleanup My Mac promotion methods.
The practices used by Cleanup My Mac for distribution on the web are equally deceptive. Its distribution companies often refer to the help of adware programs that generate random pop-up windows that may lead to the installation of the hoax. For example, several fake AppleCare Protection Plan alerts are used for this purpose, such as:
apple.com-monitor.live;
apple.com-optimize-mac.xyz.
The users may be suddenly redirected to the domains listed above, or to some other fake alerts reporting numerous fake threats and demanding to download specific tool supposedly for fixing the reported threats. Thus, downloading and installing that tool leads to the installation of Cleanup My Mac or some other dubious software.
How to remove Cleanup My Mac?
The good news is that the program provides its victims with the direct uninstaller. Hopefully, you did not purchase the license of this software, since this was obviously the waste of time and money. If you have done so by mistake, we recommend you to immediately contact your bank and dispute the charges. Access your Mac applications, locate Cleanup My Mac and delete it.
Intrusion of Cleanup My Mac also takes place through bundling of its installer with free software. If you have recently been dealing with some cost-free applications hosted on dubious resources, there is a risk of your device to be infected with similar unwanted software. We recommend that you scan your computer with the proven malware removal software — Combo-Cleaner is a good example — for detection and deletion of other threats that may negatively impact the speed of your Mac.
Automatic Malware removal tools