Advanced Mac Cleaner is a program that can fix, clean and make your Mac run fast. So it's like all-around utility tool for Mac computers. However, there are tons of negative reviews of this application online and most of them are regarding the way this application is distributed. For those reasons, we categorise Advanced Mac Cleaner as a PUP (potentially unwanted program).
Advanced Mac Cleaner Pup quicklinks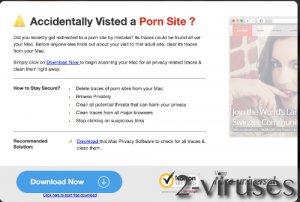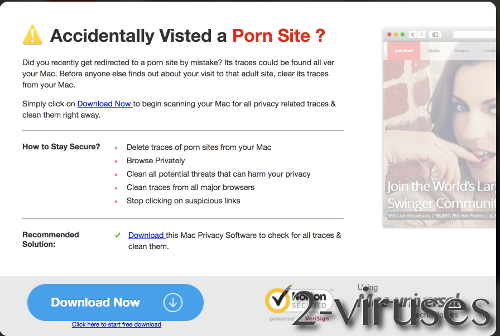 User "debwilson" on official Apple discussions forum is asking a question What is advanced mac cleaner, because it was automatically installed on their Mac (without their approval), reports 5000 various issues and asks to pay $34 to solve them all. The question (and it wasn't the only such question) attained a lot of attention and answers – most of them were correct. It is a PU that gets installed alongside various malware or fake and intrusive pop-up ads. It can cause a lot of problems, since features of this application are not really useful and it can be difficult to get rid of.
Deceptive methods of Advanced Mac Cleaner
Advanced Mac Cleaner is very similar to various PCVARK programs, like Smart Mac Booster, Mac Heal Pro, My Mac Speedup — they're all basically the same, actually: they scan your Mac and display errors and problems in an effort to get you to pay for a repair. Some of the problems that Advanced Mac Cleaner detects may be real, but others are misleading (harmless files being shown as "issues") and even false.
While this software might not be the worst, its distribution methods are strange and unfair, to say the least. We have encountered such an attempt to sell this software ourselves, and it wasn't pleasant.
There are some websites that monetise their traffic by displaying intrusive and often misleading advertisements. That's the main distribution funnel for this infection. Let's say you click on some result in Google results page that looks totally legitimate. Instead of that website, you are taken to a full-window notification, that says your Mac is facing some serious problems that have to be solved right now.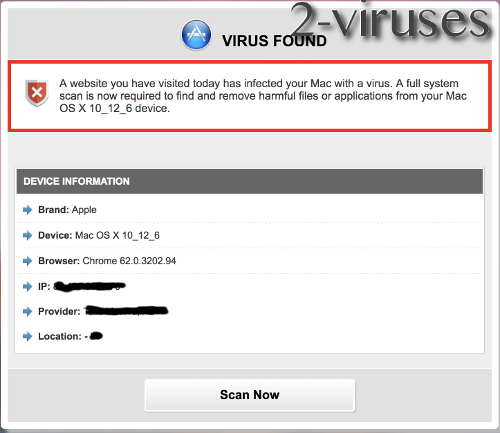 This message claims that you have infection on your Mac which came from a website you visited earlier. It also displays some of your personal information – IP address, internet connection provider, and even your location, which is not really an appropriate thing to do. In case you fall for this trick and follow the steps displayed on the screen, your computer will be "scanned" right on that website.
The scan is fake — a website can't scan your computer unless you allow it to do that explicitly. Other fake threat detection alerts include Advancemactools.live, Errx049.icu, (4) viruses, and others. Such online alerts are used to trick people to download and install software that they don't need, usually rogue applications and potentially unwanted programs like Advanced Mac Cleaner.
At the end of the "scanning" process, you will be redirected to the website of Advanced Mac Cleaner at advancedmaccleaner.com. The pop-up message is displayed on url reward8324.share1-dc21-storage6.top. Please notice that this url can display other offers as well (fake giveaways, tech support scams, pshishing pages) and Advanced Mac Cleaner can be promoted by other url's as well.
That is definitely not the only way this unwanted program is distributed. You can also bump into advertisement that says you have visited a porn site and your Mac needs to be fixed, as it can be seen in the image below: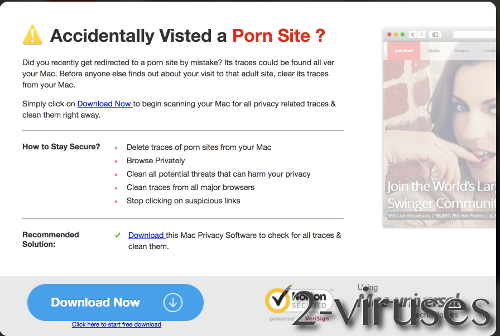 Scarily, Advanced Mac Cleaner might even cause your Mac to show false security warnings that lead to even more malware.
Removal of Advanced Mac Cleaner
If the Advanced Mac Cleaner unwanted program somehow managed to sneak into your Mac or you have installed it yourself but want to get rid of it – following steps should be taken:
Quit the Advanced Mac Cleaner application;
Find it in the applications folder and drag to the trash bin'
Use search and find these files associated to AMC, then remove them:
/Library/Application Support/amc/
~/Library/Advanced Mac Cleaner/
~/Library/hlpramc/
~/Library/Application Support/Advanced Mac Cleaner/
~/Library/LaunchAgents/com.pcv.hlpramc.plist
~/Library/Logs/helperamc.log
~/Library/Preferences/com.PCvark.Advanced-Mac-Cleaner.plist
Also, we would highly recommend to scan your Mac with reliable anti-malware application, such as Malwarebytes Anti-Malware for Mac.
Automatic Malware removal tools