Putlocker pop-up ads is a problem for some people who visit these sites and accidentally invite their notifications. The ads might come from various URLs, like putlockerfree.sc, putlockertv.to, putlocker.co, putlocker.com, putlocker.cl, putlockers.me, 1putlocker.io, putlockers.net, and many others.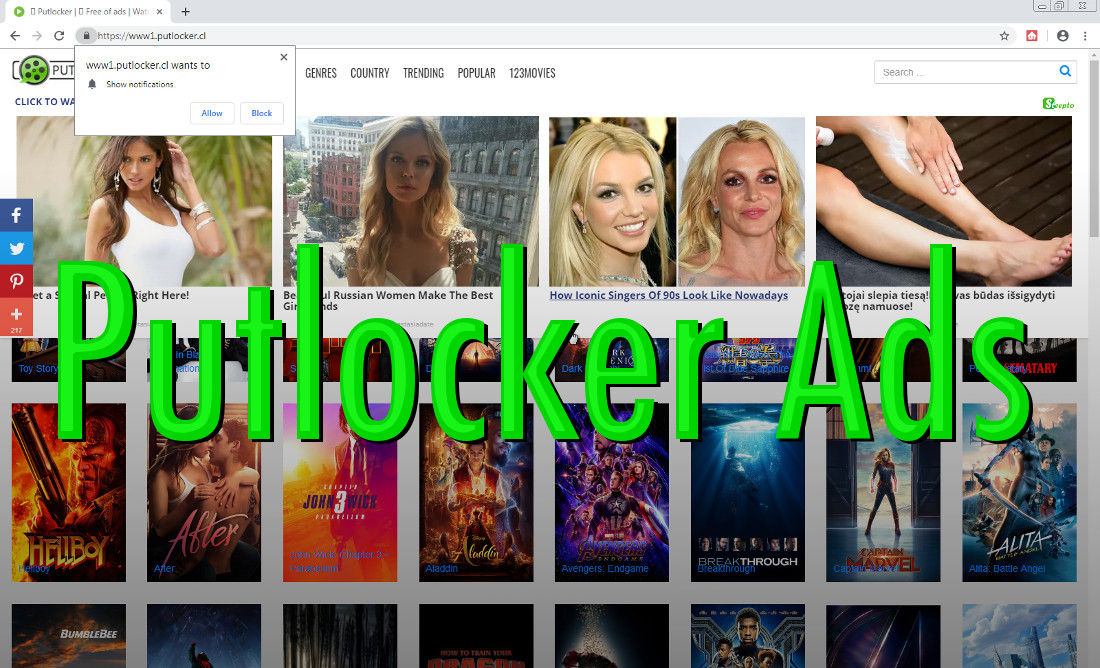 Putlocker Ads quicklinks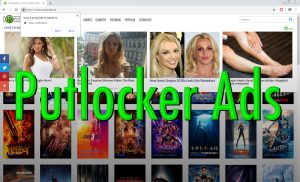 Putlocker sites are ones that stream films and TV shows for free, often illegally. Such sites often don't live long because they're shut down under legal threats. These sites are also free to use, which means that, in order to continue the service, the site needs to make some money. Because of their legal situation, they can have problems making deals with legitimate ad-networks, which might not bring in enough money anyway, so they partner with various fraudsters and turn their sites into adware.
So, Putlocker sites are sending you ads from the type of advertisers that were rejected by mainstream ad-networks:
How it works

Third-party ads are sent as notifications from Putlocker to your browser

The cause

Allowing notifications from Putlocker sites
Modified browser settings

Dangers

Harmful sites, including scam and gambling sites
Distracting pop-ups

Removal

Block notifications from Putlocker sites
Remove adware and malware from your computer (SpyHunter for PC, Combo Cleaner for Mac)
Change your passwords, monitor your credit card
The pop-ups can start as soon as you click "Allow" on that "[site] wants to Show notifications" alert that most Putlocker sites show when you visit them for the first time. Other sites do this sort of thing, too — install.notify-service.com, bikereddint.info, deloton.club.
How to stop Putlocker ads
Using the Putlocker sites can be dangerous even without the notification spam — these sites are full of ads, including pop-ups and redirects to adware sites. Be careful when you use them.
Luckily, stopping the ads from Putlocker is simple — you just need to block notifications from whichever site is sending them — or multiple sites. Browsers keep a list of sites that have got permission to send you updates, so just review that list and eliminate everything you don't want there, including the addresses that aren't currently spamming you.
Chrome

Type chrome://settings/content/notifications in the address bar.
You'll see the list of sites that can send you notifications.
Pick out a site you don't want there, click on the menu on the right and choose "Block".
Repeat until all unwanted sites are gone from the list.

Safari

In the menu, click Safari, then Preferences.
In the new window, choose Websites, then Notifications.
Find the unwanted websites and click Deny.

Edge

In the menu, choose Settings, then Advanced settings.
Find Notifications, click Manage.
Find any Putlocker websites and turn their switches off.

Firefox

Type about:preferences#content in the address bar.
Look under Notifications.
Find the sites that you don't want updates from, including ones that have Putlocker in their name.
Block notifications from each of them.
It's always important to check your computer for malware, especially so when you've been exposed to a bunch of dangerous Putlocker ads, some of which were trying to get you to download malware. You can use Combo Cleaner for Mac or SpyHunter for PC to find and, if needed, remove all the dangerous programs.
Automatic Malware removal tools
How the ads can be dangerous
The pop-ups that are sent to your browser from the Putlocker sites are not usually about the site itself. It's content that's genuinely harmful, for example:
Investment scams and get-rich-quick schemes that get people's money in exchange for false promises.
Shady medical products being advertised with fake testimonies.
Fake giveaways and lotteries that are trying to get people's private information.
Payday loan sites.
Gambling and FTP game sites.
Pages that pretend that they detected malware on your computer in order to push junkware, like this one.
Other malware.
Allowing Putlocker to continue pushing these ads to you can have a negative effect beyond just being annoying and distracting you form your work and entertainment. If you accidentally expose your private information to one of these scams, don't delay — check that your credit card didn't have any unauthorized charges — you might have to even contact your bank and tell them about what happened. If you typed in your passwords in any of these shady sites, change them as soon as possible. If you installed some software thanks to one of these pop-ups, remove it.
You can also block notifications altogether, if you don't use them.