Did you land on a site saying that, as thanks for your support of Facebook, you were selected to participate in a lottery for some Apple products? Did you win something like, let's say, a gray iPhone on your last try? And you only need to pay $1 shipping to receive it. It's unfortunate, however, this is definitely a scam.
Facebook Iphone Xs Sweepstake Scam quicklinks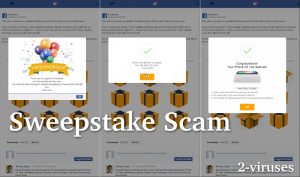 A spoofed Facebook site with a fake lottery game is nothing new online, this particular one has been around for at least a few months. It's very similar to the scams like the "Win a New Phone" pop-up and the "You've Made the 5-billionth Search" page.
How the Facebook iPhone sweepstake scam works
I encountered this Facebook iPhone scam through an adware site — a type of site that sends visitors to promoted webpages. This online adware can be encountered by clicking on ads on piracy streaming, browser game, video converter, and various other websites. They can also be opened by an adware virus if your computer was infected by one. Because there is almost no regulation by these adware sites, most of the promoted content is harmful, dangerous, and predatory. This is because malicious advertisements are rejected by normal ad-networks.
This fake iPhone lottery is certainly dangerous. The Facebook page that presents the sweepstakes is well-made, though not perfect. An alert is presented with text like this:
Congratulations!

thank you for support of Facebook,
you are selected as lucky user.
You will have three chances to receive the surprise by choosing the right gift box.
Good luck.
After you dismiss it, you're free to look around this strange page and read the "testimonies" of all the happy participants. It's all very exciting and even I couldn't help but think about how nice it would be to win an iPhone.
How to recognize that this is a scam
The scammers know how to play people's emotions but it's important to keep a clear head in stressful and exciting situations. The Facebook iPhone XS lottery can be recognized as a scam early on.
There are a few signs that indicate that the Facebook iPhone lottery is fake:
I wasn't logged in to my Facebook account or I don't even have one. I wasn't logged into any of my social media accounts. The same Facebook page is displayed regardless of any circumstances. If it was Facebook trying to thank people for their support, wouldn't the winners need to have interacted with Facebook before?
Fake testimonies. I can scroll the fake Facebook page and see a list of commenters gushing about the prizes that they got, including convincing photos of Apple products. But when I click on the commenters' names, nothing happens. Not sure why the comments are about a wheel when the lottery is boxes, either.
Wrong URL. The URL is never just "Facebook.com" despite looking like Facebook's page. The landing page is on a different URL each time. No links work, the menu doesn't work. This "Facebook" page is not real.
I won but I have to pay. With sweepstakes scams, you might have to pay for shipping or just a token amount to prove that you're real. Later on, you're asked to pay again. You never receive your real prize.
An oppressive countdown. If you don't take the prize right now, it will be gone forever!
The Facebook iPhone scam has a lot in common with tech support scams. An oppressive countdown is often employed to make the visitor feel stressed and make them act rashly. A reputable website is spoofed to earn trust. The page is actually incredibly fake and, if you visit it repeatedly, will provide the exact same outcome. I have gone to this page and "won" quite a few iPhone XS phones.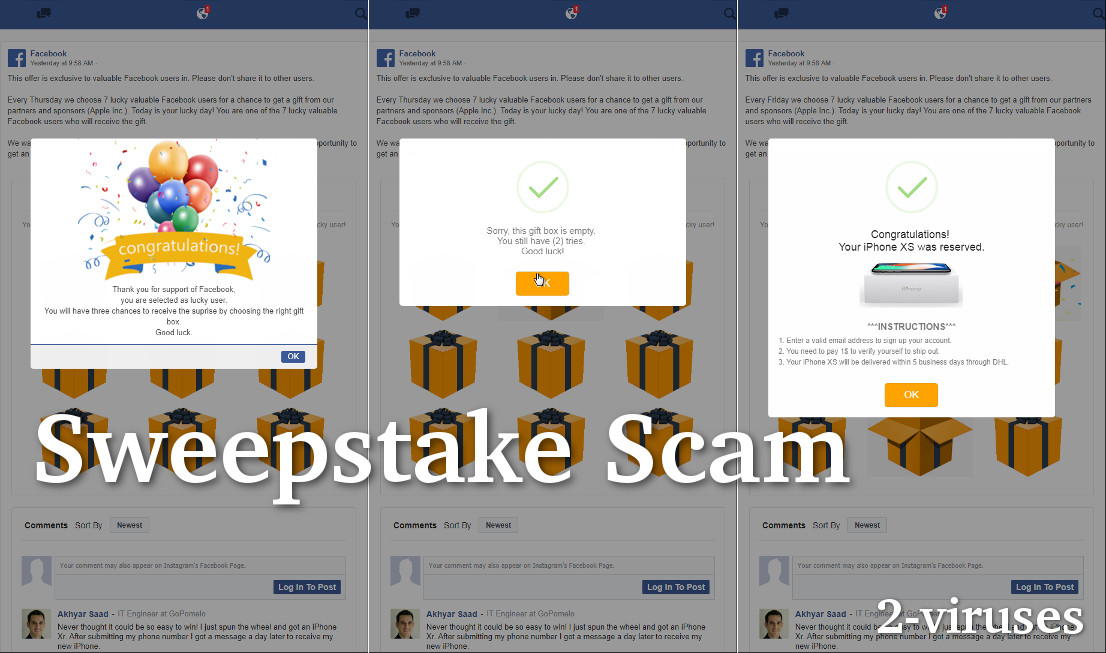 How to deal with the Facebook iPhone XS scam
If you already paid some money for your nonexistent iPhone, stop and try to get what you paid back. Contact your bank and ask about your options. Block the scammers' access to your account so that they can't charge you anything. Some of those who fall for scams end up losing hundreds of dollars so it's important to nip that in the bud.
If you logged into any of your accounts for this scam, change your passwords. They might have been leaked if you were even sent to a phishing page to log in through. If your passwords were the same on other accounts, do not use the same password for multiple accounts and change them. Make sure each password is strong.
If you only saw the "thank you for support of Facebook" alert once and don't usually see excessive pop-ups, redirects online, if your browser is functioning normally, then you probably just clicked on a malicious ad once. It's best to avoid sites that display aggressive and deceptive ads, but even reputable webpages sometimes are tricked into spreading infected ads, so it's impossible to avoid these completely.
On the other hand, if you do experience some of the symptoms mentioned above, you might have an adware infection. If your normal antivirus program doesn't detect anything, try Combo-Cleaner (Mac), or Spyhunter (Windows). Update your software because some viruses get in through unpatched security holes. And always keep your antivirus program up-to-date.
Automatic Malware removal tools
How to remove Facebook iPhone XS Sweepstake Scam using Windows Control Panel
Many hijackers and adware like
Facebook iPhone XS sweepstake scam
install some of their components as regular Windows programs as well as additional software. This part of malware can be uninstalled from the Control Panel. To access it, do the following.
Start→Control Panel (older Windows) or press Windows Key→Search and enter Control Panel and then press Enter (Windows 8, Windows 10).
Choose Uninstall Program (if you don't see it, click in the upper right next to "View by" and select Category).
Go through the list of programs and select entries related to Facebook iPhone XS Sweepstake Scam . You can click on "Name" or "Installed On" to reorder your programs and make Facebook iPhone XS sweepstake scam easier to find.
Click the Uninstall button. If you're asked if you really want to remove the program, click Yes.
In many cases anti-malware programs are better at detecting related parasites, thus I recommend installing Spyhunter to identify other programs that might be a part of this infection.