Chitka pop up is a piece of code that annoys by displaying advertisements on the web pages you visit. Usually it shows a word "Chitka" on the lower right corner of the window though it might be seen in other places of the screen as well. Please note, it is not related in any way to a well know legitimate advertisement company Chitika. Some call this unwanted application Chitka/Facebook pop up ads because they tend to show themselves in Facebook style pop up. Usually the ads displayed do not have an option for closing them which makes it even more annoying to have this application.
Chitka pop up has many features characteristic to adware. It displays various ads, collects information about your Internet browsing habits and shows targeted promotions based on your likes. Those who created this application earn money from clicks and traffic generated to promoted sites. Therefore it is not surprising that besides pop-up offers and deals you might also be redirected to the websites you never intended of visiting. Please note some of the web pages might be malicious and infect your computer with viruses.
The pop ups and redirects are usually caused by malicious browser helper object and modified Windows Hosts file. One could have gotten infected with these while browsing the Internet and clicking on suspicious links or ads. It might also be that the unwanted application was installed bundled with freeware or shareware. The malicious web browser extension is locked therefore its removal is a complicated one. It might also come with ZeroAccess rootkit. Even though it is not that easy to get rid of Chitka pop up, it becomes possible by following the instructions below:
Download anti-malware removal tool, for example, Spyhunter and run a full system scan. It should detect and remove Chitka automatically.
Reset Windows HOSTS file. You will need to do to C:\WINDOWS\system32\drivers\etc. -> double-click "hosts" file to open it (use Notepad program for opening it). The Windows host file should have only one line (If you see any more lines, delete them and save changes):

127.0.0.1 localhost (Windows XP)
127.0.0.1 localhost ::1 (Windows Vista/7/8).

Remove malicious extensions from your web browser:

Instructions for Google Chrome: go to Tools → Extensions; click on the trashcan icon and remove all unfamiliar extensions that might be causing Chitka pop ups;
Instructions for Mozilla Firefox: go to Tools → Add-ons; select Extensions; remove all unfamiliar extensions;
Instructions for Internet Explorer: go to Tools → Manage Add-ons (for the latest IE version, click on the Settings button); select Toolbars and Extensions; remove all unfamiliar add-ons.

Scan your computer for infections one more time to make sure no threats are left.
Automatic Chitka Pop up removal tools
We might be affiliated with some of these programs. Full information is available in disclosure
Manual removal
Important Note: Although it is possible to manually remove Chitka Pop up, such activity can permanently damage your system if any mistakes are made in the process, as advanced spyware parasites are able to automatically repair themselves if not completely removed. Thus, manual spyware removal is recommended for experienced users only, such as IT specialists or highly qualified system administrators. For other users, we recommend using Reimage or other tools found on 2-viruses.com.
Processes:
Files:
Chitka Pop up screenshots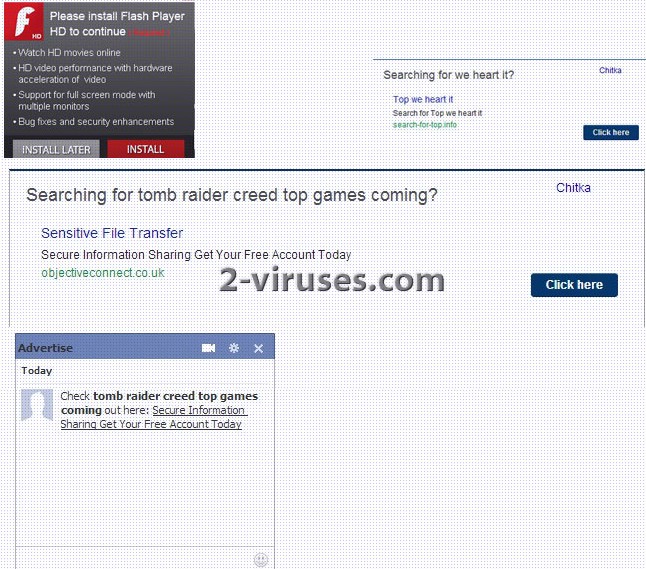 About the author