"Error #268D3" (and Error #268d3-xc00037) is a well-known Windows technical support scam. It claims that your computer has been blocked to prevent it from being completely disabled. However, the alert about "Error #268D3" is fake, as is the claim that "your computer has been blocked".
We have analyzed a number of similar scams, so we know how they work: unexpectedly, your browser displays a new window with a message from, supposedly, certified Microsoft technicians about "Error #268D3" which says that access to your computer is blocked until you call the given phone number.
Once you call these cyber criminals, they ask for remote control over your device and then urge you to download rogue security software. They use the "Error #268D3" warning to scare people into buying crapware and bogus support that costs hundreds of dollars.
Error 268d3 Scam quicklinks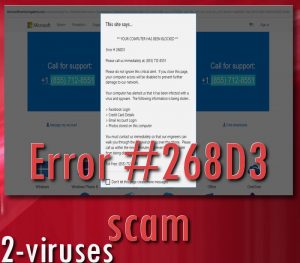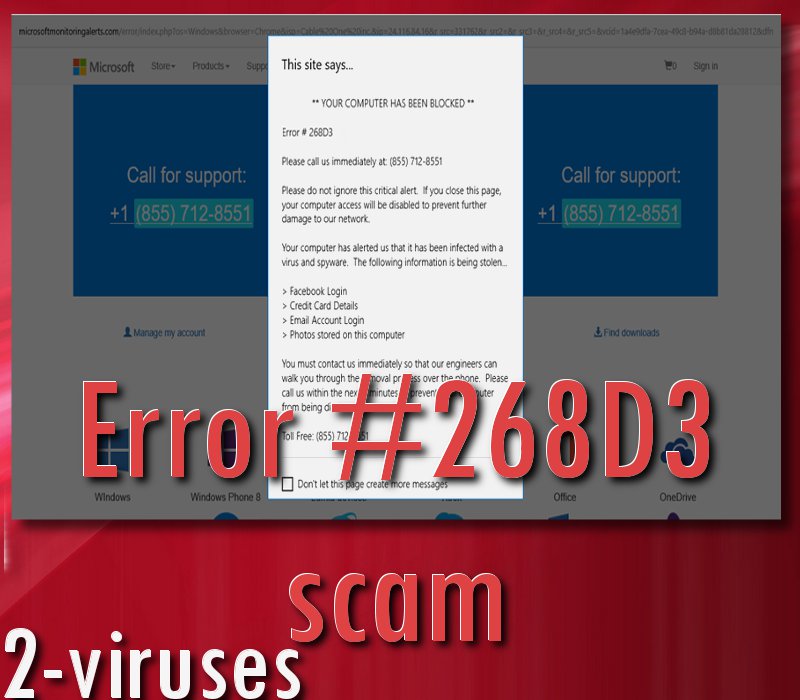 About the "Error # 268d3" scam:
Classification
Tech support scam.
How the "Error # 268d3" warning spreads
Advertised online,

opened by malware infections.

Dangers of the scam
Malicious actors seek to get remote access to your computer,

they seek to charge you money for fake services,

they may steal your financial information and login credentials.

How to remove the "Error # 268d3" scam
Close the webpage,

if needed, remove malware from your device (Spyhunter, Malwarebytes, others),

reset your passwords,

protect your payment information from being misused by scammers.
"Error #268D3" is a fake security alert created by scammers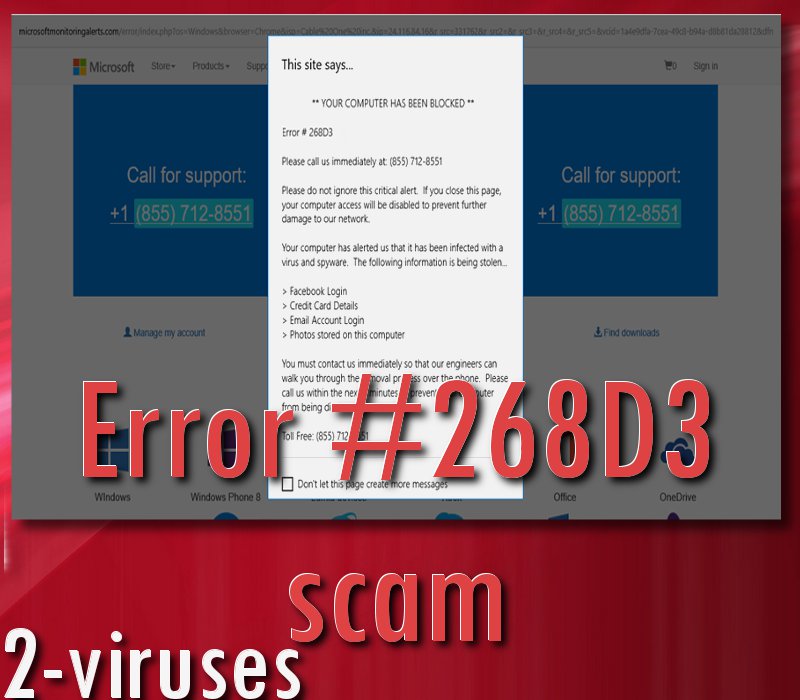 You might think that the "Error #268D3" pop-ups come from Microsoft – the company behind the Windows operating system. However, we can assure you that this message has nothing to do with them. Scammers want to impersonate Microsoft, which is why the "Error #268D3" alert looks the way it does. In reality, "Error #268D3" isn't even a real error.
Here's how the scammers behind the "Error #268D3" pop-ups spread their scam:
They advertise it on various websites. While many websites ban malware in their ads, some sites do not police their ads. Thus, scammers spread "Error #268D3" as if it was an ad.
They infect websites with the "Error #268D3" warning. Just like computers, websites can get infected with malware. When you visit an infected website, you may be redirected to bad sites or have your information stolen.
They use adware and other malicious software to spread "Error #268D3". If your computer is infected with malware, that malware could open "Error #268D3" or another scam for you.
They send emails with links to "Error #268D3" alerts (Windows 10 security: Here is tech support scammers latest ploy, says Microsoft).
Sometimes, the "Error #268D3" webpage downloads itself to your Downloads folder as an Html file. If this file is opened, it displays the "Error #268D3" alert. You can delete the file.
Scammers force people to give them access to their PCs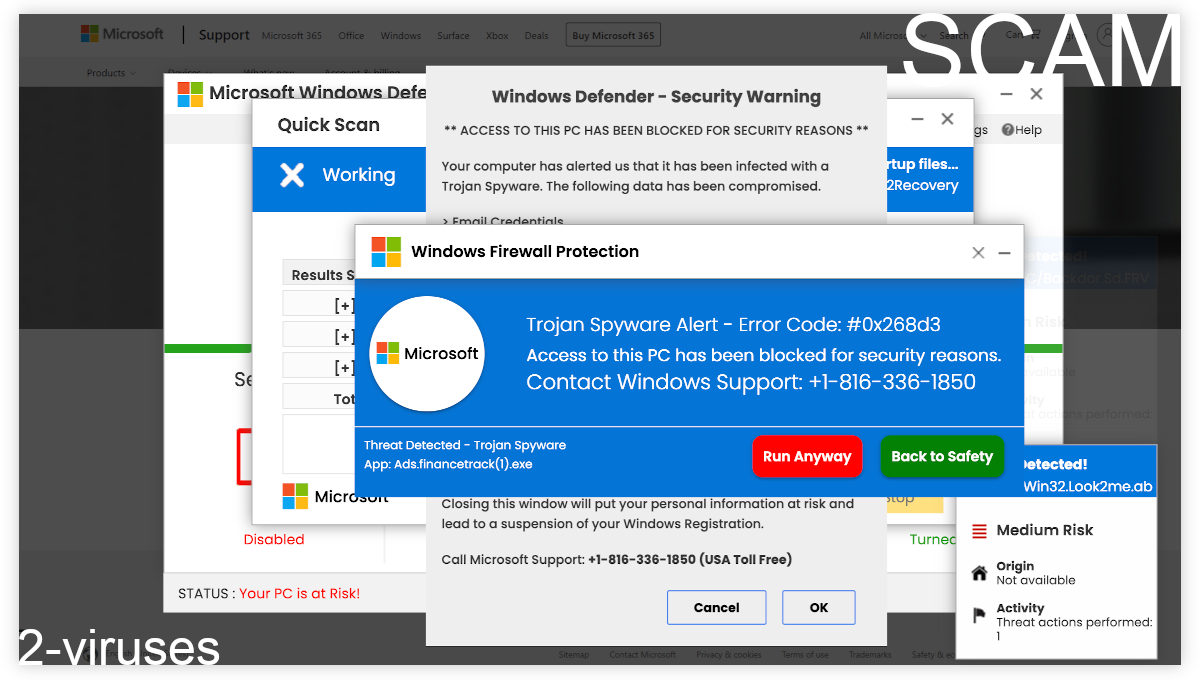 Microsoft technical support scams are very common. We have investigated such fake alerts, like "Microsoft Error: Unknown System Failure", "Error: 0x80007042C", "Error 0x80072ee7", and "Windows Activation Error Code: 0x44578".
Here's what Microsoft has to say about tech support scams: Support.microsoft.com. This article is full of great advice on how to avoid scams and what to do if you fell for a scam. Microsoft specialists say that they never demand that people call a number or block people's computers.
In contrast, the "Error #268D3" alert is very scary and threatening:
It claims that a trojan spyware was detected on your computer.
It says that malicious software is stealing your passwords, pictures, and documents.
It insists that ignoring the warning will result in something bad, like your Windows license being revoked, your computer being "blocked", or your data being lost.
These are fake threats, but if you're convinced that they're real, it can be incredibly scary and stressful. The scammers use these threats to scare their victims into calling the provided phone number.
"Error #268D3" steals information and money
Cyber criminals are constantly generating new tech scams to earn more money. Money is the motivation of most scams and malware, after all.
If you call the phone number given by the scam, a person will answer it, say that they're from Microsoft, and claim that your device is infected. They will ask you to allow remote access to your device and then they will take control of your computer. They will display normal error logs and file lists and claim to have found the trojan. Then, they'll ask for your payment information, claiming that you must pay in order to have the infection removed.
Some scammers also snoop around for files that they think might contain passwords and payment information. They may also install spyware.
In fact, some versions of "Error # 268d3" scams show password prompts to get you to type in your Windows credentials so that the scammers can steal them.
As we have mentioned, if you encounter "Error #268D3" scam, please close the browser tab. Whatever you do, do not type in your passwords or contact people via the helpline, and never pay for unnecessary services.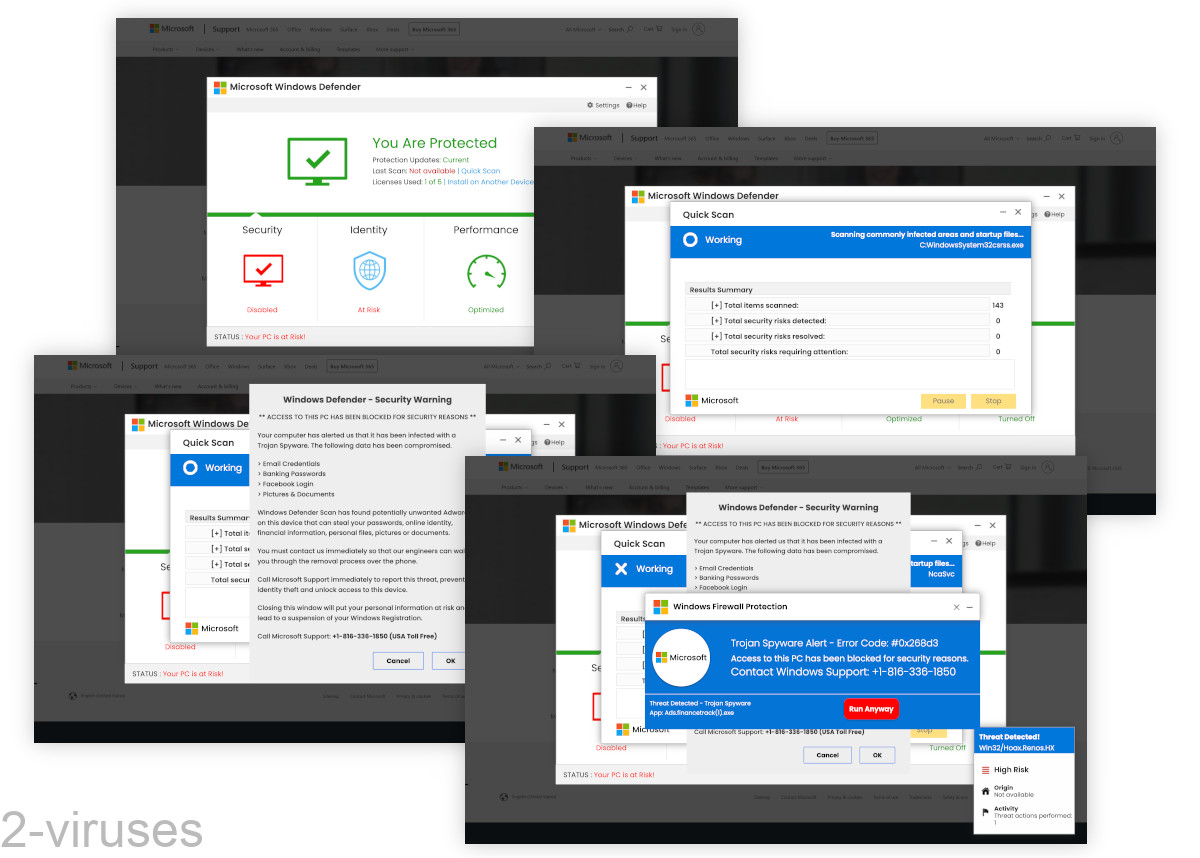 How to remove the "Error # 268d3" scam
Ignore the fake warning
The "Error # 268d3" warning itself is likely not dangerous. Just do not contact the scammers. Close the Error "Error # 268d3" webpage. If it locked your browser, there are ways to get around that, such as by quitting your browser or even turning off your computer.
If you suspect that your device does have issues and/or if you see the "Error # 268d3" warning repeatedly, check your computer for malware and clean it if needed. Use an antivirus program, such as Spyhunter, Malwarebytes, and others. You can also contact the real Microsoft support to ask for help.
Stop the "Error # 268d3" scam from appearing on your screen
First of all, make sure that your computer device is not infected with malware. In many cases, technical support scams are displayed because of malicious software, affecting your system. To check whether this is true, we advise you to run regular scans with an anti-malware tool.
Technical support scams can also be promoted in deceptive email messages and malicious links in personal messages on social media sites. Be careful what you click on.
What to do if you contacted the scammers
If you gave scammers access to your computer, then:
Disconnect the computer from the internet.
Check your computer for malware.
Remove the software the scammers had you install, especially remote access software. If you have a recent restore point, use that. You can even reset your PC if you don't mind having to reinstall your software.
Reset your passwords.
If you gave the scammers access to your personal and payment details, then call your bank and ask for advice. Be honest about what happened to you. It is necessary to make sure that the scammers can't make use of your payment details.
Automatic Malware removal tools
How to remove Error #268D3 Scam using Windows Control Panel
Many hijackers and adware like
Error #268D3 scam
install some of their components as regular Windows programs as well as additional software. This part of malware can be uninstalled from the Control Panel. To access it, do the following.
Start→Control Panel (older Windows) or press Windows Key→Search and enter Control Panel and then press Enter (Windows 8, Windows 10).
Choose Uninstall Program (if you don't see it, click in the upper right next to "View by" and select Category).
Go through the list of programs and select entries related to Error #268D3 Scam . You can click on "Name" or "Installed On" to reorder your programs and make Error #268D3 scam easier to find.
Click the Uninstall button. If you're asked if you really want to remove the program, click Yes.
In many cases anti-malware programs are better at detecting related parasites, thus I recommend installing Spyhunter to identify other programs that might be a part of this infection.