123Movies are websites that allow people to watch movies for free. Unfortunately, they're full bad ads that could be dangerous if you're not careful. Hijackers that cause ad spam, scam subscriptions, malware and potentially unwanted programs are promoted by the 123Movies sites.
We've written a few posts about threats that happened to spread on 123Movies, among other sites: fake surveys/giveaways, search hijackers, etc. In this post, we look into what the most common dangerous advertisements are displayed by 123Movies sites.
123movies Ads And Redirects quicklinks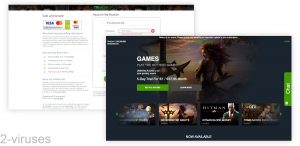 About 123Movies ads:
Threat type
Adware.
How 123Movies works
It is a pirating site that allows its users to watch content,

it's free to use and displays ads to make money.

Problems and issues
123Movies shows a lot of ads that lead to harmful and dangerous sites.
How to avoid malicious ads on 123Movies
Block ads and malicious sites,

protect your personal information,

remove all malware and scan your computer regularly (Combo Cleaner for Mac, Spyhunter for PC, others).
The 123Movies sites are illegal streaming sites
123Movies is a pirating site, that is, a website that allows you to access content in a way that their publishers did not intend. Usually, it's a way to get movies and TV shows without having to pay money for them. Like other pirating sites, such as Soap2day, 123Movies is free to use and it makes money by showing ads.
There isn't just one 123Movies website. The name "123Movies" is used by many streaming sites that are not necessarily connected to each other:
123Movies.la
123Movieshub.com
123-Movies.club
123Moviesgo.club
123Moviesgo.tv
123Moviesfree.net
The original 123Movies sites were shut down a few years ago by law enforcement, however, pirate sites don't go down that easily.
While watching videos on 123Movies is probably not illegal in the United States of America, the biggest user of 123Movies sites, the act is still in the spirit of piracy and can be seen as stealing revenue from the creators and distributors of the movies and TV shows that 123Movies uploads.
However, this isn't about the legality of 123Movies. Instead, I wanted to look into 123Movies's role in spreading malicious websites and scams to the people who visit these sites.
123Movies spreads advertisements, some – malicious
123Movies shows a lot of ads, most of them – without asking you. You just need to interact with the site and a new tab will open right up. This helps 123Movies maintain a neat look and not clutter its page with annoying ads. At the same time, it forces users to visit promoted websites.
Some of the ads on 123Movies are harmless. A lot of ads are perfectly safe and legitimate.
But there are also a lot of scams, malware, and hijackers.
Subscription sites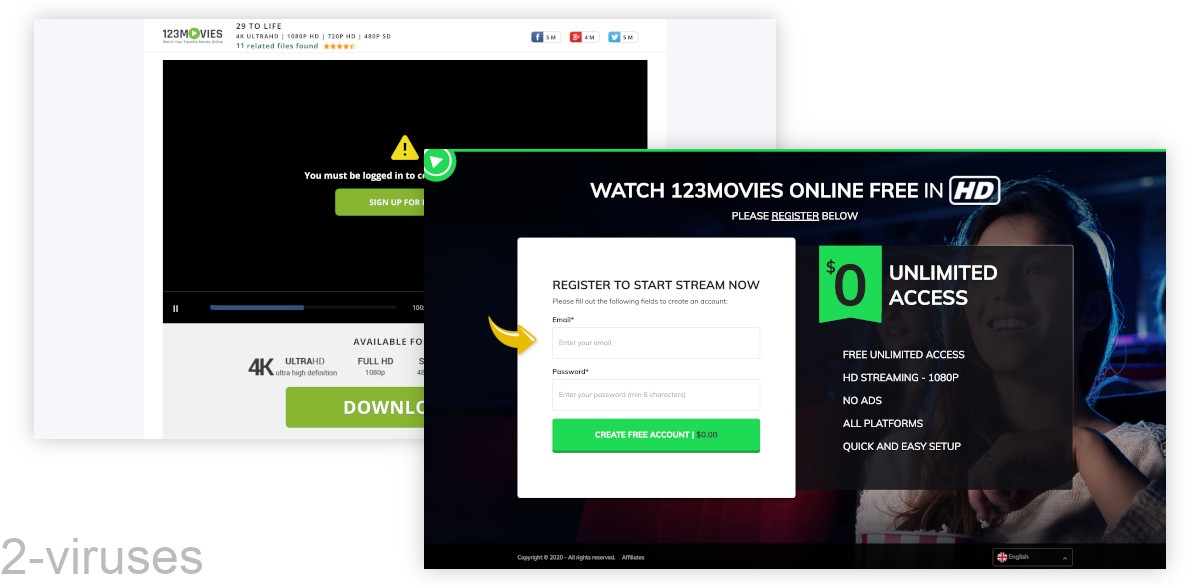 By far the most common scam on all of the 123Movies sites that I looked at was tricking people to sign up for "free" subscription services. Here's how it works:
You click on a movie on 123Movies.
A new tab opens with a video player for that movie.
It says that you need to create a free account in order to watch it. It also says that this will allow you to watch movies for free in HD.
Creating the account requires you to input your email and a password. Then, you're asked to fill in your name, address, and payment information (your credit card number).
After a few days, your card is charged up to $60. The service wasn't free, after all. On top of that, it doesn't allow you to watch the movies that were promised.
These ads make it look like you're creating an account on 123Movies. Meanwhile, 123Movies is free whether you signed up or not. That 123Movies video is still there, in the other browser tab.
Sites like FibPlay.com, KickPlays.com, Movie-frame.com, and many, many others use 123Movies to trick you into subscribing. They promise free memberships, but they cost from $30 to $60 a month. They do not provide any worthwhile content, either. They just hope that you won't notice the money that they charge each month.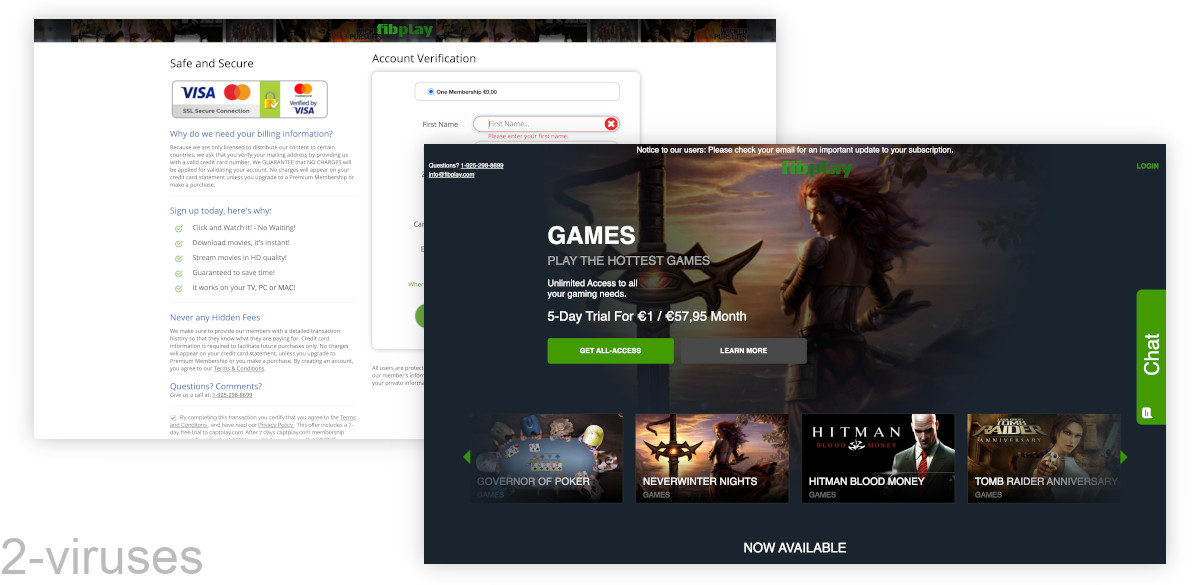 Other unwanted ads
On 123Movies, there are a lot of gambling ads and ads for adult content. These are problematic because they may be inappropriate for children.
Fake virus detections leading to tech support scams are also commonly sighted on 123Movies.
In addition, 123Movies promotes spoofed websites with fake news articles. These often lead to shady diet pills and other health products, as well as bad cryptocurrency investment sites. In this case, I mean "fake news articles" very literally: spoofed news sites with entirely made-up stories meant only to promote a product.
For instance, here's Worldwide-breakingnews.com pretending to be Forbes in order to push a cryptocurrency investment scam: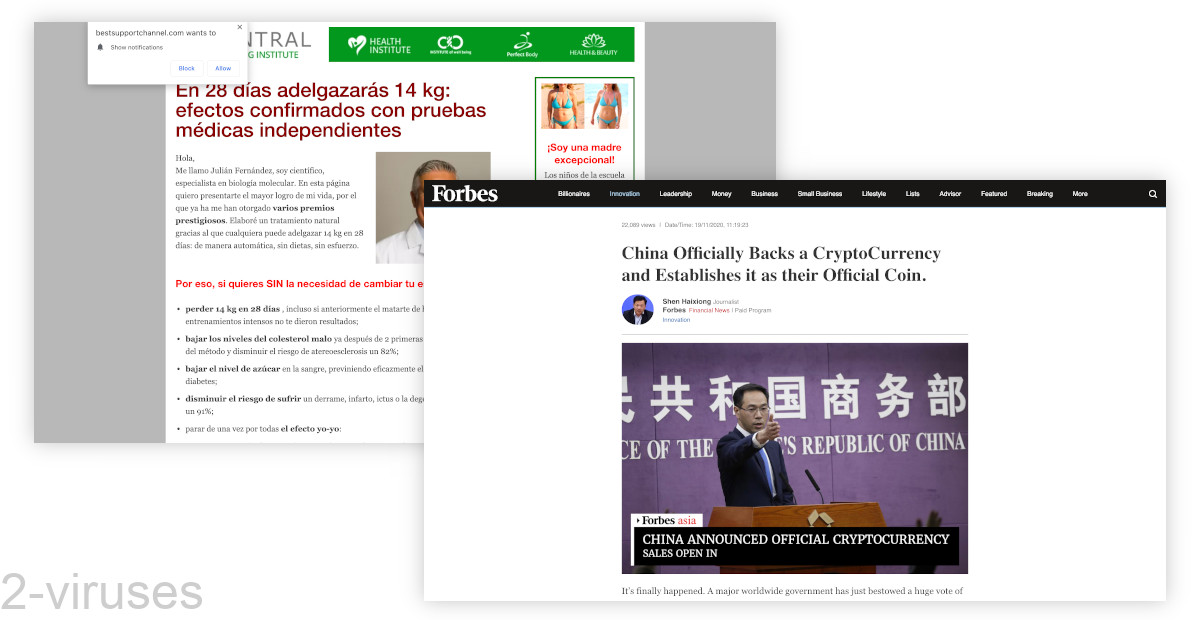 Trying to download movies on 123Movies usually leads to notification spammers – sites that hijack your notifications in order to display pop-up ads on your screen, like Topviralnewz.com.
How to remove 123Movies ads
If you go on 123Movies often, use an ad blocker and a good antivirus program, such as Combo Cleaner for macOS, Spyhunter for Windows, and others. Check your computer regularly for malware and for unwanted programs, review your browser extensions, and your notification permissions.
Ad blockers aren't perfect, though, and some malicious advertisements may slip through. Just be calm and careful. Do not reveal your information to unknown sites. Do not download random programs and browser extensions. Don't click "Allow" on notification prompts.
Use legal websites when possible. They don't have the kinds of malicious advertisements that 123Movies has. They are much safer.
Automatic Malware removal tools