Soap2day is a free movie streaming website. It allows users to watch shows and movies for free, and though it is not exactly legal, lots of people enjoy watching movies on it.
Like many other pirating sites, Soap2day is ad-supported, and some of the ads that it shows are unwanted and even a bit dangerous. While Soap2day doesn't cause virus infections, the ads that it shows might.
If you go on Soap2day, be extra careful. Don't reveal your personal info to random sites. Don't download, install, or subscribe to unknown services. If you haven't already, block malicious websites and ads on your device.
Soap2day Ads quicklinks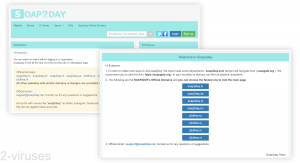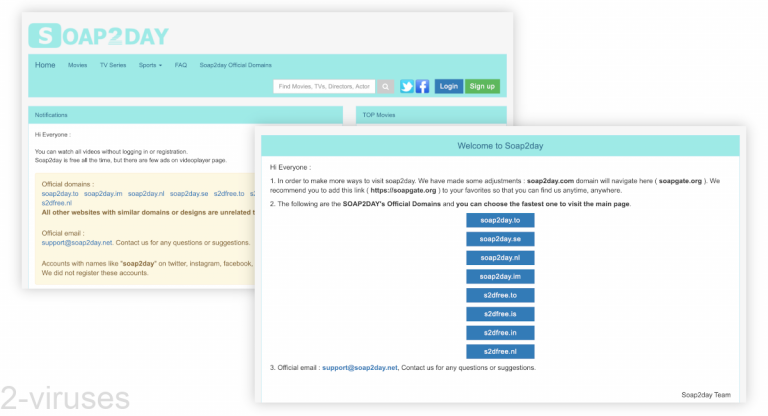 About Soap2day in short:
Threat type
Adware.
Problems with Soap2day
It's a pirating site, which means that it's not entirely legal,

it shows ads that are almost impossible to avoid,

some of the ads it shows are unfit for children or potentially malicious – they might infect your computer with a virus.

How to avoid malicious ads
Use antivirus programs and ad blockers,

avoid websites that show obnoxious ads.

How to deal with bad ads on Soap2day
Use good antivirus programs (Spyhunter for PC, Combo Cleaner for Mac, others) to avoid viruses,

do not interact with scams and don't fall for fake giveaways or virus warnings,

do not reveal personal information to unfamiliar websites.
Is Soap2day safe? Is it a virus?
Soap2day is a pirating site
Soap2day is a collection of websites for watching movies and TV shows for free. It is quite popular among people who want to watch content for free. Obviously, Soap2day is a pirating site in spirit. Whether it is that legally is not obvious.
I'm not a lawyer so I can't tell you whether it's safe to use Soap2day or any other pirating site. But let's be honest, lots of people have used them without suffering any consequences. The problem with Soap2day is not in its lack of legality (though that is an issue), but the unsafe and even dangerous ads that it shows.
By the way, Soap2day offers a browser extension to help search for movies online. This extension allows you to search on multiple streaming websites at once, which is helpful. Of course, many of the sites that Soap2day searches appear to be illegal. But a bigger concern is that the Soap2day extension lacks a privacy policy. Browser extensions are capable of spying on their users, so it would be good for Soap2day to offer a comprehensive privacy policy to let people know what data is collected.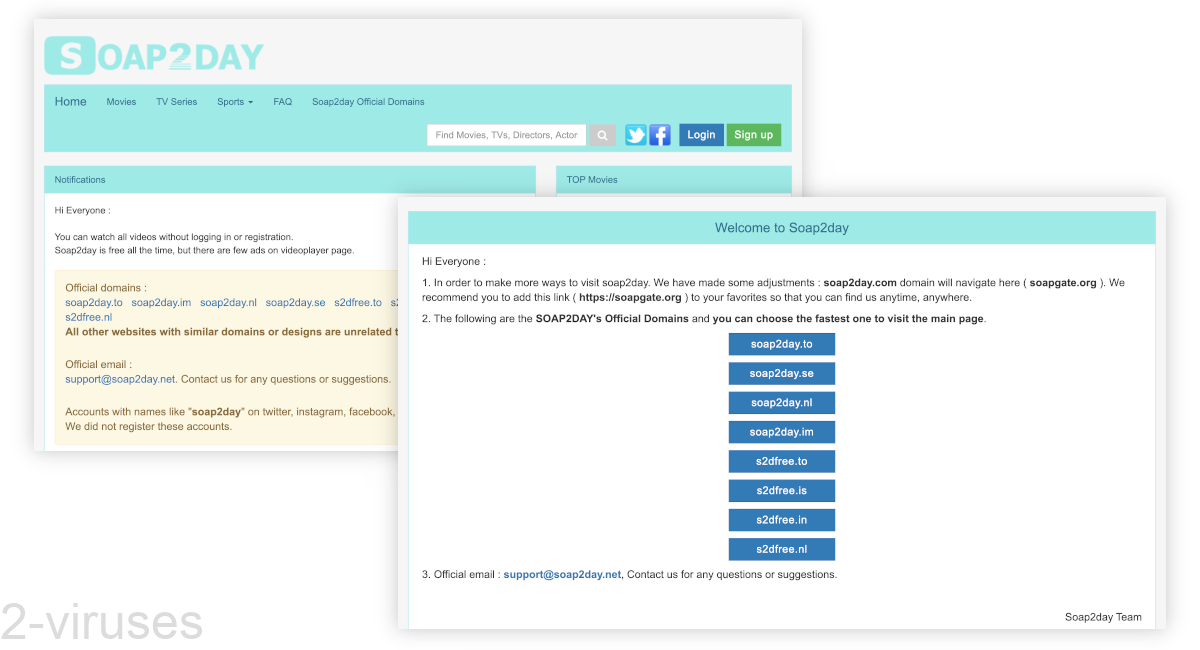 It shows dangerous ads
There are two kinds of pirating sites:
Soap2day is the latter. This means that you're not downloading files from it, but only watching a video stream. As such, Soap2day is safer than torrenting sites. You can't download viruses from it (for now).
While Soap2day is safe to use by itself, the ads that it shows can be dangerous. To use Soap2day safely, you need to avoid the ads that it shows.
Pirating sites are almost always full of harmful advertisements. Most reputable ad networks don't want to get involved with illegal stuff, so they stay away from sites like Soap2day. But there are still plenty of networks that are willing to deal with a potentially illegal site. They're just… a bit different. But hey, unethical actors, data thieves, and scammers need to advertise, too.
Not all the ads on Soap2day are harmful, but many of them are. Soap2day's operators claim that they try to block malicious ads, but they don't seem to be very effective at that.
Examples
So, malicious pop-ups catch people by surprise while they are on Soap2day and cause them lots of problems.
First, there are some complaints online (Discussions.apple.com) about calendar hijackers. These are websites that write events into your calendar in order to force notifications to appear on your screen. The notifications include links to malicious and unwanted websites.
There are also browser hijackers. These are sites that promise some kind of a free service and then lead to the installation of a browser extension. The extension lacks the promised features, but it does hijack your new tab page and your default search engine.
Similarly, notification spammers trick people into subscribing to their ads.
Fake giveaways (such as $1 phones) and fake "continue to watch for free" webpages lead to overpriced subscription services that are easy to sign up for without even realizing it.
Fake security warnings (Discussions.apple.com) and error screens lead to tech support scams.
Soap2day also shows ads for adult content, including online casinos and porn. Considering that children may be using the site, it's a little inappropriate for gambling sites to be so commonly advertised on it.
Such advertisements usually can't hurt you if you close them right away. But if you fall for their schemes, if you follow their instructions, you can end up with hacked accounts, advertising spam in your device, lost money, exposed personal information, and other problems.
How to stay safe on Soap2day
Avoid viruses on Soap2day by avoiding ads
Since the only danger on Soap2day comes from the ads that it shows, it would be good to avoid those ads.
However, Soap2day doesn't display ads in banners. Rather, it opens new browser tabs when you click on certain spots on the page. So, there isn't a way to avoid Soap2day's ads by being extra careful.
Ad blockers can be helpful here. They block advertisements from shady websites and they can make pirating sites much safer. Not legally safer – just in terms of virus infections. Just remember to find a reputable ad blocker because there are many that are malicious.
Antivirus apps can also block malicious websites – sites that seek to infect your computer or phone with actual viruses.
You could also stick to using legal websites. They don't show bad ads. To make the cost less painful, consider sharing the subscription with your family (for example, Netflix allows multiple profiles per account to help multiple users to use one account).
How to remove malware
If you did download, install, or subscribe to something that was advertised by Soap2day, then you should be concerned.
Scan your computer with an antivirus program – Spyhunter for Windows, Combo Cleaner for macOS, and others – to check if there is are any suspicious apps, programs, or browser add-ons on your device.
If you revealed your login information to an unknown website, reset the password that you used.
If you revealed your credit card information to a website advertised by Soap2day, watch your bank account. Sift through your emails for a subscription notice. If you were subscribed to an unknown service, cancel it. If you're being charged money and you don't know why, call your bank.
Automatic Malware removal tools
TopRemoving Soap2day Ads from Chrome
Click on the menu button on the top right corner of a Google Chrome window. Select "Settings".

Click "Extensions" on the left menu bar.
Go through the extensions list and remove programs you do not need, especially similar to Soap2day Ads. Click on the trash bin icon next to Soap2day Ads or other add-ons you want to remove.

Press on the "Remove" button on the Confirmation window.

If unsure, you can disable them temporarily.

Restart Chrome.
(Optional) Reset your browser's settings
If you are still experiencing any issues related to Soap2day Ads, reset the settings of your browser to its default settings.
Click on Chrome's menu button (three horizontal lines) and select Settings.

Scroll to the end of the page and click on the Reset settings button.

Click on the Reset button on the confirmation box.

If you cannot reset your browser settings and the problem persists, scan your system with an anti-malware program.
How to remove Soap2day Ads from Microsoft Edge:Top
Click on the menu button on the top right corner of a Microsoft Edge window. Select "Extensions".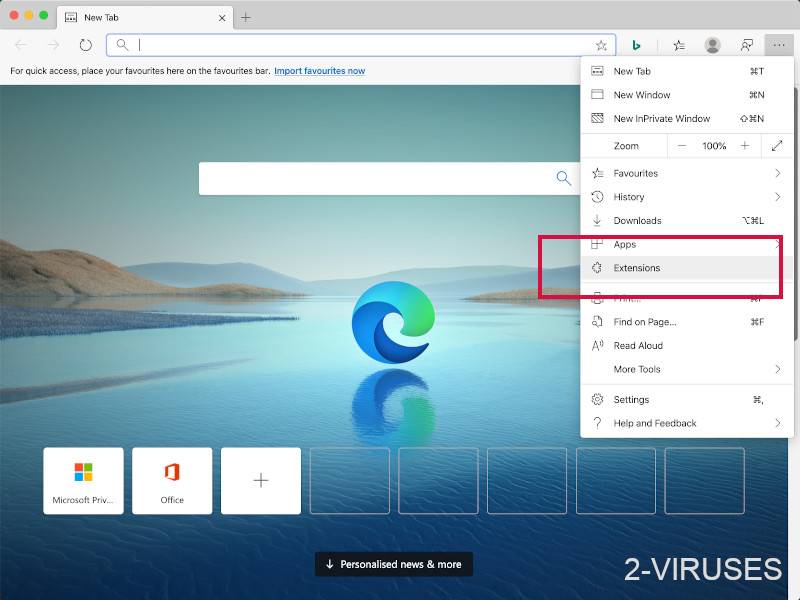 Go through the extensions list and remove programs you do not need, especially similar to Soap2day Ads. Click on the "Remove" icon next to Soap2day Ads or other add-ons you want to remove.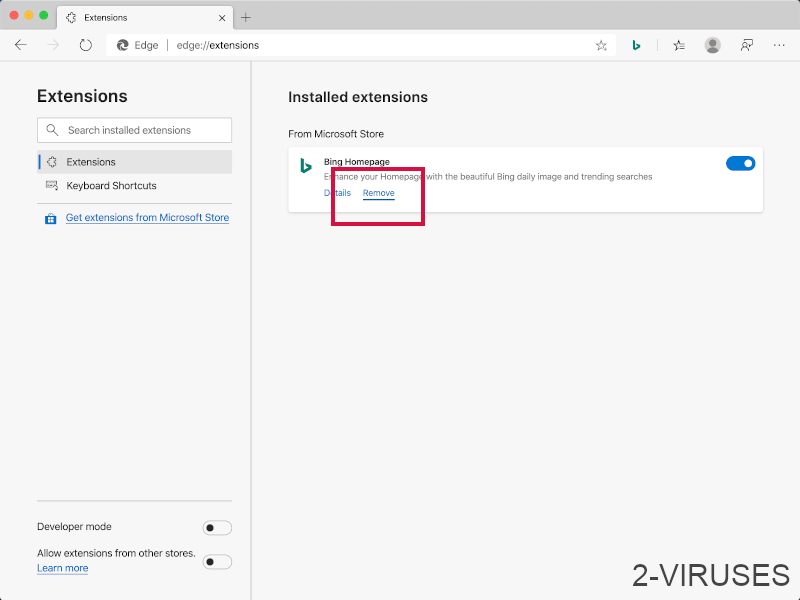 Press on the "Remove" button on the Confirmation window.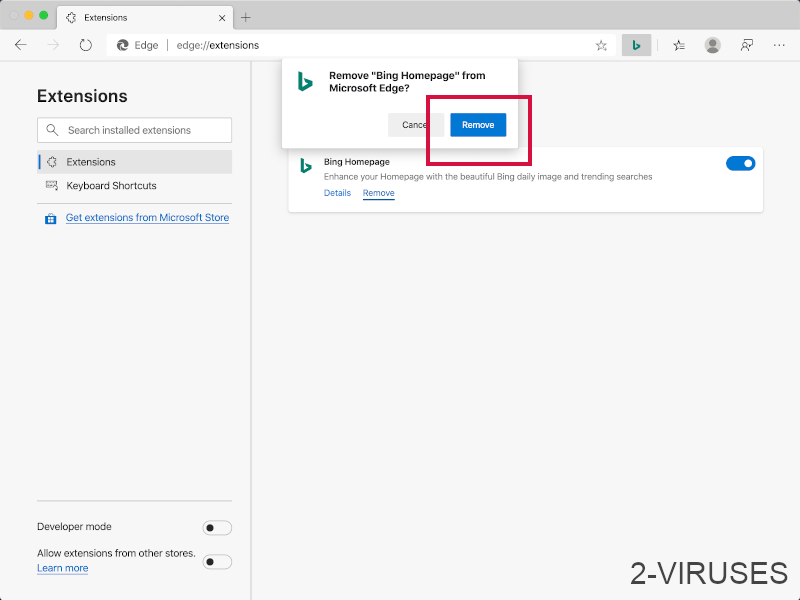 If unsure, you can disable them temporarily.