Win-gift.net is a malicious site. It's used to scam people out of their money and to steal their personal information. To trick visitors, Win-gift.net steals the names and appearances of large companies, such as Amazon. Win-gift.net itself is not very dangerous and it is enough to just close the page. But if you followed through with its scam and provided your payment information, look into subscription scams and what to do when dealing with them.
Win Gift Net Fake Giveaways quicklinks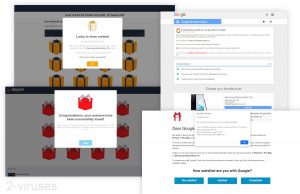 About Win-gift.net:
Classification
Scam.
How Win-gift.net hurts people
Wastes time,

might result in regular charges from the credit card and exposed personal information.

How scams spread
Spam emails, social media comments, messages, and links,

pop-up ads on pirating sites,

ads shown by adware infections.

How to deal with Win-gift.net's scams
Close the window,

scan your computer for malware (with Combo Cleaner for Mac, Spyhunter for PC, and others),

check notification settings,

check your payments and dispute unauthorized charges,

report the scam and ask your bank for advice.
Dangers of Win-gift.net's scams
Win-gift.net is a malicious site similar to Frees.best and Goodsphone.com. It shows various giveaway scams, including:
Dear Google User, Congratulations!
Amazon loyalty program
Ads for Win-gift.net appear as pop-ups saying "You have 1 notice" and "You won the Samsung Galaxy Note10!". These ads can be seen on video streaming sites, file download sites, and pop-ups by adware viruses.
Win-gift.net's scams show fake phone and other prize winnings and ask victims to provide their personal information, including payment information, if they want to receive their prize. This information is used to charge the victims money.
One of the reasons Win-gift.net is so successful in scamming people is that its fake giveaways use (abuse) the names and designs stolen from legitimate companies Google, Facebook, and Amazon. Win-gift.net is in no way associated with any of them but it's decorated with their logos to give the false impression that the giveaways are real.
Thanks to Win-gift.net and its scams, victims lose time, possibly money, and they might accidentally expose their personal information to malicious actors. The scammers behind Win-gift.net may use this information for future scams and they might sell it to other scammers. This could result in future targeted phishing scams.
How Win-gift.net spreads
I saw Win-gift.net while on a free (illegal) movie streaming site (one of the 123movies sites). There was a little pop-up on the side that looked like a notification. It appeared alongside fake news stories for promoting Bitcoin trading scams and MacKeeper.
Clicking on this pop-up leads to Apply-gift.com, Winoffer.best, and ultimately to Win-gift.net.

Similar ads for Win-gift.net show up on monetized URL shorteners (such as Ouo) that are used as file download links. Converter sites, free game and mod sites, and other websites that offer free files downloads use monetized URL shorteners to make money. These shorteners may show ads for Win-gift.net, among other sites.
Notification spam also could be responsible. Some sites use web notifications to display pop-up ads.
Another possibility is malicious redirects. Old, abandoned sites, small sites that don't have a lot of administrators. They get infected by malicious actors with code that forces those sites to randomly redirect to Win-gift.net and other malicious sites.
Spam comments and links in social media, spam personal messages, and malicious emails may also lead to Win-gift.net.
Youtube links are a big contributor. Probably, they're links that promise free HD movies. Those sorts of links are used to promote a variety of scams, not just Win-gift.net-like fake giveaways. They can even be used to distribute ransomware and other malware.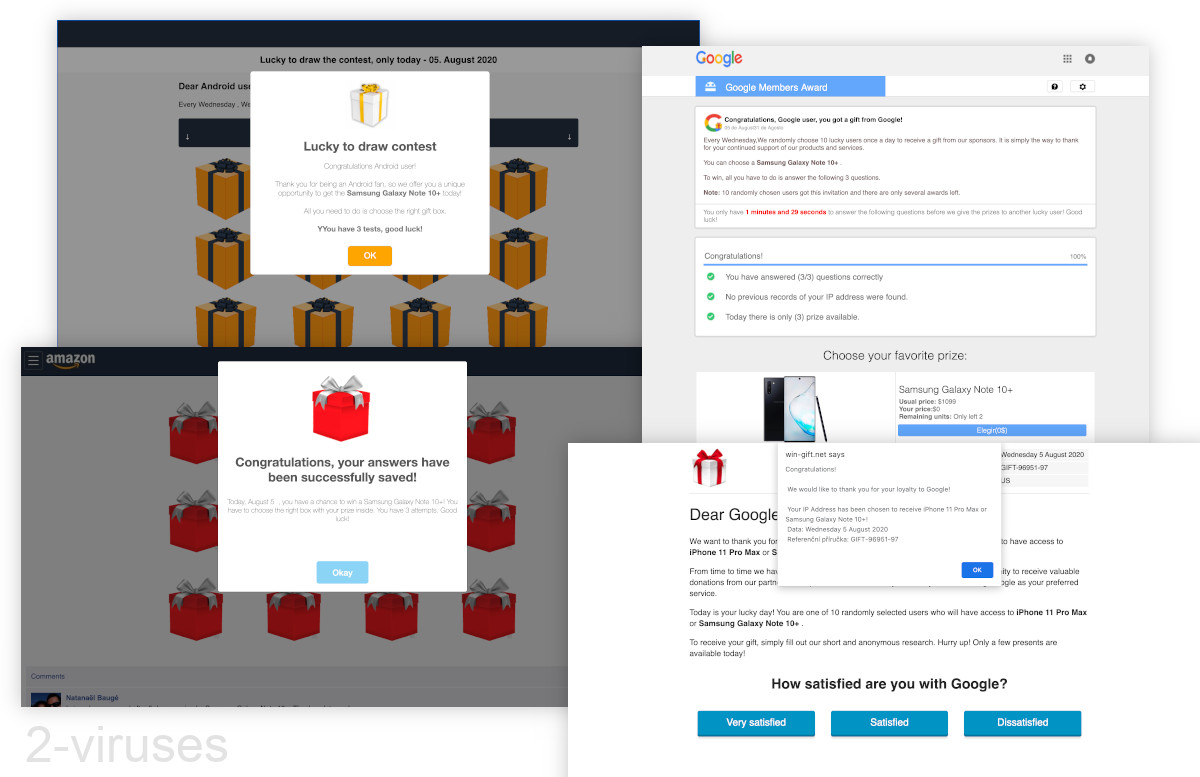 How to deal with Win-gift.net scams
If you opened the site
On its own, Win-gift.net is not dangerous. Even filling out the survey or clicking on those gift boxes isn't dangerous. So, it's enough to close the browser tab it's on:
Press the X button next to the highlighted tab, at the top of the page.
If Win-gift.net expanded to full-page, press the Esc button on your keyboard and then close Win-gift.net's tab.
If something still doesn't work, just force-quit your browser.

On macOS, press the keyboard buttons Cmd and W to close the current tab.
On Windows, press Ctrl and W or Ctrl and W.
If the pop-ups repeat
If you get ads for Win-gift.net regularly, consider that the cause might be adware on your computer. Scan it with an antivirus program, such as Combo Cleaner for macOS, Spyhunter for Windows, and others.
If you get pop-ups in a corner of your browser (on desktop) or at the top of your screen (on mobile), the cause could also be notification spam. We have a post on how to block these – it's easy to do manually, no antivirus needed (though a scan is still recommended, just in case).
If you provided your payment info
If you got to the page that was asking you to "confirm your identity" by paying $1 or just to fill out a form with your name, address, and credit card details, and if you did fill it out accurately, then the people behind this scam got your details. Win-gift.net usually leads to Brienanow.com and Greygrid.net (these sites might be replaced with others later) which offer free trials (usually, of a few days) and then a monthly subscription of around $30. Check your credit card for unauthorized charges.
You could contact the support people of these sites to end your subscription but keep in mind that they're scammers. You can threaten them with legal action and demand refunds.
But it would be safer to just contact your bank, tell them everything that happened, and ask for advice. At worst, you may need to cancel your credit card and get a new one.
Reporting the Win-gift.net scam is also a good idea. That way, in case your personal details are ever misused by criminals, you have it on the record that your information was stolen.
Check out the advice given by the FTC or your country's equivalent.
Automatic Malware removal tools