Topviralnewz.com is an advertising site that displays ads on the screens of those who allowed it access to notifications. It gets that access with the help of a clever ad that tricks people – they subscribe to Topviralnewz.com's pop-ups without even realizing what they're doing.
Pop-up ads can be very annoying, especially when you don't know what's causing them. Luckily, Topviralnewz.com's ads can be blocked in your browser's settings.
Topviralnewz Com Pop Ups quicklinks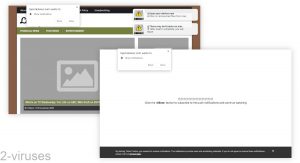 About Topviralnewz.com:
Classification
Adware,

browser hijacker.

Signs of a Topviralnewz.com infection
Pop-up ads from Topviralnewz.com appear on your screen regardless of what site you're on,

some of the pop-ups look like trusted notifications yet they still lead to ads.

Problems and issues
The ads are unwanted and there's no content provided in exchange for them,

some of Topviralnewz.com's ads lead to potentially unsafe websites.

How to stop ads by Topviralnewz.com
Disable notifications from sites that use them to advertise,

find and remove all malware (Combo Cleaner for Mac, Spyhunter for PC, others).
How Topviralnewz.com works
Topviralnewz.com shows pop-up ads in people's web browsers. It advertises get-rich-quick schemes, diet pills, potentially unwanted software, online casinos, fake giveaways, and similar content.
Topviralnewz.com may show some pop-ups that are dishonestly designed: you might think the pop-up is for a WhatsApp message, but it opens an adult video site.
In other words, Topviralnewz.com is an advertising website. It serves as a platform connecting advertisers and an audience. However, unlike other websites that rely on ads, Topviralnewz.com does not offer any content or service in return. It offers only ads.
Sure, Topviralnewz.com appears to be a news site when you visit it, but its content is entirely composed of articles taken from other sites (LA Times). This does not justify its excessive advertising.
Topviralnewz.com is not alone: many websites work in a similar way where they make money from advertising spam: Mybestnewz.com, Yourniceposts.com, Install.notify-service.com, and many others.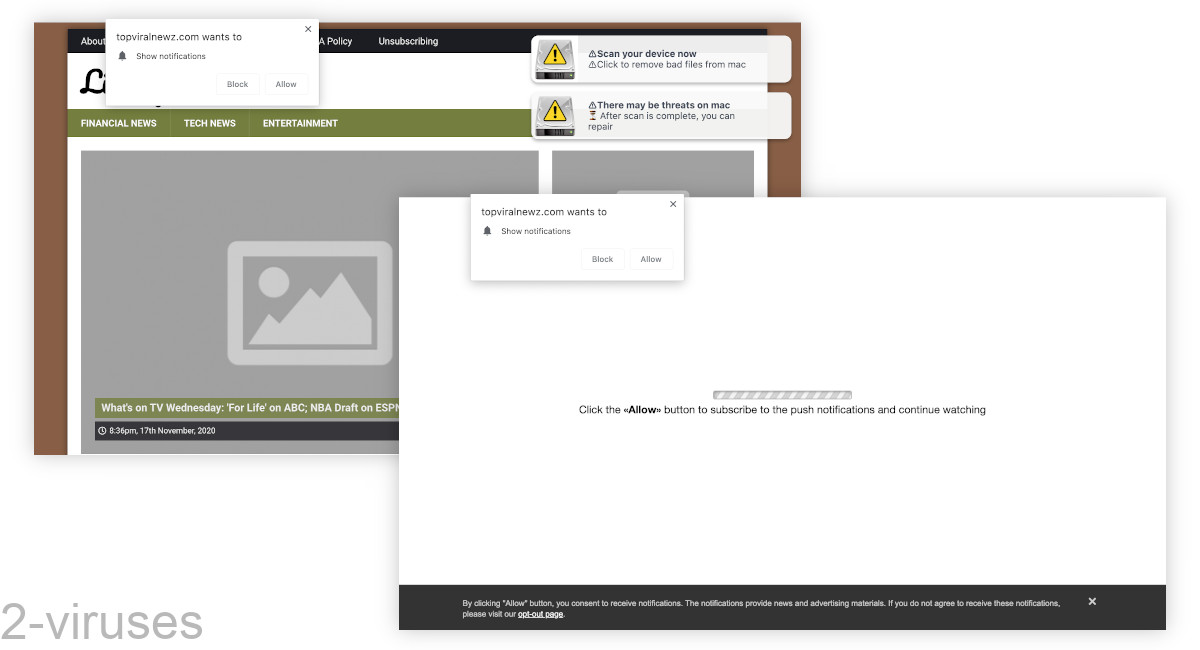 How pop-up ads take over web browsers
Ads on video streaming sites
Topviralnewz.com is able to display its pop-up ads because of web push notifications. Although notifications are widely used to show ads, that's not really their purpose.
Notifications allow websites to talk to web browsers. They show a message on your screen when, for instance, a new livestream begins or a new email appears in your inbox.
Of course, you have to explicitly allow a website to talk to your browser. Topviralnewz.com achieves this with the help of deceptive ads and redirects.
Topviralnewz.com is advertised online on a few different types of websites:
Streaming sites to watch free movies and TV shows.
Video converters to download video and audio files.
Adware sites.
Misleading warnings
It's very likely that you encountered Topviralnewz.com while trying to watch a movie online. You may have been faced with this line:
Click the Allow button to subscribe to the push notifications and continue watching.
The advertisement for Topviralnewz.com looks like some kind of a legitimate warning, as though you won't be able to continue watching your movies if you don't obey it. All that Topviralnewz.com is asking is for you to click that "Allow" button.
The Allow button is part of a warning that web browsers show when asked by websites. The warning is about a website wanting to show notifications. Clicking "Allow" adds the site (in this case, Topviralnewz.com) to a list of sites whose notification messages are accepted and displayed on your screen.
This might be how so many people end up allowing Topviralnewz.com access to their browsers – through some confusing redirects shown by pirating sites.
How to remove Topviralnewz.com ads
Remove all malware
Topviralnewz.com is spread by dangerous adware sites. It also spreads crapware and various dangerous ads. There's a real risk that, if your browser got infected with Topviralnewz.com's ads, then it may have got some other malware, for example, by way of drive-by-downloads.
Check your programs, apps, and browser extensions for potentially unwanted items. Use an antivirus program (Combo Cleaner for macOS, Spyhunter for Windows, and others) to find malware.
Remove all the malicious programs and add-ons.
Disable unwanted notifications
Mainly, though, Topviralnewz.com hijacks the notification settings in web browsers. That's how it is able to deliver its ads. Luckily, notifications are easy to block.
Open your web browser notifications settings:

Chrome – open Settings, scroll down to Site settings (under Privacy and security), click on Notifications.
Edge (Chromium) – open Settings, click Site Permissions, Notifications.
Safari – in the Safari menu, choose Preferences, Websites, Notifications.
Firefox – open Settings, Privacy & Security, scroll down to Permissions, and click on Settings next to Notifications.

Topviralnewz.com and other unwanted sites should be on the list of addresses allowed to send notifications.
Block them by selecting the Block option in the menu next to each address.
It is also possible to block all notifications from a website by clicking the settings icon on one of the unwanted ads.
Automatic Malware removal tools