Worldwide-breakingnews.com is a fake news site that hosts made-up stories of celebrities endorsing a get-rich-quick scam. Ads for it appear unexpectedly and avoiding them is a real chore. It is extremely important to recognize the fake and malicious articles on Worldwide-breakingnews.com because it promotes real, dangerous, harmful scams by con artists.
Worldwide Breakingnews Com Ads quicklinks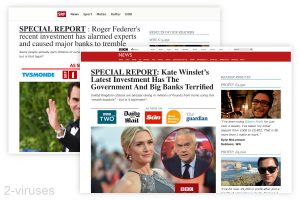 About Worldwide-breakingnews.com:
Type of threat
Scam.
Signs of a scam
Fake Facebook comments,

blatant promotion of a product,

alarmist language.

How to avoid ads for Worldwide-breakingnews.com
Use an ad-blocker to avoid malicious sites,

use an anti-malware scanner (Combo Cleaner for Mac, Spyhunter for PC, others) to find and delete adware,

recognize the red flags displayed by the scam site.

How to deal with Worldwide-breakingnews.com scams
Contact your bank for advice,

change your passwords.
What is Worldwide-breakingnews.com
Fake news pop-ups
Similar to Pageandroll.com and Verified-stories.com, Worldwide-breakingnews.com is a fake news site, in all the meanings of the words.
First, Worldwide-breakingnews.com has a front page that looks like a normal news site. Except that it doesn't open any of the articles that are posted on it. It's just a front.
To get to the real Worldwide-breakingnews.com, you need to find ads that lead to it. Ads for Worldwide-breakingnews.com appear unexpectedly. They pop up on download sites like Get-url.com, video streaming sites like Yesmovies.ag and Soap2day.to, converter sites like Youtubetomp3.sc, and others. The ads show up seemingly randomly. A new tab with a Worldwide-breakingnews.com article might just appear in your browser without you even clicking on an ad intentionally.
Depending on your location, Worldwide-breakingnews.com/economy will load a site that mimics a local news site. SRF, BBC, other famous news sites have their logos and layouts stolen by Worldwide-breakingnews.com. This is called website spoofing. It is used by phishing scams to steal information, trojans to trick people into downloading malware, and by crypto scammers to scam people.
That crypto scammers use fake celebrity interviews to trick people has been known for years. Despite that, traffic to Worldwide-breakingnews.com is sharply rising.
Here's what the scam articles look like: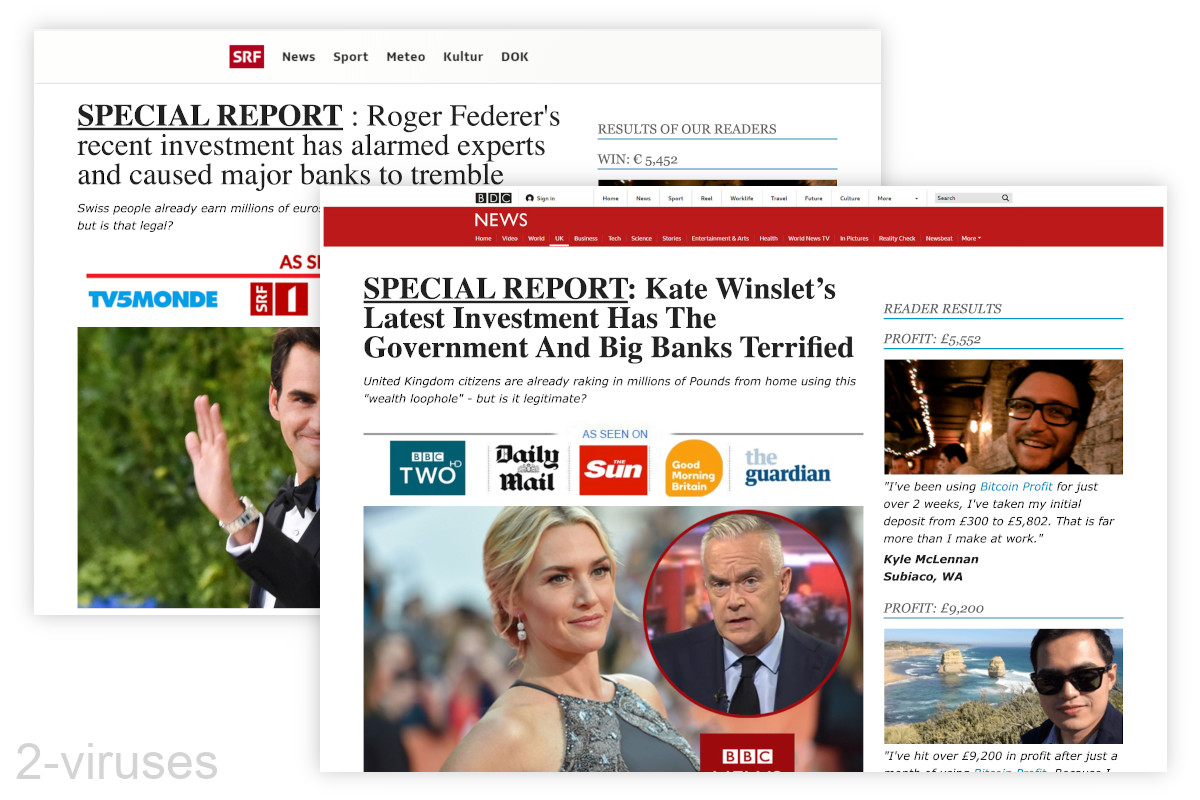 Get-rich-quick scheme
If you find yourself on a website with an article promising to make you rich with no risk and no work, it is a scam. But there are more specific details:
Worldwide-breakingnews.com's articles use the names and pictures of celebrities but no actual relevant video.
The articles promise opportunities for people to become millionaires in months with no risk and no real work.
They also threaten that scary big banks will shut it down and that only a few vacancies are left.
Fake Facebook-like reviews at the bottom of the page. Although the comments appear realistic, they cannot be interacted with.
The Worldwide-breakingnews.com articles are very long and turn into blatant promotions of the Bitcoin trading tool.
Articles on Worldwide-breakingnews.com promote Bitcoin Profit, Bitcoin Code, Bitcoin Revolution. All these systems have lots of fake positive reviews online, so looking them up is not always helpful. But if you ask anyone who knows anything about cryptocurrency on a forum, they only take a glance before declaring it a scam.
Dangers of Worldwide-breakingnews.com ads
This post is not about Bitcoin but about the malicious ads on Worldwide-breakingnews.com. Trading in Bitcoin is not a problem in and of itself. However, Worldwide-breakingnews.com ads are malicious. They disrespect the people whose imagines are used to promote the scam. They also abuse the name and image of the news site that they are spoofing.
And the people who fall for a Worldwide-breakingnews.com ad risk their time and money:
Providing a phone number leads to pushy salespeople relentlessly calling it and encouraging the victim to put more money into the scam.
The initial "investment" is $250.
The scammers may set up a subscription.
The profits might look impressive but there is no way to withdraw the money.
Scammers might ask to get remote access to your computer, possibly to perform something similar to a remote access scam – manipulate bank account webpages to trick the victim into sending money to the scammers.
You can see these complaints in Trustpilot reviews.
Worldwide-breakingnews.com is similar to Getquantity.club, Lucky Draw Contest, Amarktflow.com, and other scam sites. The problem is that Worldwide-breakingnews.com is much more dangerous. Those other sites can pull people into subscription scams costing $50 a month, while Worldwide-breakingnews.com can lead to some people losing their savings.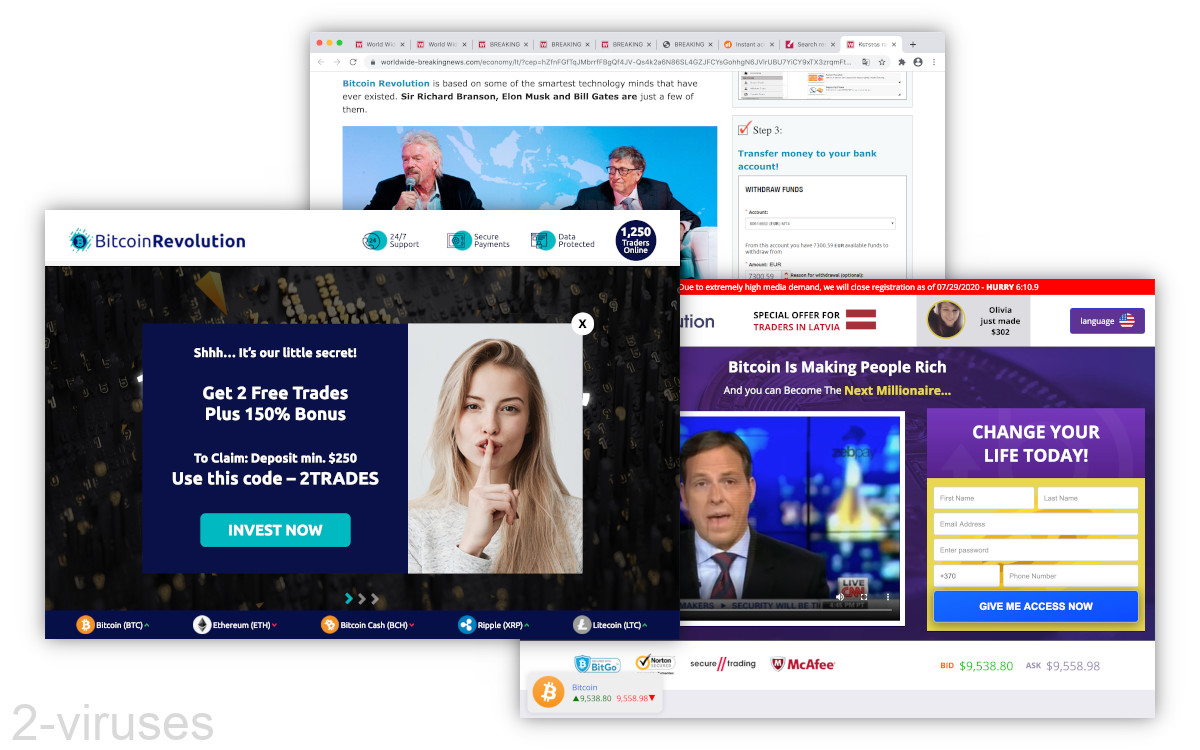 How to avoid Worldwide-breakingnews.com ads
Avoid the ads
Often, ads for Worldwide-breakingnews.com appear unexpectedly. One way to avoid them is to stay away from dangerous sites. A more practical way is to use an ad-blocker or an anti-malware program to block malicious sites.
There might be some use in scanning your computer with an anti-malware program (Spyhunter for Windows, Combo Cleaner for macOS, etc.) to check for adware and remove it if any is found. Adware, which often is a malicious browser extension, can inject ads into the browser.
Block notifications
Those who see pop-ups for Worldwide-breakingnews.com regularly might have had their notifications hijacked. You can block them in browser settings:
Chrome – type "chrome://settings/content/notifications" in the address box.
Safari – in the Safari menu, choose Preferences, Websites, Notifications.
Edge (Chromium) – type "edge://settings/content/notifications" in the address box.
Firefox – open Settings, Preferences, Privacy & Security, scroll down to Permissions, and click on Settings next to Notifications.
There is a list of sites that are allowed to send notifications – show pop-ups in the browser. Next to each unwanted address, press the button that opens a menu and click "Block". Sites whose notifications are blocked can't show any new pop-ups in your browser.
Ask for help
If you did give away your information to a scam promoted by Worldwide-breakingnews.com, then there are a few things to do:
Change your passwords and set up two-factor authentication.
Contact your bank. Ask to get your money back and be firm about it.
And ask for help in cutting the scammers off. Be completely honest with your bank. Some people don't seek help because they're embarrassed.
Be wary of targeted phishing scams, like shady emails and phone calls.
Automatic Malware removal tools