"1 TRILLION Google searches" is a scam created to trick people to subscribe to reward sites. Those who see the "1 TRILLION Google searches" pop-up are promised a $1000 gift card if they complete a short 4-question survey. Those who fall for the scam lose money to fraudsters and leak their personal information, which could be abused in later scams. "1 TRILLION Google searches" targets USA residents and works on all devices that have a functioning web browser.
1 Trillion Google Searches Scam quicklinks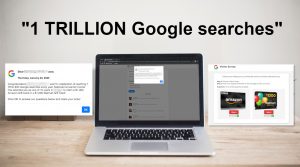 In short about "1 TRILLION Google searches":
Type of threat
Scam,

phishing (stealing sensitive information).

Similar threats

'You've made the 5-billionth search',

"Congratulations Dear Amazon Customer",

Dangers of "1 TRILLION Google searches"
Your personal information is taken by fraudsters,

your card may be charged fees and payments,

your time is wasted.

How to get rid of the scam
Remove any adware and malware from your device (SpyHunter for Windows, Combo Cleaner for Mac OS, etc.),

block malicious websites with an antivirus program,

update your software as it needs to be updated.
"1 TRILLION Google searches" is fake
"1 TRILLION Google searches" appears on your phone or your computer in a pop-up when you end up on one of many sites made to spread this phishing scam. The URLs that I've seen that hosted this fake were called things like Originatstatement.xyz, Innovativescientificzz.xyz, Ingeniouscommunications.xyz, Inspireddaily.xyz, Imaginativetechnologies.xyz, etc. All the pop-ups look about the same:
Dear [phone model] user,

[date]

Congratulations [phone model] user! In celebration of reaching 1 TRILLION Google searches every year, National Consumer Center has selected you as one of 10 users in [location] to claim a $1,000 Amazon Gift Card or a $1,000 Wallmart Gift Card!

Click OK to answer our questions below and claim your prize!
"1 TRILLION Google searches" starts by addressing you by your phone model and your location – information easily accessible to any website. It's not data that only Google would know, so don't let that intimidate you.
"1 TRILLION Google searches" is not a very polished scam. As usual for fake giveaway sites, is placed some fake Facebook comments at the bottom to make the whole thing look legitimate – but the comments are very bare and not interactive, the scammers didn't really try hard. Also, Google's logo in the pop-up is so poorly cropped. And you can get through the survey without choosing any answers and still "win".
But also like other scams, "1 TRILLION Google searches" creates a huge sense of urgency with comments about prizes being out of stock, and, supposedly, only three prizes remaining. We can easily get too excited about such a big prize and miss the obvious red flags that mark "1 TRILLION Google searches" as a scam.
What is "1 TRILLION Google searches"?
"1 TRILLION Google searches" is yet another National Consumer Center scam that redirects to Amarktflow.com or a similar site. Amarktfow collects victims of a variety of scams that promise gift cards, free phones, and cash prizes. Then it orders people to provide their personal details, including their name, address, and payment information. Following the instructions will probably cost you some money, but it won't get you your prize.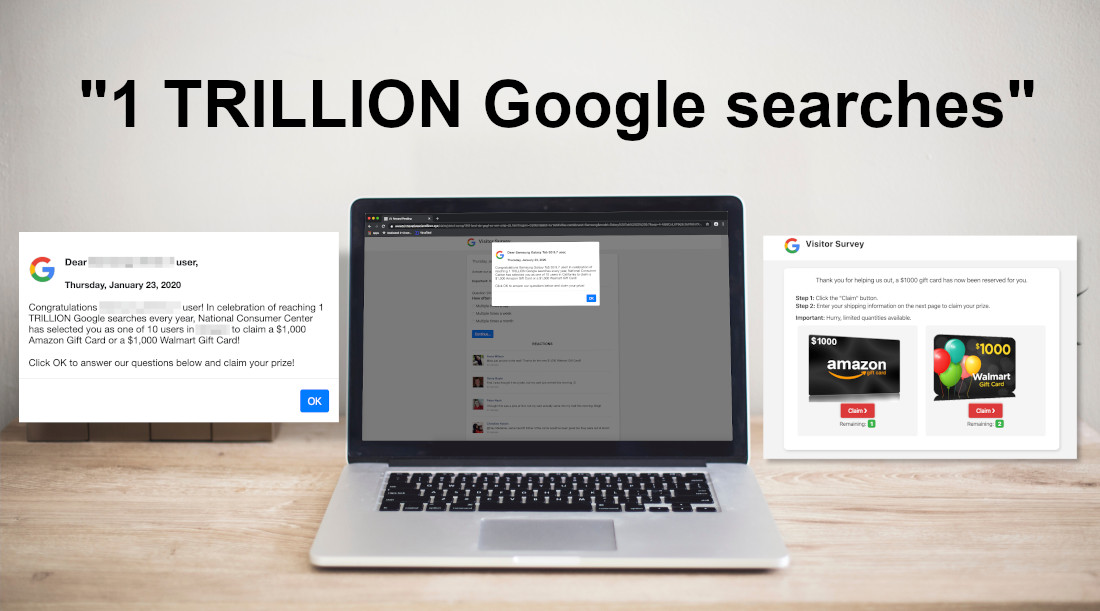 To get the prize that "1 TRILLION Google searches" promised you, you may be asked to make a token payment to "confirm your identity", a payment for shipping, and other fees. Likely, your data will be used to get you on a rewards program that seems to be Flash Rewards. This program is a gamified coupon site. It asks you to complete small tasks, like trying a product or buying a small item, to "level up" for a chance to get valuable rewards, such as gift cards. Such rewards sites don't help users save money – they only waste people's time by talking them into spending just a bit more money on products they don't want. If you're curious, here are some complaints.
At the end of the day, "1 TRILLION Google searches" brings in profit for someone out there. Proft and a wealth of valuable personal information of those who fell for "1 TRILLION Google searches" long enough to fill out the form.
How to avoid "1 TRILLION Google searches"
Some people never have to deal with seeing any scams online, others can't seem to escape them. "1 TRILLION Google searches" and other scams spread in malicious ads and whether and how you encounter them depends on a few things:
the sites that you visit – the less legal the sites are (for example, pirating), the more likely they are to advertise scams, among other dangerous stuff;
your country and your ISP;
adware on your device – malicious apps, browser extensions, hijacked proxy settings, and other malware effects can fill your browser with malicious ads;
your contacts on social media – fake accounts spread scams, as do hacked accounts of your friends;
the amount of your data that's been leaked – for example, if some site leaked your email account, you will get malicious spam mail.
It's not a bad sign to see a scam like "1 TRILLION Google searches" once in a blue moon, but if these fake reward pop-ups are a regular thing for you, you need to improve your online security. A few things that you can do:
allow your operating system and other software to update automatically – this is important to avoid exploit malware;
install a good antivirus program, preferably one that blocks malicious URLs;
remove suspicious browser extensions, apps, and programs – or scan your device with an antivirus program (we here recommend Spyhunter for PC and Combo Cleaner for Mac, but any reputable security program will do),
remember to never give your personal information to a site you don't trust for sure,
become familiar with scams – read people's personal stories, read articles of examples – and it will be easy to tell "1 TRILLION Google searches" for the fake that it is.
If you did fall for "1 TRILLION Google searches" all the way, you should try and unsubscribe from whatever you were subscribed to. If you find payments already conducted on your card, ask for a refund or contact your bank. If your personal information ends up in the hands of criminals, they could use it to steal your identity or for targeted phishing attacks, so be very careful.
Automatic Malware removal tools