National Consumer Center is a fake organization that generates scammy web advertisements. Its ads are usually fake giveaways and prizes won in nonexistent contests. The goal of the scam is to get you to reveal your personal details, sign up for various paid offers, complete more surveys, and help spread the scam further.
The National Consumer Center ads target home computers and mobile devices. They appear on a variety of websites. If you see such an ad, don't trust it.
National Consumer Center Virus quicklinks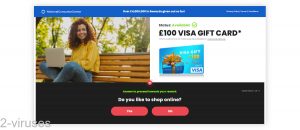 National Consumer Center ads might appear on malicious sites or be displayed by adware viruses.
Survey sites and reward sites might also link you to National Consumer Center surveys. It's recommended to look into National Consumer Center before you give it your personal information, as this company is known for being very deceptive.
National Consumer Center ads might promise you free $1000 Visa, Walmart, Amazon, Paypal gift cards, free phones, tablets, and TVs, and other valuable prizes. But you won't get these prizes by completing one survey. National Consumer Center will send you on a wild chase of tiered rewards and paid subscriptions, always promising that the prize is just behind the corner.
As such, National Consumer Center ads may be seen as scam ads:
Sources of the ads
Links on reward sites,

emails,

pop-up ads online on websites that allow bad ads,

adware programs, apps, and browser extensions.

Adware symptoms
Excessive pop-ups, banners, in-text ads that are unusual,

unexpected redirects, new windows and tabs that open on their own,

slower loading times, redirects visible in the address bar.

Dangers posed by National Consumer Center ads
Your personal information might be exposed to advertising companies,

spam emails might start coming to your inbox,

you might install unwanted programs and sign up for paid subscriptions in the hopes of getting your prize.

Solutions to National Consumer Center virus
Don't reveal personal information to fake giveaways,

scan for adware using anti-malware tools (Combo-Cleaner for Mac, Spyhunter for PC).
What causes National Consumer Center ads
First and foremost, you need to know why you are experiencing these advertisements.
National Consumer Center is related to Flash Surveys. It's a UK-exclusive reward site. There are a few ways that it's promoted online:
Links in reward sites. Sites that let you complete surveys for prizes and rewards sometimes promote National Consumer Center.
Fake giveaway ads. These are the ads that have you pick a box or spin a wheel to win a phone, a $100 gift card, or a $1000 gift card. They might be shown by redirects from infected websites, malicious links in social media, links in spam emails, and adware viruses.
Links in social media comments and posts.
Reward sites
You might be part of some communities that share links to win gift cards, vouchers, discounts, and other goodies for completing surveys and trying our software. National Consumer Center is another one of those sites. Its problem is that it has ridiculous requirements to even get a chance to participate in a lottery for valuable prized. And yet, it flaunts these prizes from the very beginning.
Participating in National Consumer Center giveaways might be a huge waste of time, so keep that in mind.
Ads on infected websites and adware viruses
If National Consumer Center pop-ups are following you all the time – if they show up whenever you open your browser – then it might be that your computer is infected with adware. Adware is an application that displays ads to the user – it's an easy method to generate revenue for cybercriminals. Most of the time, adware viruses are browser extensions. It could also be a notification hijacker.
It could also be that a website that you visit regularly has become infected with malicious redirects (yes, websites get infected with malware just like personal computers). This is most likely to happen if this website is niche, small, and/or old. Find the contacts of the administrators of the website and message them to tell them about the problem.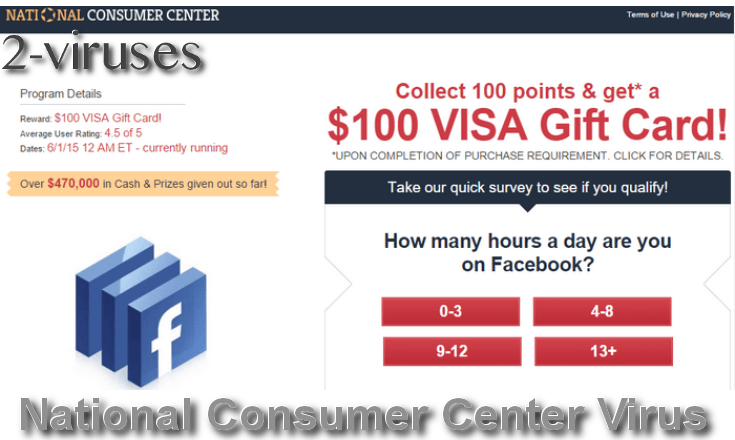 Finally, National Consumer Center pages are often shared on social media. They might be sent to you by friends or promoted by accounts impersonating a popular figure. Don't click on such links and never trust offers that are too good ot be true.
How National Consumer Center Can Scam You
Here are the types of rewards that National Consumer Center offers:
new phones,
gaming consoles and other tech devices,
gift cards.
The first problem with National Consumer Center's ads is that they truly seem to promise users that they have won a prize. Sure, technically, they might tell you that "you can win" and not that you've already won. Still, the result is that people believe that they were just selected to be the recipient of a very valuable item.
According to National Consumer Center, to win its prizes, you only have to answer a few very basic questions about your favorite products and opinions on websites. But then, it also asks you to sign up with your payment information and to make various paid purchases. People do it – they spend their own money – because they believe that the gift card is a done deal. In reality, it's not. As a result, the ads that National Consumer Center Virus uses could result in you losing some of your money.
It's very sad to sometimes read a negative review of one of these reward sites – people who are already struggling with their finances sometimes get swept up in the excitement and believe that they're owed various prizes. They spend valuable time and money fulfilling the tasks that National Consumer Center gives them, only to get nothing in the end.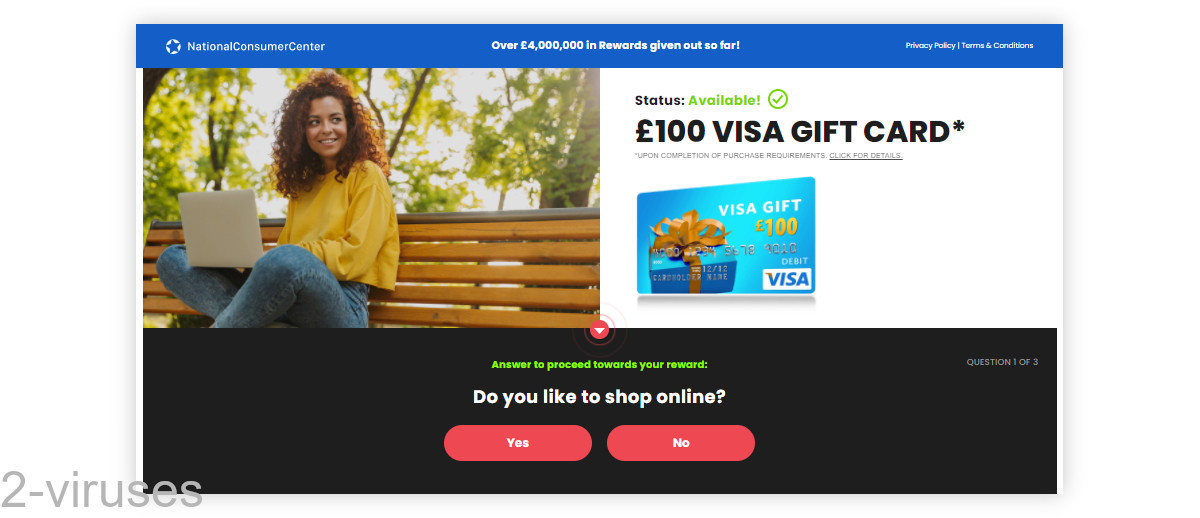 How To Solve National Consumer Center Problem
As we have mentioned before, continuous advertisements by National Consumer Center might indicate that an adware virus might have infected your computer. To detect and remove it, you can use a reliable anti-malware application, such as Spyhunter (PC) or Combo-Cleaner (Mac). They can scan your device and warn you if they find a malicious or potentially unwanted app.
To get rid of notification spammers, check the settings of your browser.
Most importantly, when you encounter an ad that says that you've won a phone, a gift card for $50 or $500, or another valuable prize, just don't believe it. Too many fake giveaways exist out there. In fact, it's good to familiarize yourself with those scams and become a little cynical about it. Fake giveaways like the 1 trillion Google searches page would promise prizes such as PayPal $1000 gift cards. These pages are decorated with fake reviews and designed to look like they're part of a reputable website, such as Google or Facebook. It's all incredibly scummy.
Pay attention to what you do online. If an unexpected page appears in your browser, look for information about it online before you reveal your personal details. Moreover, if you want to make sure that your computer will remain secure in the future, be very careful about the software you install on it. If it is a freeware that you have downloaded from the Internet, always pay close attention to the installation process – most of the malware is traveling bundled with other programs and gets infiltrated into systems this way.
Automatic Malware removal tools