"Windows Detected ZEUS Virus" scam is most likely displayed by bad ads, a Trojan, or another malware parasite (like adware) currently affecting your operating system. This pop-up is categorized among other technical support scams like "Microsoft Error: Unknown System Failure" and "Microsoft Office Activation". If this message locks access to your browser, you should not believe anything it says and simply open the Windows Task Manager and shut down that browser's process.
Windows Detected Zeus Virus Scam quicklinks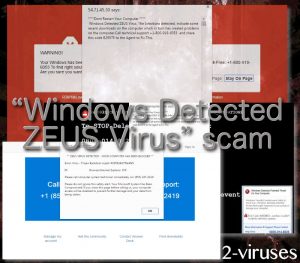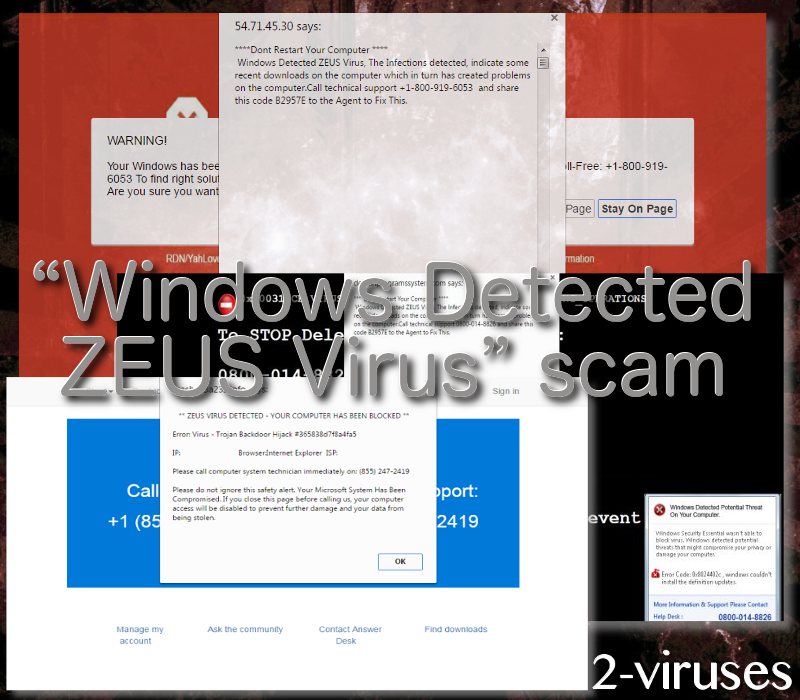 The ZEUS Trojan really does exist, and it has been crowned as one of the most frightening malware samples. It is exploited for a number of cyber crimes and was mostly interested in stealing banking information by man-in-the-browser keystroke logging and form grabbing (SecureWorks). The Trojan is similar to other infections like SpyEye malware. Furthermore, ZEUS shares similarities with Koobface worm: they both were exploited to trick people in thinking that their operating systems are compromised.
So the message "Windows Detected ZEUS Virus" or "Windows Defender Alert: Zeus Virus detected on your computer" is really frightening — or would be, if it was genuine.
Technical support scams use this and similar fake warnings to frighten people and to make them feel like they must follow the instructions given by the pop-up. The problem is that the instructions were written by fraudsters who only want to sell people bogus security software.
Thus, the "Windows Detected ZEUS Virus" message should be ignored and the malware that's showing it should be dealt with.
"Windows Detected ZEUS Virus" classification

Technical support scam
Scareware

Origins of the warning

Malware and adware on the computer (though not ZEUS)
Malicious ads
Infected installers

Possible consequences of believing the warning

Scammers get access to your computer
Exorbitant fees for fake security are charged
Spyware is installed on your computer

"Windows Detected ZEUS Virus" removal

Ignore the warning
Exit the browser
Remove adware and junkware using the Control Panel
Remove malware using an anti-malware tool (SpyHunter)
Avoid websites that display aggressive and misleading ads
"Windows Detected ZEUS Virus" technical support is not real: it is a scam
Although ZEUS has been widespread and has jeopardized millions of computers, "Windows Detected ZEUS Virus" virus is a stunt that hackers are attempting to pull. We have discovered that even Command Prompt and Event viewer were abused by scammers to make computers look infected when they are not (Wikipedia). Usually, the victim is shown by a scammer an event log with errors and made to believe that this shows the ZEUS virus being on their system — it does not.
"Windows Detected ZEUS Virus" scam is going to report that computers have allegedly caught ZEUS. Creators of this hoax will include phone numbers of helplines that are supposed to connect victims with professional consultants. According to the message, +1-800-919-6053, (855) 247-2419 or 1-888-411-9933 phone numbers must be called, but other numbers will be used in other versions of this scam. You can check if a number can be trusted simply by looking it up online.
The scammers claim in their message that, if a person closes their browser via Task Manager, access to their operating system will be disabled. They also say that your information is being stolen. This is not true but such things are claimed by scammers to scare people and make them act quickly.
According to our research, surfers can receive "Windows Detected ZEUS Virus" pop-ups from Defaultprogramsystem.com, Crash-h3a23z.info and many other similar domains. Adware can open these sites on people's browsers or they can find them through misleading ads.
Zeus infection showing up on Google results
Even though the "Windows Detected ZEUS Virus" pop-ups are fake, the ZEUS virus and other banking Trojans are real and still being spread.
As discovered by TalosIntelligence, Zeus Panda banking trojan now is distributed using SEO (search engine optimisation) to rank on Google results pages, displaying links to malicious websites and distributing the virus this way. Almost all malicious websites are targeted to keywords related to finances. Some of them are: "nordea sweden bank account number", "al rajhi bank working hours during ramadan", "how many digits in karur vysya bank account number", "free online books for bank clerk exam", "how to cancel a cheque commonwealth bank", "salary slip format in excel with formula free download", "bank of baroda account balance check", "bank guarantee format mt760", "free online books for bank clerk exam", "sbi bank recurring deposit form" and "axis bank mobile banking download link". This way cyber criminals try to ensure that their potential victims are using online financial operations, thus infected computers could convert into stolen private data.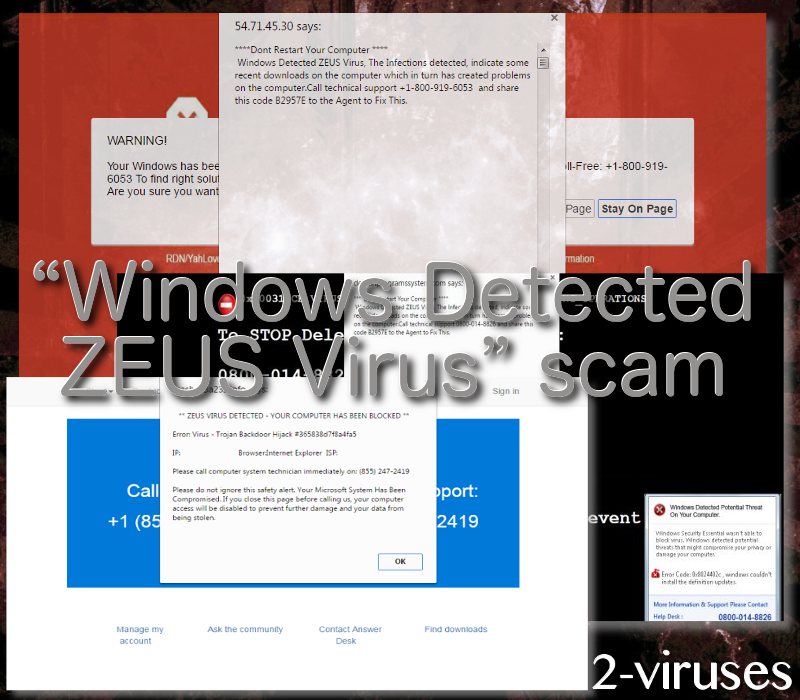 Your computer does not have a ZEUS Trojan
We have to make one thing clear: even if you see this "Windows Detected ZEUS Virus" technical support scam, this does not mean that ZEUS has infected your operating system. In fact, detecting this Trojan horse malware is a complex task since the virus exploits stealth techniques. If not every up-to-date anti-virus application can find it, a random pop-up has even less of a chance.
The only reason by "Windows Detected ZEUS Virus" pop-up is demonstrated is to sell rogue anti-virus software or to gain remote access over computers. If a person contacts any of the earlier enumerated helplines (there might be more), he or she will be urged to purchase a tool that will eliminate malware (MakeUseOf).
On the other hand, the alleged specialists might require users to give them remote access to their operating systems. However, both of these decisions are wrong. As we have mentioned, you should open your Windows Task Manager and end the browser process. Additionally, these scammers could be requiring some personal information, or even tricking users into revealing their credit card details. They can't be trusted with those.
How to act after receiving "Windows Detected ZEUS Virus" virus?
Closing the message can be a challenge since it takes over the browser. Luckily, you can quit it using the Task Manager — bring it up by pressing Ctrl+Shift+Esc at once.
This "Windows Detected ZEUS Virus" message is a signal that your device might be struggling with some malware or adware infection. It could be an adware parasite and it is certainly easier to treat than a Trojan. Adware programs should be removed from the Control Panel. Before that, concerned people should check whether there are suspicious and unknown programs found among the list of active applications. Also, a user might remember installing a random application himself/herself around the time that their browser started acting strange and displaying more ads.
However, if your operating system is infected with a Trojan, the removal becomes more complicated. You should run a scan with Spyhunter and see whether you should be concerned about your cybersecurity. Lastly, we have to emphasize that visiting websites could infect you with viruses. Online advertisements are no better and could be the reason you have been alarmed by the "Windows Detected ZEUS Virus" scam.
Automatic Malware removal tools
How to remove "Windows Detected ZEUS Virus" scam using Windows Control Panel
Many hijackers and adware like
Zeus Scam
install some of their components as regular Windows programs as well as additional software. This part of malware can be uninstalled from the Control Panel. To access it, do the following.
Start→Control Panel (older Windows) or press Windows Key→Search and enter Control Panel and then press Enter (Windows 8, Windows 10).
Choose Uninstall Program (if you don't see it, click in the upper right next to "View by" and select Category).
Go through the list of programs and select entries related to "Windows Detected ZEUS Virus" scam . You can click on "Name" or "Installed On" to reorder your programs and make Zeus Scam easier to find.
Click the Uninstall button. If you're asked if you really want to remove the program, click Yes.
In many cases anti-malware programs are better at detecting related parasites, thus I recommend installing Spyhunter to identify other programs that might be a part of this infection.